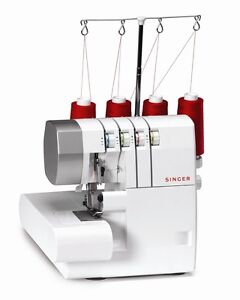 Sergers are complex machines that complete a variety of sewing projects. For example, the device will edge fabric, finish a seam, and hem an item of clothing or material. Today's sewing industry markets a large number of sergers, and choosing the right one can be confusing.
Sergers are similar to sewing machines in that they stitch fabrics together. However, they offer additional advantages and enhancements. For instance, a serger sews fabric quicker than a sewing machine. In addition, the machine is a cost saving device as consumers may fix clothing items instead of purchasing replacements. The device also cuts fabric as it stitches, which eliminates the leftover edge that a sewing machine leaves. A serger will also use a large number of decorative threads.
When sewers use a serger, they'll have a machine that will use from two to five threads simultaneously in order to wrap and connect different materials. With this process, the fabric will not fray. In addition, the serger will cut the leftover fabric while it sews the material together. In order to attach two pieces of fabric together, the machine will place a section of stitching along the edge of the fabric.

When to Buy a Serger
Sewers should keep in mind that a serger will not take the place of a traditional sewing machine. However, those who often sew ambitious projects like curtains or drapes will benefit from the machine's capabilities. In addition, homemade apparel items will have a store-bought appearance. When sewers prefer decorative threads, a serger will offer this highly preferred design feature. Sergers are ideal for sewing moderately curved seams into stretchy and thin fabrics. The unit will also sew through thick fabrics.

Thread Recommendations
With a classic serger, the unit will create several overlock stitches depending on the number of threads attached to the device. When consumers assess modern sergers, they'll find that they are sold based on the number of threads they emit at one time. For instance, sergers can sew two, three, four, and five threads at one time. Sewers should also keep in mind that higher emitting thread units do not always have the capability of sewing with fewer threads, and if they require different thread outputs for separate patterns, then they will need to locate a unit with a thread shifting feature.
A two-thread serger setup will create an elementary edge when a sewer begins their stitching project while a three-thread format will prevent fabric edges from fraying. When crafters require locked stitches, they'll need a serger that works with four strands simultaneously, and the five-strand unit will include a safety line to each stitching section. In addition, the five-thread unit is the most adaptive serger. However, the machine is also the most costly.
If consumers intend to create sewing projects in order to sell them, then they should consider investing in the more expensive five-thread serger. When crafters need a serger for more casual projects, they can use a classic sewing machine to secure a section along with a four-thread serger, which will offer them the same basic effect as a five-thread unit.

Types of Serger Brands
Sewers can choose a serger manufactured by popular sewing machine companies that include Juki, Janome, and Brother.

| | |
| --- | --- |
| | With a Janome brand machine, consumers will have durable construction and quality materials along with reduced noise operation. The unit is also easy to thread as it includes a thread guide with color-coded tension knobs. |
| | Juki sergers feature a high-quality cutting system along with superior stitch formation. The threading system is color-coded for easy replacement threading while the unit also includes adjustable stitches and differential feed. In addition, the brand offers optional presser feet for multiple uses. |
| | When crafters are new to using a serger, the Brother model will help them adjust to a different stitching method. Once users begin sewing with the machine, they'll appreciate the color-coded threading guide, changeable snap-on feet, and convenient stitch shifting dials. |



Serger Features
In addition to their separate thread laying capabilities, sergers have features that include feed differential, separate speeds, and user-friendly enhancements.
Feed Differential
As serger shoppers begin reviewing their options, they should look for a newer unit that includes a differential feed. With the mechanism, the device will smoothly feed the fabric into the sewing and cutting section of the serger. When consumers are assessing the differential feature, they will notice that the ratios vary from 0.6 to 2.0 mm, which is the rate that the mechanism pushes the fabric through the serger. When consumers purchase a unit with a higher ratio number, the machine will push more fabric through than it will pull.
The differential action is an important feature because sewers can adjust the mechanism to sew through different materials. For instance, knitted fabrics require a separate differential ratio than stretchy fabrics. Moreover, the shifting differential will prevent the materials from acquiring puckers and ripples. It will also stop unsightly stretching. With the adjustable feature, crafters can gather together fabric sections to make ruffles.
Serger Speed
A serger will sew through a piece of fabric more quickly than a classic sewing machine. When crafting experts begin shopping for a serger, they should purchase a unit that operates at a speed of at least 1,300 stitches per minute, which professionals refer to as SPM. With some models, shoppers may notice a listing for RPM, or revolutions per minute. Most sergers will complete one revolution for each stitch that they make. Serger shoppers should keep in mind that SPM and RPM refer to the same feature.
When using a serger, a faster machine will require less effort by a seamstress or tailor and will complete the task more quickly. However, machines that run at a faster speed are more expensive.
User-Friendly Features
Before purchasing a new serger, check each machine's user-friendly features. For example, the device should include a threading guide and provide convenient access to the threading sections. Serger users will also appreciate a conversion feature, which will have a dial or a plate in order to switch the serger from completing a basic stitch to processing a rolled hem. Serger shoppers should review the methods for unfastening the cutting knife and changing the stitch length and width.

Serger Accessories
The sewing unit offers consumers a number of accessories that will assist them in creating a variety of projects.

| | |
| --- | --- |
| Serger Tweezers | In some cases, a machine may have small interior threading areas, which users may have trouble accessing. With serger tweezers, they can easily grasp a small thread and wind it through the machine. |
| Pad and Trim Catcher | Fabric will fall to the floor when the knife removes fabric sections from a serger. In addition, a serger will bounce and vibrate as it sews, which can cause damage to the table surface. With a pad and trim catcher, sewers can slide the unit underneath the machine where the cushion will prevent the serger from denting the table. It will also stop the machine from moving out of place. The trim catcher will contain the fabric droppings and detaches for easy cleaning. |
| Foot Varieties | Serger accessories offer consumers unique foot attachments that permit sewers to use the machine more effectively. Different foot options include beading, elastic, and cording along with lace and shirring. |
| Serger Mat | Often, a running serger is a noisy machine, but a serger mat can quiet the unit. Users will place the mat underneath the machine where it will muffle the noise. In addition, the mat will prevent the serger from shifting, which will prevent falling mishaps. |
| Elastic Gathering Attachment | With the gathering attachment, sewing experts can connect tapes and elastics to stretchy fabrics. The device will guide the added enhancement while the machine is sewing the fabric. Crafters can also use the mechanism for ribbons. |

Locating Sergers on eBay
Once sewing consumers begin shopping for a serger, they'll find numerous units on eBay. After reaching the website's homepage, shoppers can type in the brand or thread requirement of the serger they need, and eBay will list several pages of results. Another search option is to select Home, Outdoors & Décor from the company's homepage. Internet consumers should then click Crafts followed by Sewing & Fabric. The next selection should be Sewing, which will bring up an option for Sewing Machines & Sergers.

Conclusion
Sergers are a machine that will assist avid sewers and occasional crafters. With the machine, users can create professional grade apparel along with comfortable quilts and home decor items like curtains. Moreover, serger manufacturers construct machines in order to emit from two to five threads while providing extra features such speed capabilities and feed differential.