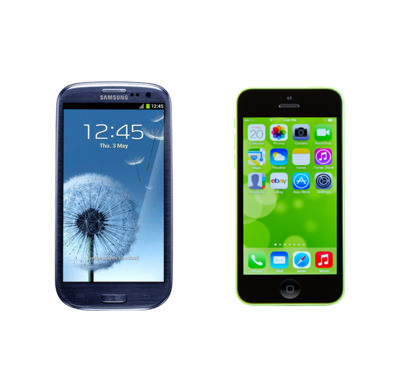 When it comes to choosing a smartphone, one of the biggest decisions users must make is whether they prefer Apple's iOS or Google's open-source Android platform. Apple's iPhone line includes the iPhone 5C, a seventh-generation iOS device, while one of the top offerings on Android is the Samsung Galaxy S line, including the Galaxy S3. While the two phones do share a common physical characteristic in their polycarbonate cases, other similarities are limited. Buyers should compare how the two phones stack up against each other in terms of hardware and features before deciding which one is best for them. When consumers finally make a decision, eBay has a great selection of both phones.
Samsung Galaxy S3
Samsung's Galaxy S3 launched in 2012, running Android 4.0.4, or Ice Cream Sandwich, though the system supports the Android 4.1.2 Jelly Bean upgrade. The user interface is a custom Samsung design, and applications are downloadable via Google Play. Hardware-wise, the phone features a dual-core Qualcomm Snapdragon S4 processor clocked at 1.5 GHz, with 2 GB of RAM. With 4G LTE and HSPA+ support, the phone provides fast speeds for Internet browsing. The phone also has dual channel Wi-Fi (802.11 a/b/g/n) for a faster and more reliable Internet connection and Bluetooth 4.0
This Samsung smartphone comes loaded with DLNA support and an NFC chip, both of which enable easy sharing across devices. S Beam, for example, lets users transfer files simply by pressing the backs of the phones together. The phone also has SmartStay, which automatically detects when users are viewing the phone and prevents auto-dimming. The phone also supports an array of motion gestures for controling the phone and a variety of other pre-loaded applications and features.
iPhone 5C
The iPhone 5C debuted in 2013 along with its higher-end sibling, the 5S. The system runs iOS 7, which has a new, streamlined interface. With the 5C, the Apple also designed iOS 7 to complement the colors of each phone. Applications are available through the iTunes store. The system runs a custom Apple A6 dual-core processor clocked at 1.3 GHz and features 1 GB of RAM. Like the S3, the phone also has Bluetooth 4.0, 4G LTE, HSPA+ support, and dual-channel Wi-Fi (802.11 a/b/g/n).
AirDrop in the iPhone 5C allows users to wirelessly send contacts, videos, and documents to other iOS 7 users without needing email or messaging. Other features include Passport, where users can store loyalty cards, boarding passes, coupons, and tickets and access them when needed. While the phone does not have the fingerprint scanner found in the iPhone 5S or the NFC chip in the Galaxy S3, the 5C does have Siri, the personal voice assistant phone that owners can use to set reminders, gather information, and much more.
Comparing the Samsung Galaxy S3 and the iPhone 5C
The Samsung Galaxy S3 and iPhone 5C share one key trait: both are made from a polycarbonate casing. The S3 has a brushed texture and comes inwhite orpebble blue, with a red version available as an AT&T exclusive. The 5C has a smooth, lacquer-like casing and comes in five colors: white , yellow,pink,green, and blue. Some of the features of each phone are presented here for comparison.
Feature

Galaxy S3

iPhone 5C

720p HD

1136x640 pixels

Pixel Density

306 ppi

326 ppi

Storage

Size

5.4 inches tall by 2.8 inches wide by 0.34 inches deep,

4.69 oz

4.9 inches tall by 2.33 inches wide and 0.35 inches deep,

4.65 oz
The Galaxy S3 sports a 4.8-inch Super AMOLED screen, while the iPhone 5C features a 4-inch retina display with a resolution less than 720p. In terms of storage, although the phones have the same ability, the Galaxy S3 provides the option of adding up to an additional 64 GB via a microSD card. The iPhone does not have this option, but it uses Apple's Lightning connector for charging and computer connections. The S3 uses a micro USB connection. Beyond that, the iPhone 5C has a 1507 mAh non-removable battery with 10 hours of talktime on 3G and 250 hours of standby, In comparison, the Galaxy S3 features a removable 2100 mAh battery rated for 11 hours of talktime and 790 hours of standby time.
Users will again find some similarities in the cameras of the two phones. Both have an 8 MP front camera, each loaded with a host of in-application photo effects and editing options, along with various shooting modes. Both record 1080p HD video as well. The front FaceTime camera for the iPhone 5C is set at a 1.2 MP resolution and records 720p HD video, while the front camera for the S3 is set at a 1.9 MP resolution but also includes 720p HD video recording.
How to Buy
Shop eBay to find the Galaxy S3 or iPhone 5C and plenty of other devices as well. You can specify carriers or even find unlocked models of theS3 or 5C, then narrow down your options by storage capacity and color. Read the seller's listing carefully so you know exactly what phone you are buying. If you have questions, use eBay'sAsk a Question feature. Alternatively, you can head over to the eBay Talk community to have the experts there address your concerns. Check out listings from top-rated sellers and visit eBay stores to find great deals on smartphones as well as all the accessories. eBay offers a large selection and plenty of resources to help you narrow down your choices and find the right smartphone for you.