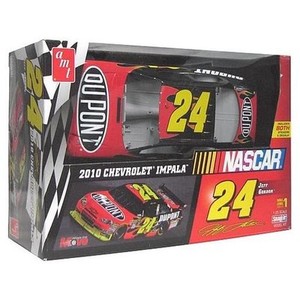 NASCAR is one of the most popular sports in the United States. The high speeds, strong personalities, and spectacular wins make it a thrilling sport to watch. Putting together a collection of diecast cars is a popular way to commemorate past drivers and show support for current ones. Whether shoppers are looking to buy a toy for a special child or are super-fans building their own collections, eBay has a huge variety of NASCAR diecast cars to help them stay in the action and move into the winners circle. Before starting a collection of NASCAR diecast cars, shoppers will need to know the drivers, learn the basic values and terminology associated with collecting diecast cars, and learn how to properly store and maintain their collections. Likewise, with a few tips on shopping for NASCAR diecast cars on eBay, collectors can ensure they get the cars they want at the right prices.
Discover Favorite NASCAR Drivers
One of the best parts of NASCAR is following the drivers and their teams as they compete. Collecting the different NASCAR diecast cars raced by favorite drivers is a popular way to get started. Some of the most memorable and most popular drivers collected are listed below.
Dale Earnhardt Sr.
The famous "Man in Black" died tragically during the 2001 Daytona 500. Dale Earnhardt is a hallmark of NASCAR, and a legend in the industry. He raced car #8 early in his career, but drove the #3 car for most of his career. During his career, Earnhardt raced in 677 races with 428 top-ten finishes and 76 wins.
Dale Earnhardt Jr. #88
Dale Earnhardt Jr . was sponsored by Budweiser and drove for team owner Teresa Earnhardt, widow and third wife of Earnhardt Sr. Winning his first title in 1998 made the Earnhardt family the first three-generation NASCAR championship family, beginning with Ralph Earnhardt. While racing for this team, he drove the #8 car. In 2007, Dale Jr. moved to Hendrick Motorsports where he raced car #88, which originally belonged to his grandfather, Ralph Earnhardt. Earnhardt Jr. has raced in both the NASCAR Sprint Cup Series and the NASCAR Nationwide Series.
Jeff Gordon #24
Jeff Gordon drives for DuPont and team owner Rick Hendrick. He won the Nextel Cup Rookie of the Year award in 1993. Gordon drives the #24 Drive to End Hunger/DuPont Chevrolet Impala for Hendrick Motorsports. He has raced in both the NASCAR Nationwide Series and the NASCAR Sprint Cup series in his career.
Jeff Burton #31
Jeff Burton drives the #3 Caterpillar/Wheaties Chevrolet Imapala (originally the Cingular Wireless car) for Richard Childress Racing. In 1994, Burton won two top-five finishes and three top-ten finishes, earning him the Nextel Cup Rookie of the Year award. He has competed in the NASCAR Camping World Truck Series, NASCAR Nationwide Series, and the NASCAR Sprint Cup Series.
Kevin Harvick #29
Kevin Harvick races the #29 Budweiser Chevrolet Impala for team owner Richard Childress. Harvick has been racing since he was a child, and in 1998 he won the Winston West Series after winning five races that season. He started his career in the NASCAR Camping World Truck Series and has also raced in the NASCAR Nationwide Series and the NASCAR Sprint Cup Series.
Mark Martin #55
Mark Martin is often remembered as the driver that drove the #6 car sponsored by Viagra and drove for team owner Jack Roush. In 2007, Mark Martin changed teams and drove the #8 U.S. Army car for Dale Earnhardt, Inc. From 2009 to 2011, Martin drove the #5 car for Hendrick Motors, and in 2012 he began racing the #55 Aaron's Toyota for Michael Waltrip racing. Martin has had a long career and is described by NASCAR followers as "the best driver to never win a championship."
Tony Stewart #14
Tony Stewartddrives the #14 Office Depot/Mobil 1 for Stewart-Haas Racing, which is the team that he owns. Stewart worked his way up from racing go-karts to ¾ midget sprints. Then, in 1998, he won Rookie of the Year in the Busch Series.
Other NASCAR Greats
Diecast cars celebrating many other NASCAR greats, both past and present, can also be found on eBay, including the following: Ernie Irvan, Jerry Nadeau, Jimmie Johnson, Johnny Benson, Ken Schrader, Ward Burton, Ryan Newman, Casey Atwood, Bill Elliot, Bobby Hamilton, Dale Jarrett, Darrell Waltrip, Jeff Green, Jeremy Mayfield, Jimmy Spencer, Kenny Wallace, Kyle Petty, Richard Petty, Matt Kenseth, Michael Waltrip, Mike Skinner, Ricky Rudd, Robby Gordon, Rusty Wallace, Sterling Marlin, Steve Park, Bobby Labonte, and Terry Labonte.
Collect NASCAR Diecast Cars
Whether shoppers are starting a collection or adding to an existing NASCAR diecast car collection, they'll want to stay focused on their favorites, understand the lingo to help them evaluate cars, research the value of the cars, and learn to maintain the cars for the future.
Start a NASCAR Diecast Car Collection
When first building out a collection, it's a good idea to pick a focus. Collectors should choose a favorite driver, scale, or sponsor. Jeff Gordon fans can try to find his car in different scales. If they like the design of GM Goodwrench cars, they can try to collect all the different cars and drivers that they sponsor. Promotional or collector cars can also provide an interesting focus, since they cover a wide variety of interests.
Learn About NASCAR Diecast Car Lingo
NASCAR diecast cars have their own unique terms, which can help collectors determine additional information about the cars. Learning the different terms associated with buying and collecting can help make communicating with other collectors easier. Many sellers often include the different terms in their listings as part of the item's description. Understanding the different terms can also help shoppers determine the value of the car they are looking at. Below are a few of the most common abbreviations associated with buying and selling NASCAR diecast cars.
MFG: The abbreviation MFG stands for manufacturer. Action, Brookfield, RCCA, Revell, Team Caliber, Winner's Circle, and Hot Wheels all manufacturer NASCAR merchandise. Some collectors prefer one brand of diecast car over another, and knowing the manufacturer can also help shoppers identify the value and quality of the car.
Scale: The term "scale" represents the proportion of the model in comparison to the original. 1/64 is the smallest size and measures about 3 inches long. 1/24 is the most common scale available, measuring about 8 inches long. 1/18 scale is the largest and offers the best detail, but this size prevents many people from collecting it.
H/O: The abbreviation H/O stands for Hood Open. These models have a hood that can open and a simplified version of the car's engine underneath.
B/W: The abbreviation B/W stands for Black Window. The interior of these models cannot be seen unlike other models, which have a representation of a racecar inside.
C/W: The abbreviation C/W stands for Clear Window, which means that the interior of the car on these models can be seen. Most cars are C/W unless it is stated that they are B/W.
Determine the Value NASCAR Diecast Cars
Keeping up on the price of NASCAR collectibles is essential to being an informed collector. eBay is a great place to compare prices and determine demand for certain items. If shoppers find a piece that seems too good to be true, they should investigate and ask the seller questions. Many times the cars may be replicas or lack authenticity certificates. While the cars may still be nice to have in a collection, they won't be as valuable.
Price guides like Beckett Racing Collectibles and Die - Cast Price Guide will also list values and often have articles and information about the state of the hobby in general. These guides serve as a good reference point for determining how much a shopper should pay for a particular item. Additionally, these guides are updated as new collectible cars are released.
Maintain and Protect NASCAR Diecast Cars
Protecting a collection is an important part of the hobby. Hard plastic and glass display cases for NASCAR diecast cars of all scales are available. Many cases are built for specific NASCAR drivers and feature graphics that are complementary to their cars.
Collectors should keep their collections out of direct sunlight, which can damage the finish. They should also avoid storing the collection somewhere with high temperature changes. These can warp or damage the finish, or the car itself. Locations with high humidity should be avoided for the same reason.
Collectors who have a large collection or one with limited and rare items, should ask their insurance agents about coverage for the collection. This insurance may be affordable and can help collectors protect their investments and rebuild their collections if tragedy strikes.
Find NASCAR Diecast Cars on eBay
After searching for all the background information on the cars and drivers and deciding which NASCAR diecast cars you want to include in your collection, the next step is searching for the cars on eBay. You will need to navigate to the Toys & Hobbies category on the site as a starting point. From here, shoppers can browse the many collectible items found in this category. However, for those who know precisely what they're looking for, refining the search by category and advanced search methods can help locate the specific item more quickly.
Categories
Narrowing down the items on the list is easiest when filtering the cars based on categories. First, click Diecast & Toy Vehicles,, then Cars : Racing & NASCAR then NASCAR.. This will show you all of the listings for NASCAR diecast cars, and there are likely several thousand of them. If you are looking for specific cars, then there are categories listed on the left side of the page that can help refine the listings even further. By selecting the different criteria from the left-hand side of the page, you can filter by Brand, Scale, and Driver. You can also weed out listings that are not in the desired condition or price range.
Advanced Search
An Advanced Search on eBay allows shoppers to search for specific items right from the start. You can choose certain keywords to include and certain words to exclude from the search to really focus the results on a specific item. You can also opt to search the titles and descriptions for the keywords to return more relevant results. For example, if you want to find a Rusty Wallace car, type "Rusty Wallace" (without quotation marks) into the Search box. Check the box below to "Include Descriptions" in order to expand your results.
With an Advanced Search you can also narrow down the results by specifying a price range, condition, buying format, shipping options, and payment options. This feature helps a shopper find what they are looking for on the first try, thus saving a lot of time.
Alternate Search Methods
Some items are rare or are just not available at the time that you are looking for them. If you can't find exactly what you want, try shopping eBay Stores,, telling the eBay Community what you want by creating a post on Want It Now,, or saving a search on My eBay and eBay will send you an email when a match becomes available. You can access all of your saved searches through your My eBay page, and you can delete the search if you find the item you're looking for before it becomes available on eBay.
Buy NASCAR Diecast Cars With Confidence
eBay has created a marketplace where finding the things you want is not only easy but also safe. When looking for NASCAR diecast cars for your collection, you can be confident in your purchase. There are several features and programs in place that both help buyers get information on sellers and also protect the buyers with every purchase they make. Below are a few tips to help ensure a great NASCAR diecast car buying experience.
Research the Item
It is always important to read the description that the seller has given for the item. Be sure to research the value of the item before making a purchase. There are times when the price for the item may be too high or too low and requires a little bit more investigation to determine why it is priced that way. If the deal is too good to be true, then it just might be.
Shipping Costs
When gauging the price for the item, be sure to include the cost of shipping in the final price. Some sellers offer free shipping while others will discount an item to make up for the difference in shipping costs. If the items are extremely valuable or if you are spending a lot for them, be sure to ask the seller to insure the item when shipping. This will protect your investment from the time it leaves the seller to the time it reaches your door.
Research the Seller
eBay's feedback and rating system helps buyers know which sellers are safe to buy from and which ones do not have a good reputation. Before placing a bid on an item or clicking the Buy It Now option, be sure that you have checked out the seller's feedback. See how many stars the seller has, how many transactions he or she has completed, and what other buyers are saying about him or her. Choosing a reputable seller will further increase your chances of completing a positive transaction. If you have questions for the seller about a particular listing, then don't hesitate to send him or her a message through the Contact Member link on his profile.
Buyer Protection
Although rare, it is possible that you don't receive your item or that it is not the item is not as the seller described. In these instances, the eBay Buyer Protection Program will reimburse you for the item as well as any shipping charges.
Conclusion
Putting together a collection of NASCAR diecast cars can be a rewarding experience. Collectors can commemorate their favorite drivers, teams, cars, and brands. With hundreds of different cars released over the years, locating the cars can be a difficult task. eBay is a huge marketplace that offers a large selection of NASCAR diecast cars from sellers all over the world. Finding the cars to add to a collection is simple. Storing and maintaining the cars properly ensures that collectors can continue to enjoy their pieces of NASCAR history for years to come.