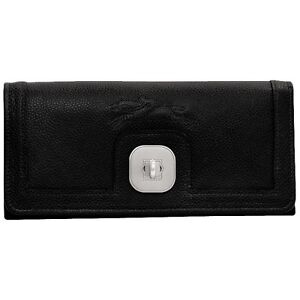 A leather wallet, sometimes referred to as a billfold, is one of the most commonly used everyday accessories. The vast majority of people use a wallet of some kind each day in order to carry all sorts of personal items, from a driver's license to credit cards. A wallet made from leather has a number of benefits over wallets made from other materials.
There are a wide variety of different styles of leather wallets available, and this guide offers readers information they need to buy the right leather wallet to suit their needs. Buyers should know the benefits of using a leather wallet, the different types of leather wallets available, the quality differences between the three most common leather materials, as well as useful information on what to look for when buying a leather wallet. Readers are also able to find the best places to buy a leather wallet and how they can use eBay to research and buy their new leather wallet.
The Benefits of Using a Leather Wallet
Wallets can be made of all sorts of different materials, including nylon, canvas, imitation leather, and plastic. A genuine leather wallet offers several superior qualities over wallets made of other materials, which include durability, practicality, comfort, and style.
Durability of a Leather Wallet
Because a wallet is an item that is generally used multiple times each day, it is important that the wallet is durable and long-lasting, able to withstand constant use. Leather wallets offer flexibility and give, which can be very useful when having to fit a large number of cards or coins into it. Leather is a hardy material that has natural waterproof and breathable qualities. A leather wallet can withstand getting wet in the rain, being left in the hot sun, being jammed at the very bottom of a purse, backpack, or pants pocket, or being thrown onto the back seat of a car.
Practicality of a Leather Wallet
Because a leather wallet is more durable than wallets made of other materials, they are able to carry more items. A leather wallet will keep its shape over time. It is able to stretch enough to allow a certain amount of increase in its contents, but it will not fall apart or become misshapen.
Comfort of a Leather Wallet
Leather is a material that is flexible and relatively soft to touch. A leather wallet offers its owner a comfortable feeling when carrying it, whether that may be in a pants pocket, a jacket breast pocket, in a handbag, or on its own as a clutch purse.
Style Qualities of a Leather Wallet
A leather wallet is, without doubt, a stylish accessory. For many, their wallet is more than just a useful item, it is a fashion statement. Many people, both men and women, consider their wallet to be a part of their everyday attire. Often a wallet will reflect a person's personality, and a leather wallet is almost as much a statement of fashion as it is a statement of the person themselves. A leather wallet may convey classic sophistication, it may tout the latest fashion season's style, or it may show complete organization.
Different Types of Leather Wallets
There are a wide variety of different types of leather wallets available to buy. Each one is designed for carrying different items or sized for carrying cards and bills in different ways. The various types include traditional bi-fold and tri-fold styles as well as specialty designs for specific purposes like traveling.
Bi-Fold Leather Wallet
A bi - fold leather wallet is the most common type of wallet available. It is designed to carry banknotes and credit cards. The banknotes are inserted unfolded into the top opening, and credit cards are inserted either horizontally or vertically. The wallet is then folded in half. Many bi-fold wallets do not feature a coin pocket, although some styles do feature a small zip or press-stud closure pocket that can hold a small number of coins. Bi-fold leather wallets are practical to carry in a pants pocket as they lay relatively flat.
Tri-Fold Leather Wallet
A tri - fold leather wallet is designed very similar to the bi-fold type, with the exception that the wallet folds into thirds. Credit cards are stored vertically. These types of wallets may or may not feature a coin pocket. Tri-fold wallets are smaller in size, but they can be bulkier than their bi-fold counterparts, not lying as flat in a pants pocket or slim purse.
Checkbook Leather Wallet
A checkbook leather wallet, sometimes referred to as a breast leather wallet or a secretary leather wallet, are designed to be carried in the long breast pocket of a men's jacket or in a woman's handbag. They are large in size and often feature a zip or press-stud closure. They are long enough to hold a checkbook and feature many credit card slots, and they commonly include a coin pocket. Banknotes are inserted flat and never need folding. Checkbook leather wallets are designed to carry a large number of banknotes, credit cards, coins, and other important documents.
Leather Travel Wallet
The leather travel wallet is designed to hold all important travel documents, including passport, airline tickets and itinerary, hotel booking documents, travellers cheques and foreign currency, as well as credit cards and ID cards. As its name suggests, this type of leather wallet is designed specifically for travellers. A travel wallet generally features a zip closure or press-stud closure of some sort in order to keep all documents secure.
Money Clip Leather Wallet
A money clip leather wallet is a small, flat wallet designed to be carried in a front pocket. These feature very few credit card slots and no coin pocket. They are designed to carry a few banknotes and perhaps a card or two. The banknotes are folded in half and held into place with a clip. This style of wallet is ideal for those who use only one or two regular cards and prefer to carry banknotes instead of coins. It is a small, lightweight wallet, easily carried in any pants or jacket pocket. It is also perfect for carrying in a women's wristlet or slim handbag.
Leather Wallet Materials
Genuine leather is a durable and hardwearing material. Wallets made from genuine leather look attractive, feel comfortable to hold, and are much less likely to fall apart than wallets made from synthetic materials. However, there are a few variations of leather available. These leather materials have differing levels of quality, durability, and comfort. Generally, natural-looking leather wallets come in black and various shades of brown. However, they can be dyed any shade of color.
Full Grain Leather Wallet
A leather wallet made from full grain hide is the most durable of the leather varieties. They are usually more expensive but tend to last a long time, and the stitching is usually strong and durable. Full grain leather means that the hide has not been buffed or sanded. The grain is kept, retaining its durable and breathable qualities. Full grain leather wallets sometimes are not as smooth. Because full grain leather is not coated with any protective products, it is more likely to stain. Therefore, it is important to use special leather conditioning creams in order to protect the leather. Over time and with extended use, full grain leather does develop a patina, which helps to protect the material and prevent it from wearing out.
Top Grain Leather Wallet
A top grain leather wallet is made using the top part of the hide once it has been split. This top layer of hide still retains the typical leather grain pattern, but it is thinner and not as strong and durable as full grain leather. The leather is sanded and buffed and is usually coated with a protective coating. This coating protects the leather from stains but reduces its breathability and can give the leather the look and feel of plastic. These types of leather wallets are less expensive than those made from full grain leather. Top grain leather is what many genuine leather wallets are made from.
Split Grain Leather Wallet
A split grain leather wallet is the least expensive of any type of leather wallet. It is made from the underside of the hide once it has been split. This type of leather does not have the natural grain pattern that top or full grain leather does. Instead, an artificial layer is added to the split grain leather that has a grain effect stamped into its surface. Split leather is thinner, less durable, and less breathable. Suede is a form of split grain leather. Suede leather wallets are a popular form of split grain wallet, as they look stylish and feel soft and comfortable to hold and use.
What to Look for When Choosing a Leather Wallet
Buyers want to purchase leather wallets that they will find practical to use, comfortable to carry around, and attractive to hold. Buying a leather wallet is a long-term investment in an item that will be used many times every day. When choosing a leather wallet, it is important to consider style, functionality, and cost.
How the Leather Wallet Will Be Carried
A buyer should first identify how they plan to carry their leather wallet around with them. Will it be carried in a handbag, a jacket breast pocket, or a pants pocket? Once a buyer has identified this, they will be able to narrow their search to one or two particular types of leather wallet.
If a buyer is looking to purchase a men's leather wallet that they will carry in the back pocket of their pants or jeans, they will not find a travel wallet or a checkbook wallet very practical. Alternatively, if a buyer wants a new wallet to carry in a large backpack, a small bi-fold wallet may be a bit impractical. Additionally, users who tend to be hard on their wallets, carrying them in pants pockets or in book bags crammed with other items, should consider investing in a more durable grain of leather so the wallet lasts longer.
What the Leather Wallet Will Be Used For
Secondly a buyer should identify what their new leather wallet will be used for. A woman who likes to carry lots of credit cards, store cards, bank cards, and ID cards in her wallet, may find a money clip wallet not of much use. Instead, a women's checkbook leather wallet may be more suited.
Popular Leather Wallet Brands
For many, a leather wallet is as much about style as it is about practicality. There are a wide variety of popular brands of leather wallets available. Some designer brands offer good quality wallets at a high price; however, good quality does not always have to equal high price. A good quality genuine leather wallet does not have to feature a designer brand. Here are a few popular brands in a variety of different price brackets.
Fossil
Fossil is a great brand for leather wallets, offering good quality at reasonable prices. They have a varied selection of men's leather wallets and women's leather wallets. The line of Fossil money clip leather wallets include practical designs that feature durable leather with strong seam stitching and magnetic money clips. This is a practical option for those who only like a small, slim wallet with a few credit card slots.
Coach
Coach leather wallets feature the latest in designer styles. Although they are an expensive designer brand, they are well respected for their quality and long lasting durability. A Coach leather wallet is a great item for anyone who wants to make a fashion statement. Coach even makes designer wallets to match their range of designer handbags. The Coach Madison large leather wallet comes in a variety of colors and patterns. This popular wallet features a full zip closure, two billfold compartments, a large zip closure coin pocket, and it is made from genuine Italian leather.
Kenneth Cole
Kenneth Cole leather wallets are a popular brand of designer wallets. Their product range features both men's leather wallets and women's leather wallets. They are considered to be within the mid-range price bracket. The Kenneth Cole Passcase is a bi-fold wallet made from genuine leather that features several credit card slots and a removable ID card compartment. This is a popular wallet option that is attractive and slim.
Places to Buy a Leather Wallet
Any major brick-and-mortar department stores will have a varied selection of leather wallets available, from top designer brands to the more affordable styles. If a buyer wants a particular type of designer leather wallet, such as a genuine Gucci leather wallet or a Louis Vuitton leather wallet, it is best to visit that particular retail store where an experienced staff member will be able to direct a buyer to the type of leather wallet they are looking to purchase.
These designer stores also allow buyers to purchase the leather wallet online. Alternatively, there are a wide selection of online stores that sell all types and brands of leather wallets. eBay features thousands of leather wallets in every price range.
Use eBay to Buy a Leather Wallet
For buyers wanting to purchase a new leather wallet online, eBay provides simple search methods that make buying any type, style, or brand of leather wallet as easy as possible. Search leather wallet from the eBay home page, and a wide selection of different wallets will be listed on a search results page. Or a buyer may choose to navigate to the appropriate category by going to the Fashion portal, then selecting either Men's Accessories or Women's Accessories. Once there, a buyer may further refine their search by selecting Wallets under the category selection on the left-hand side. Alternatively, find a specific type of leather wallet, such as a pink leather wallet, a used leather wallet, or acrocodile leather wallet, by entering the keywords into the search bar.
For buyers struggling to find exactly what they want, eBay offers eBay Stores, where shoppers can see exactly how many listings match their specific requirements. For those who may be new to eBay, visit the Getting Started on eBay page where there are helpful hints and tips, including using the eBay Mobile App for smartphones, utilizing eBay Community Resources, and contacting eBay Customer Support if needed.
Once a buyer has found the right leather wallet, it is important to check the seller's eBay feedback rating to see how other buyers have rated the service. If a seller is an eBay Top - Rated Seller, this seller has proven that they consistently receive buyers' highest ratings, that they ship items promptly, and that they have earned a track record of providing excellent service on eBay.
Conclusion
Even though the upfront cost is generally higher, Investing in a genuine leather wallet can save its owner time and money in the long run. A leather wallet offers long-lasting durability, comfort, and practicality. It can also make a fashion statement. There is a wide variety of wallets available in different materials, colors, sizes, styles, and brands. Before making a purchase, it is important for a buyer to identify what they want from their new wallet. Once they have identified what type of wallet they need, they are able to research the different brands, prices, and styles available. eBay offers an easy way for buyers to research and find their new leather wallet at a price that makes them happy.