As an obsessive book collector, I have purchased many wonderful books on ebay and usually I am very happy with my acquisition when it arrives - but occasionally I end up with something that is not quite what it is supposed to be - the coveted first edition book. In the interest of trying to weed out some of the confusion about what is and is not a first edition, I offer this article, some of which I researched and wrote a few months ago for my rare books website.


Identifying a first edition book is a complex and often frustrating task that every book collector must learn. Unfortunately there is no one formula for doing so. Every book publisher has their own way of identifying a first edition and some may seem contradictory.
The most obvious identification is to simply say "First Edition" or "First Printing". Thankfully most modern publishers will clearly have this statement on the copyright page of the book, but not all. Many will have a dash with "1st-ed", and some will have a number line like this "10 9 8 7 6 5 4 3 2 1", if there is a "1" in the number line the book is a first.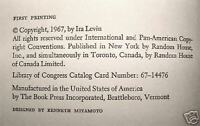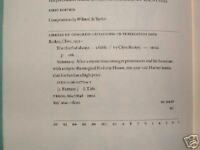 Now comes the hard part, just because a book says its a first edition doesn't mean its a first printing or "True First". A book can be a first edition and be in it's 100th printing - a no-go place for most hard-core book collectors. Some publishers will state first printing outright - but that is rare. The number line mentioned above can be a clue in some cases - if, for instance, a book says "First Edition" but also has a number line that doesn't include a "1" than that book is a first edition but a later printing - the printing number is the lowest number in the number line.
Confused yet? Well hang on to your hat, because it gets much worse when dealing with older books. In some older books there is simply no way of knowing other than being familiar with the characteristic of the known first editions of that book. Characteristic such as the color of the cover, the size of the book, number of copyright lines, etc. Sometimes if the date of copyright on the copyright page matches the date on the title page, its a first. One good clue on an older book with a dust jacket is if there is a price on the front inner flap of the jacket - if it has a price, it is possibly a first - if it doesn't than it probably is a "Book Club Edition" and definitely not a first edition.
"Book Club Edition" is the key phrase you want to keep in mind on a questionable book - they are the poison of the book collector. Anyone familiar with books can tell a book club edition as soon as they pick the book up - they feel cheap. They are much lighter in weight than a "real" book due to the junk paper used to print them and the pages tend to be very yellow and rough feeling. A book collector never buys a book club edition.

A few hints for folks who are just getting into selling books on ebay:
1) Paperbacks are almost never first editions and should not be listed as such.
2) Just because there is only one copyright date doesn't mean its a first edition.
3) Dont list a book as a first edition unless you are very sure that it is - its very disappointing to receive a worthless book in place of the first edition you were expecting.
4) Regarding a books condition - Moldy, smelly books with the pages stuck together, and or ripped and missing pages, or books full of childrens crayon marks or any other problems are very undesirable, and are unlikely to sell. If they do sell then they are likely to bring negative feedback from the disappointed buyer - be very, very honest about condition.

5) About dust jackets - A dust jacket is up to 80% of the books value - if your book originally was issued with a dust jacket but no longer has it, than the book is only worth 20% of its possible value.

Books are a truly perfected product, a wonderful adventure with no electricity required.