Here is a guide on how to spot fake bapes
There are size limits in bapes. Bapes size limit is up to XXXL, no higher than that. 4X is very rare, so u might want to watch out. Also sizes over XL are suppose to be rare, so you should be careful when buying over XL. Also People might fool you with a real bag, but might have the fake hoody in it.
THE PICTURES OF BAPE CLOTHING MARKED "REAL" ARE ACTUALLY TAKEN FROM REAL JAPANESE RETAIL BAPE STORES.
i have to say, spotting the tags are pretty important here.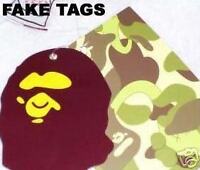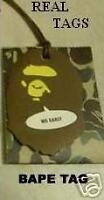 Also another thing you should spot is with the Bape hoodies with diamonds. look carefully and you will see the difference. take a close look at how the diamonds are placed the real bapes have the diamonds "on" the letter. The fake ones have it "around" the letters. Also the quality of the material of the real Bapes do make a difference. The designs look more clean and clear and, while the fakes ones look slightly faded or a little lighter than the real ones. So take a close look at the diamonds.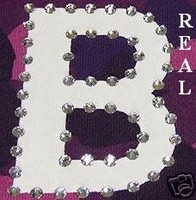 Also take a look at the bags. The fake one has more yellow and orange than the real one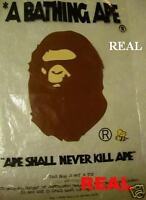 Here are some comparisons of fake and real ones. Look at the quality of the material and the color and the way both are made, it is very noticeable.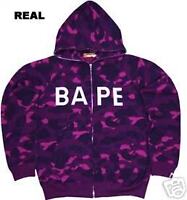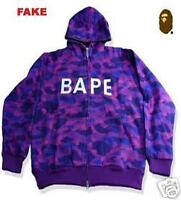 -fake ones can have the "BAPE" put a little crookedly
-color is off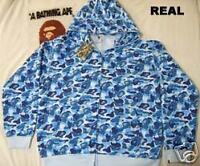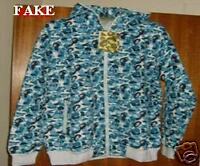 -colors are off again
-The fake one has the zipper showing in the middle. The zipper is not suppose to be visible like the real one.
-The camo design on the fake one overlaps the waistband while the real one does not. The waistband on the real one is clean
(please continue to part 2)