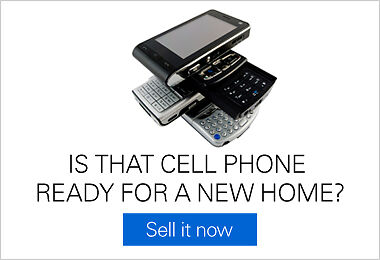 Want to sell your cell? eBay buyers all over the world would love to buy it. Check out our pointers on how to
sell your cell phone
for top dollar.
Who doesn't love an upgrade? So when it's time for you to move up to the latest and greatest, why not sell your old phone? Buyers by the millions flock to eBay each and every day, looking to buy used iPhone, Android, and other phone brands. This guide makes it easy to list and sell your mobile phone.
Are you wondering how to price your cell phone? Explore our
"What's It Worth"
tool to find out!
LOCKED OR UNLOCKED?
One thing you'll need to know before you sell your phone online is whether it's "locked" or "unlocked". Most major cellular service providers carry their own versions of popular cell phone models. These phones are usually "locked" and can only be used on their networks. Since these carriers have millions of subscribers, buyers who already hold service contracts search eBay for phones compatible with their providers.
Unlocked
cell phones
are not restricted to one wireless service provider. Buyers who plan on using their phone for longer periods of time look for unlocked phones so they are not restricted to a single carrier. Some unlocked cell phones can also be used internationally by inserting an international SIM card, making unlocked phones very popular with travelers and international buyers.
WHAT ELSE ARE BUYERS LOOKING FOR?
eBay also sells thousands and thousands of
cell phone accessories
in every make and model. Chargers, cables, wireless keyboards, SIM cards, headsets, hands-free car kits, and Bluetooth headsets are popular. In addition, accessories that personalize and protect cell phones are a must-have for buyers of all ages. Popular items on eBay include cases, pouches, holsters, straps, charms, and faceplates.
PREPARING YOUR PHONE
This is the most crucial step before you list your cell phone to sell on eBay: Be sure to
wipe all of your data
and purchased apps. To do this, follow the instructions provided by the phone's manufacturer. Be sure to back up any needed files first, because once wiped, you will not be able to retrieve any data from the phone itself.

CREATING YOUR LISTING
Follow these steps to give yourself the best chance at making the most money.
1. Do your homework
2. Include keywords and details
Keywords are a great way to attract buyers to your listing, especially when used correctly in your title. Titles are used by eBay's search engine to surface listings during a search. Use your 55 characters wisely, and try to anticipate what buyers will be searching for. Remember to state important characteristics of your item—like brand, carrier, model, and color. For more information, read our guide on
writing great titles.
A good description is concise, well organized, and easy to read. Be sure to restate the information featured in your title plus additional details such as size, materials, built-in technology, and compatible phones or carriers. Always clearly state what is included in the listing—such as chargers, instruction manual, SIM card, battery, and any other accessories. Think about your listing from the buyer's perspective—the more information you provide, the more likely the buyer will be to place a bid on your item. For more information check out our guide on
writing a great item description
.
3. Phone specs
Try to find out what carriers can be used with your phone or what phones fit with your accessories. Research what capabilities your phone has—including camera specs, storage space, and RAM. Try searching your phone model online or looking through your instruction manual for more specifications. For phone accessories, check the original packaging for compatibility information or try searching for your product online.

4. Showcase your item with great photos
Photos are the closest you can get to putting what you're selling in the hands of potential buyers. For tips on how to best represent your item check out our guide on
taking excellent photos
. A good way to get a free stock photo is to use the eBay catalog when creating your listing (see above).
AFTER THE SALE
Once you received confirmation that your buyer's payment has cleared, it's time to package, label and ship your item. Below are a few more tips to successfully complete the sale for you and your buyer.

Packaging your phone
Though small and compact, a cell phone can be damaged in transit if not properly packed. Protect the outer surface of the device by wrapping it in one or two layers of bubble wrap before packaging it. Find a sturdy box that fits the phone (+ bubble wrap) with a little extra room on all sides. Then fill any extra space inside the box with crumpled-up newspaper, packing peanuts, or more bubble wrap. This guide has some additional tips on how to pack an item for shipment.
Printing postage
eBay labels
can be a huge help getting your item out the door. You can print labels from home, then simply tape them to your package. Using eBay labels also lets you choose your carrier (USPS, UPS, FedEx), and can help you schedule a pickup.
Shipping to your buyer
It's good eBay karma to ship your phone as soon as you receive payment. You might also send a note to your buyer when the item has shipped. Provide a tracking number, if applicable. Consider adding insurance or shipping confirmation, especially for a more expensive or fragile items like cell phones.

Leave your buyer positive feedback
Buyers love to receive positive recognition from sellers. It's an important part of good customer service. Be sure to leave them a positive comment the minute you receive cleared payment.