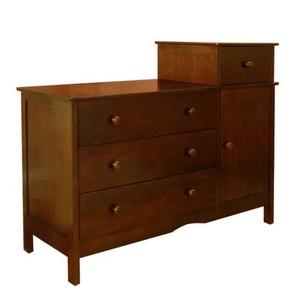 Buying used furniture can be advantageous for many reasons. It is usually less expensive than new furniture, which can allow consumers to purchase a good piece of furniture for less. Even if the style is different from what the consumer is looking for, if spending less to purchase the piece, buyers will have more money left over to recover or refinish the furniture, making it customized for their decorative tastes. With some vision of what is possible, buying used furniture can result in an affordable and unique way to furnish the home.
What to Look For in Used Furniture
There are several things consumers should keep in mind when looking for and pricing used furniture. Taking the time to consider the following list of "Cs" will make the search go more smoothly.
Watch this video to learn more about buying furniture:

Craftsmanship
When looking at used furniture, be sure to notice the materials that make up the piece. Often, used furniture that is older tends to be solidly constructed, especially older wooden furniture. If it is made of quality wood, with strong joints and a good bonding glue, the buyer can expect that it is well made and will last for many years. If the furniture looks cheap and is made from particleboard or a similar material, chances are not good that it will last a long time.
It is important to note here that cribs can have wonderful, sturdy craftsmanship; however, it is necessary for buyers to confirm that the crib is still safe. By checking the Consumer Product Safety Commission ' s list of recalls, buyers can make sure that the crib in consideration is, indeed, safe and does not pose a problem for babies or small children.
Condition
In addition to considering the craftsmanship of the furniture, it is also important to inspect the condition, especially because this is the biggest factor in determining the value of the piece. Certainly, the buyer wants to ensure that the furniture is not going to fall apart in the next couple of months, so it is recommended that buyers take the time to inspect each piece thoroughly.
From a quick glance, buyers should be able to see any signs of severe damage that cannot be repaired easily or cheaply. For example, in a piece of wood furniture, buyers should check for termite damage, such as tiny round holes and sawdust-like granules the color of the wood.
If possible, buyers should try out the furniture to be sure it feels sturdy. Leaning on tables, tipping back chairs, opening and closing drawers, and squeezing the arms of sofas are all smart ways to access the condition of the piece. If the buyer is interested in a recliner, extending the footrest to be sure the metal parts work is also a good idea. If the buyer is considering purchasing a table with multiple extensions, it is also beneficial to be sure the other parts fit easily.
Compatibility
Before going out and pricing used furniture, it is a good idea to write down the dimensions of all rooms, entrances, and stairs within the home. Then, bring along a tape measure to make sure the used furniture will fit in the home without having to tear down any walls along the way. Also, buyers may want to keep in mind the decor of the home and make sure the used furniture is compatible with the furniture already in the home. Some homeowners prefer to mix styles of furniture, such as traditional with country. However, just because used furniture may be inexpensive, doesn't mean the buyer shouldn't be sure it will work with the style and feel of the home.
Buyers will also want to remember that a piece of not so pretty furniture that is well made is worth purchasing for a good price, because there are many options for refurbishing it. Particularly popular is the "shabby chic" style where dressers and other pieces of wood furniture are painted white and lightly rubbed with sandpaper to create a distressed, worn look. Buyers can transform used furniture in this way at a low cost. It is fairly easy for wood pieces to be stripped, sanded, and stained or painted to give an old piece a fresh, new appearance. Upholstered furniture can be recovered for an updated look either by a "do it yourselfer" or a professional.
Comfort
When looking for used furniture, it is important to take into account the purpose of the piece and how it will function in the home. If the buyer is looking for a cabinet that will hold antique figurines for display only, the daily functioning of the cabinet is minimal. In contrast, if the buyer is in the market for a new sofa for his or her living room, the daily function of the sofa is more important; as such, comfort must be taken into consideration. If a sofa's springs are broken and are felt each time someone sits down, it is likely not going to be a popular place to relax. Thus, the function and comfort of the sofa becomes a drawback, and the sofa will not be used. So, even if the sofa was bought for a great price, if it is not comfortable, it is not worth owning. Similarly, if a second-hand desk is bought but does not have adequate space to accommodate a computer, files, and other office supplies, the used furniture will be a source of disorganization, thus decreasing the comfort for the user.
To avoid any problems with comfort, buyers should try out furniture before purchasing it. If this is not possible, it is a good idea to ask very detailed questions about the furniture in consideration. Whether it is a chair's cushions with too little stuffing or a desk that sits too low for the user, uncomfortable furniture affects the posture of owners, which can lead to neck and back pain.
Cleanliness
Simply due to the fact that used furniture is in fact, used, there are bound to be some signs of wear. However, if the problems are minimal, it is likely the piece can be repaired. For example, if a used buffet has some old food stains, it is possible to strip, sand, and paint it in order for it to look new again. Or, if a sturdy, comfortable chaise lounge has some minor tears around its wooden feet, it is feasible to have it reupholstered. With a little care, these are both very fixable issues.
However, there are other cleanliness situations that can pose more of a problem. For example, if the beautiful oak table smells of smoke, it might be a good idea to keep looking, because this smell is very difficult to remove completely. Also important when purchasing used sofas, chairs, and other upholstered and leather items is for the buyer to inspect for bed bugs under the seams, along the folds of material, and behind the cushions. These troublesome, biting bugs are extremely difficult to get rid of. If a buyer suspects a bedbug infestation, he or she should run, not walk, to the next piece of used furniture. As a special note, it is not a good idea to buy used mattresses for this very reason.
Calculating Cost and Compromising
When pricing new furniture, it is smart to start with a budget in place. To come up with the budget, it is beneficial to do a little research into the prices of used furniture before buying. Checking the newspaper sales ads or online sales for similar products is a good way to get an idea of what a fair price is for different kinds of used furniture. This type of comparison shopping is a helpful way to eliminate or further evaluate some used furniture. This list should be brought when shopping to show to sellers if needed as well. Sometimes, the sellers may not be aware of what the going rate is for their used furniture, and they may be more willing to compromise if shown "proof." Obviously, used furniture should not be priced higher than similar items that are brand new, unless it is an extremely rare antique that is in excellent condition.
Once a buyer finds a piece of used furniture and wants to purchase it, he or she should feel comfortable trying to negotiate with the seller for a fair price. As with new furniture or new cars, the asking price is always negotiable with used furniture as well. Many times, the buyer wants to get rid of the used furniture and may be willing to lower the price, thus reaching a compromise that is comfortable for both the buyer and seller. For example, if the buyer sees that the used furniture is not in great condition, he or she might want to reconsider the purchase or haggle over the price with the seller. Often, if a seller see things from the buyer's standpoint, the seller may be more willing to drop the asking price. Buyers will want to bring up points that include calculations for how much money will have to be put into the piece to restore it or repair it.
Additionally, especially if purchasing online or from a non-local seller, buyers may want to bring up the shipping cost as a case for a price reduction. For instance, if the shipping cost of a solid wood dresser that is in mediocre condition is high, the buyer may want to suggest free shipping instead of a decrease in price. Sometimes, sellers may be willing to waive shipping costs instead of lowering their asking prices.
Purchasing
Used furniture can be found in many places, including curbsides. Bargains abound at yard sales, flea markets, online auctions, local consignment stores, junk stores, rental furniture outlets, salvage yards, warehouse outlet sales, and local real estate auctions.
Purchasing Used Furniture on eBay
There are also thousands of options for finding used furniture on eBay.Since eBay boasts competitive pricing and many opportunities for free shipping, it is a wise option for buyers who want an extensive, unique, and convenient shopping experience. Once on the site, go to Home & Garden. Then, choose Furniture. At this point, several options will appear, and you will have the chance to choose what kind of furniture you want. You may also choose to use the search box to narrow down the options. In the search box, type in something such as "Used Children ' s Tables" or "Used Wood Desk" to locate your desired piece of furniture. You may also want to limit your search to only looking at those sellers who offer discounted or free shipping.
Purchasing on eBay gives both the seller and the buyer peace of mind when engaging in a transaction. By allowing both parties to rate and leave feedback, other potential customers can decide to work with those whose ratings are the highest and whose feedback is excellent.
Additionally, eBay offers the buyer protection policy. This protects both buyers and sells. If a case is filed by either the buyer or seller, eBay takes a more personal, active role in the transaction process and makes a final decision regarding the sale.
Conclusion
Buyers who are in the market for used furniture will find that there are many options available depending on their desires. Furthermore, most will find that buying used furniture offers a personal way to transform a space into something very special without spending a fortune.