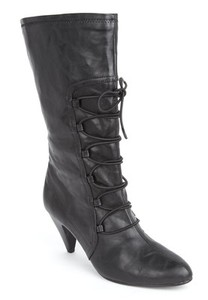 For many women, boots are the perfect fashion accessory. They are made to go with almost any look from casual to dressy, and range in quality from top designer labels to everyday riding boots. However, for women with wide calves, choosing to purchase a boot can often be an exercise in frustration. An average boot of any type will have a calf size anywhere from 14-15 inches in circumference leaving many plus sized and athletic women with wide calves out of luck.
Understanding the needs of different women, however, many shoe designers have begun to offer boots with wide calves which can range in size from 16 to 20 inches. However, in order to find boots with wide calves that will fit properly, there is a distinct process of measurement and evaluation that a woman needs to complete, and this buying guide is designed to help in that respect. It will begin by explaining the measurement process before outlining the differing fashion options available. Finally, some general guidelines for the purchase of boots with wide calves will help women who thought boots were off limits to achieve shopping success.

Before Beginning the Search for Boots with Wide Calves
Many women who classify themselves as having wide calves may have done so because of prior problems finding boots that fit. However, like the sizing of any clothing item, there is no standard description of a wide calf as opposed to an average or small calf. For that reason, taking the time to get an accurate measurement of one's calf is the first, and most important, step in the process when boot shopping.
Measuring the Calf
Measuring the calf is pretty simple. All that is needed is a measuring tape or a string and a ruler. After determining where to measure, simply wrap the tape around the calf and record the number. Alternately, use a string and then record the measurement using a ruler.
However, boots, especially over the knee-high and over-the-knee boots fall at a different length on a woman's body depending on her height and relative leg height. For this reason there is a different place in which to measure the calf for those who are tall, of average height, or petite.
Tall and Average Calf Measurement
Anyone over 5 foot 3 inches tall is not considered petite in the fashion world. Therefore, the method of measuring the calf is based on the height of the boot relative to the length of the leg. Generally, the shaft of most boots is 14 to 15 inches from the bottom of the foot (not counting the heel, if there is one). Therefore, in order to discover whether or not a buyer needs a wide boot, she should measure the calf at that point. This is the calf size that should be used when searching for boots with wide calves.
Petite Calf Measurement
Petite women, however, need to use a different method for calf measurement, depending on their body structure. This is because the shorter legs on petite women will result in a boot fitting at a different point on the leg. There is one caveat, however. For those whose petite stature is a result of a short torso should, they should use the normal method of measuring 14 to 15 inches above the base of the foot.
On the other hand, those with short legs need to use a different method of measurement. First, measure the calf at its widest point. It is then recommended that women purchase a boot that is at least one inch larger than that measurement.
Evaluating Your Calf
Once the measurement of the calf has been taken, the next step is to evaluate what that number means according to the normal shoe sizing system. It is important to note that the size of the calf on a boot will vary according to the size of the shoe. The assumption here is that calf size should increase proportionately to shoe size, which accounts for the range of numbers below.

| "Wide Calf" Shoe Designation | U.S. Shoe Size | Calf Measurement |
| --- | --- | --- |
| | 5 - 9 | 12 - 14 inches |
| Medium | 5.5 - 11 | 14 - 15 inches |
| Wide | 6 - 12W | 16 - 18.25 inches |
| Extra Wide or Super Wide | 6 - 13WW | 17.5 - 20 inches |

The numbers in the table above represent a wide range of calf sizes as well as shoe sizes which will clearly vary from manufacturer to manufacturer. In addition, some labels such as European manufacturer DUO Boots will offer boots that are sized according to both shoe size and calf size. That means a woman can choose a size 7 boot with a 14 inch calf or a size 7 boot with a 16 inch calf. These options tend to be rare, however.
What to Do When Nothing Quite Works
No matter how hard boot manufacturers try to accommodate women of all sizes with their wide calf boots, the unfortunate reality is that for some women this will still not be enough. For those instances, there are two alternatives to explore: stretching and customization.
Stretching Boots
For those instances where a woman's calf size is just a bit too big for the boot, generally this means less than one inch, rather than buying a wider boot it is possible to have leather boots stretched. This process can be completed slowly over time by either wearing the boots around with the upper portion of the zipper undone until the boots naturally stretch or through a professional shoemaker. Though they are not nearly as present as they were 100 years ago, shoemakers can place boots onto a boot stretcher and give the owner an extra inch of calf width. This process is generally inexpensive as well.
Customizing Boots
Most women will be able to find boots for wide calves in one way or another. However, there will always be those rare exceptions who still cannot fit into even the widest boots on the market in their shoe size. These women have two choices. If they buy a high-quality leather boot with elastic gores located near the zipper, a shoemaker can expand those gores by up to 6 to 7 inches. The only other option is to have boots custom made. However, this last option is also prohibitively expensive.

Choosing the Right Wide Calf Boot
Once a woman has determined which class of boots with wide calves she falls into, the next option is to begin looking at the different styles offered. A woman who has wide calves should take some additional points into consideration when shopping for boots for fashion purposes. Just because a wide calf boots fits does not always make it the best option in terms of look. Therefore, it is important to consider which type or look of a wide calf boot is most appropriate.
Considering Length
Nowadays, the term "boots" can mean a variety of things. Boots range greatly in color, material, and even height. Generally, boots can be classified into one of four basic categories: ankle, mid-calf, knee-high, and over-the-knee. For women with wide calves, choosing an ankle boot is a great way to get the appearance of a boot in a variety of colors and fabrics without the worry of finding the right calf size. These ankle boots, for example are both flirty and stylish with a platform heel to give a similar elongated look to the lower body.
Of the other three options, the mid-calf choice can be the most dangerous for women with wide calves. This is because the purpose of a high boot is to elongate the leg which creates a more slim look in the lower half of the body. However, mid-calf boots often cut off at the precise point that will counteract that goal and instead make the calf look larger. If you really want to go with a mid-calf boot, color is important. Choosing flesh toned boots will go a long way in helping to achieve that desired body line.
Considering Color
Again, paying attention to the point of wearing a boot, which is the elongation of the lower half of the body, plays an important role here. When choosing the color of a wide calf boot this takes even more care. This is because one of the effects that can be achieved by a wide calf boot is reducing the perception of one's calves. Darker colors, like black, are especially helpful in that manner.
Another consideration to make when buying boots with wide calves is the difficulty in finding the right size in the first place. This is especially important for women with rare size combinations and athletic women whose calves may be much larger than the rest of their frame would normally dictate. In order to avoid purchasing a boot with a limited shelf life, search for classic styles like riding boots, in neutral colors, like brown, that will have a timeless effect. You can personalize these boots to your own style preferences, however, by looking for minor details like buckles or studs that add a little pizzazz.

Buying Boots with Wide Calves
One of the reasons that taking the time to measure the calves is so important is because it allows women the ability to look for boots with wide calves in a larger variety of places with less stress about fit. Some retail stores, especially shoe stores, are likely to carry some wide calf options. However, by and large, the largest variety of wide calf boots is available online through large marketplaces like eBay and specialty retailers.
Buying Boots with Wide Calves on eBay
Because it is a worldwide marketplace with over 100 million users, eBay is one of the most diverse areas on the web in which to find boots with wide calves. The Women's Shoes section of the Fashion Shop offers buyers the ability to browse shoes by design, size, color, and width. This makes finding boots with wide calves much easier. But if that doesn't work, there is also the option to search for the exact items you are looking for through the advanced search feature. Finally, for women with rare calf sizes, there are even retailers on eBay who offer boots made to order which can often be less expensive than traditional shoemakers.

Conclusion
For women with wide calves, finding the perfect pair of boots, especially off the rack at traditional shoe stores, can be tough. The good news is that taking the time to correctly measure the calves and understand what that means can simplify the process immensely.
Once this has been accomplished, there are still a few considerations to make in terms of the style or height of the boot as well as the color. However, the best part about the process of measurement is that it's really easy to find boots with wide calves online, especially through large marketplace websites like eBay.