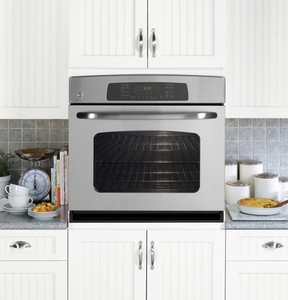 A well-used oven may very often be a messy oven, as well. Spills that have baked onto the inside of the appliance can be difficult to remove, and many oven owners allow layers upon layers of spills, grease, and grime to build up over months or even years. Unfortunately, conventional methods of cleaning ovens can pose health risks. Conventional commercial oven cleaners contain toxic chemicals that can be hazardous upon inhalation or contact, and even fatal if ingested. Self-cleaning ovens present another option; however, their high temperatures may cause a number of problems, including fire hazard and death to household birds. Those seeking a safer alternative have several choices. One of most common is baking soda, which is a powerful, yet environmentally friendly, cleaner. Other variations include ingredients like citrus, vinegar, and borax; scouring sticks can also be used to remove extra-hard, baked-on grime. The added advantage of several of these products is that they can be used in a number of household cleaning chores. With this array of choices, it is easy to keep an oven clean and running optimally, without compromising safety.

How Conventional Oven Cleaners Work
Conventional oven cleaners rely on caustic chemicals to dissolve grease and grime. The following are some common ingredients in oven cleaners, and their potential hazards.

| Chemical | Potential Hazards |
| --- | --- |
| Butane | Inhalation can result in drowsiness, asphyxia, and cardiac arrhythmia |
| Diethylene Glycol Monobutyl Ether | Suspected to be toxic to nervous system, reproductive system, cardiovascular system, and blood; can damage liver and kidneys significantly |
| Monoethanolamine (MEA) | Can irritate air passages; can damage mucous tissues, eyes, liver, and kidneys |
| Sodium Hydroxide | In diluted form, contact with skin and eyes results in irritation; concentrated, causes chemical burns |
| Lye | Extremely corrosive; contact with skin or eyes can result in burn; if swallowed, usually fatal |

Given the risks associated with these chemicals, consumers may want to try out more natural ways of cleaning their ovens.

How Self-Cleaning Ovens Work
Although self-cleaning ovens make it possible to clean without chemicals, the self-cleaning process may involve some risk.
Self-cleaning ovens work by heating to a very high temperature, usually between 800 and 900 degrees Fahrenheit, and incinerating oven build-up over a number of hours. This process has a few potential disadvantages, and even some hazards.
First, maintaining such high heat for several hours is not energy efficient. Moreover, sugar spills must be cleaned up in advance, and grease around the door and door seal should be swabbed up, as well. Sugary spills may pit and damage the oven's enamel during the incineration process, and grease stains around the door may not be cleaned very well during self-cleaning. In fact, they may cause flames.
The fumes produced by self-cleaning ovens lined with Teflon are known to be fatally toxic to birds, and it is uncertain whether they are toxic to humans. It is recommended that birds and other small pets be removed to a well-ventilated area, and that windows be opened and the oven's fan turned on.
The oven may be quite hot to the touch during cleaning. Most ovens automatically lock during self-cleaning and after, until it has returned to baking temperatures. If, for some reason, the oven door is opened during the cleaning, the heat blast can be extremely dangerous.

Baking Soda Paste
Baking soda is an excellent cleaner that can be used all around the house, and this powerful powder is also strong enough for tough oven grime. Methods of use vary. For very difficult, hardened build-up, try applying a thick paste made from the contents of one box of baking soda and just enough water to bring it to the consistency of cake icing. Spread the paste on the stain(s) and let it stand anywhere from half an hour to several hours, ideally overnight. Usually, the paste will absorb the food residue into a hardened crust that can be broken away, or that can be scrubbed away with a sponge. If some stains remain, the process can be repeated, this time adding a little vinegar to the mixture, or to the sponge during clean-up. Wiping the oven with a damp sponge at the end removes any baking soda residue and completes the process.
Baking soda can also be combined with water in a spray bottle and sprayed on, which makes regular cleaning convenient. Vinegar or lemon juice can also be added.
Baking Soda and Lemon Paste for Oven Window
Oven windows that have been clouded by grease can also benefit from baking soda. In this case, make a paste of lemon juice and baking soda, apply to the window, and let it sit for about half an hour. Scrub off, and the window should be clear.

Oven-Cleaning Formula
Another suggestion is to make a homemade, non-toxic oven-cleaning formula. First, mix together in a bowl one half cup of salt, one quarter cup of borax, and 16 oz. (one box) baking soda. Add one quarter to one cup water, just enough to make a spreadable paste. Remove the racks from the oven and preheat it to 250 degrees Fahrenheit. Turn off the oven, spread the paste throughout the inside, and let it set for 20 to 30 minutes.
Meanwhile, mix the following ingredients in a spray bottle: three quarters of a cup of white vinegar, 10 drops thyme essential oil, and 10 drops lemon essential oil. Shake the bottle well, and, once the paste in the oven has set long enough, spray the inside with the vinegar-oil mixture. Wipe clean with a sponge, and possibly a scouring sponge for tough spots.

Non-Toxic Dish Soap
Non-toxic dish soaps like Seventh Generation Free and Clear Natural Dish Liquid are made from plant-derived oils that dissolve grease. They can be used with a sponge and water to wipe away grease from an oven. Look for dish soaps certified by Green Seal or EcoLogo, which have strict standards for environmental safety and non-toxicity.

Cleaning Stone
For extremely stubborn spots, the best option may be to use a cleaning stone, also called a pumice stick or scouring stick. They rub away hardened grime quickly, and are safe to use with most ovens. Before using a cleaning stone, users should check with their oven's manual to be certain.

Citrus
Citrus oils soften tough grease buildup. The following methods are ways of taking advantage of one of nature's handy cleaners. In both methods, a blend of water and citrus oils is heated to emit vapors, which in turn work to break down stains and hardened grease. A side benefit is that the oven and kitchen will have a lemon scent. These methods can be used with any oven, and are particularly effective with convection ovens. They may not work as well as baking soda on very heavy, crusty buildup; they are better for light, regular maintenance.
The first method is to put citrus peels in an oven-proof pan, cover them with water, and bake at 350 degrees for 20 to 25 minutes. Lemons and limes work particularly well; however, the baking time should not be exceeded, since the peels will burn. Alternatively, squeeze two lemons into a baking dish with an inch of water in it, and then add the remains of the lemons as well. Bake this at 250 degrees for 30 minutes. Remove the dish, and, once the oven cools off, wipe away the grease with a rag or sponge. The lemon water solution can be used as an aid in this process. The oven may smoke at this point, so it is best to keep the oven fan on and a window open.

Keeping an Oven Clean
Keeping an oven clean during baking helps make maintenance easy. The following are two simple ways to keep an oven clean and reduce the amount of long-term build-up.
Handling Spills on the Spot
Spills are easier to remove if a layer of salt is sprinkled onto them before they have time to harden. Once the oven has cooled to a tolerable temperature, put on oven mitts and use a sponge to scrub off the mess.
Catching Drippings
Place a casserole dish or cookie sheet on the rack below whatever is baking, or simply lay a sheet of aluminum foil under the coils of the oven to catch drippings. These removable items can be much easier to clean immediately than the whole oven.

Buying Non-Toxic Oven-Cleaning Products on eBay
eBay not only has an array of ovens to choose from; it also has a selection of simple, non-toxic items that can keep those ovens clean. From scouring sticks to baking soda, eBay makes it easy to assemble a collection of safe products for all home cleaning needs. To begin your search, you can enter keywords like "white vinegar" into the search bar on eBay's home page. Or you can browse listings under the Home & Garden category, from which you can navigate to a subcategory such as Food & Wine or Housekeeping & Organization.
Before bidding on an item, read the product description carefully to be sure it is what you're looking for. For example, when shopping for a new, usable supply of baking soda, make certain you aren't bidding on an antique collectible baking soda tin. Check other item details such as quantity, mass weight, and ingredients. It is also useful to verify what the seller's return policy is, and what shipping charges will be incurred.
You can get to know more about your seller by reading feedback from previous customers. Top-rated sellers consistently maintain the highest level of customer service.

Conclusion
Cleaning an oven naturally may not be as hard as it seems. In fact, it can be as easy as spreading a paste made from ingredients already in the pantry, leaving it to stand overnight, and scrubbing it off in the morning. While cleaning an oven with non-toxic ingredients may involve some elbow grease, consumers wishing to avoid harsh chemicals and dangerous self-cleaning cycles may feel the benefits make the effort worthwhile. Traditional, commercially-sold oven cleaners contain toxic chemicals that can be irritating, damaging, or even fatal if swallowed. Self-cleaning ovens maintain an extremely high temperature for multiple hours, which may release fumes that are toxic to household birds. In addition, this process consumes a lot of energy, and could pose a burn or fire risk. For these reasons, many consumers seek alternatives to oven cleaning. Baking soda is one of the most popular choices, often in combination with other natural cleaners like white vinegar and lemon. These safe ingredients can be surprisingly effective in breaking down tough grease stains. A pumice stick can usually be used to scour away hardened food spills. Not only are these products non-toxic, inexpensive, and effective, they can also be used in a variety of other household applications. With a little savvy, consumers will find it is surprisingly simple to clean an oven naturally.