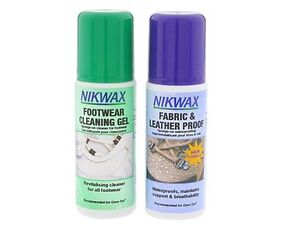 Keeping leather goods looking new and polished isn't hard. Simple maintenance and general cleaning can help leather products last longer and look better. Leather furniture, shoes, car upholstery, belts, wallets, purses, and more can be cleaned and conditioned with some simple techniques and products. The key is determining the right cleaning methods for each type of leather and product.
Finished and faux leather is simple to clean and maintain. However, unfinished leather is a bit harder because it is very sensitive to cleaning products and water. Stains are also harder to remove on unfinished leather. By becoming educated on proper cleaning techniques, every leather owner will be able to make their leather goods last longer and look better.
Pre-Cleaning Precautions
Some individuals might want to jump right into cleaning their dusty or dingy leather. But, leather can be sensitive to water, cleaners, oils, and conditioners. Using the wrong product could change the color of the item and permanently damage the piece. Always take the time to research the leather before cleaning to avoid ruining the product.
Examining the Type of Leather
Before cleaning any type of leather product, find out what type of leather it is. Sometimes this information is readily available, like on the tags of furniture, but other times finding out might require some research. It's best to learn about the type of leather before buying, but current leather owners can call the manufacturer to discover this information. Depending on whether the item is full-grain, nubuck, split leather, or another kind will determine how it should be cleaned. Additionally, the cleaning process for unfinished leather will be completely different than it will be for finished leather.
Reading the Tags
Many manufacturers will have specific instructions on how to clean their particular products. A certain type of cleaner or conditioner might have to be used, whereas other products might damage the surface. Some leathers can only be professionally cleaned.
Testing Leather
Before cleaning, conditioning, or stain removal, test a small, inconspicuous spot of leather with the cleaning product. Some leather types are more sensitive than others, especially unfinished leather. If the product harms the leather in any way, discontinue use immediately.
Cleaning Finished Leather
Finished leather might be described as top-grain or full grain, corrected top-grain, split, or bicast.
To check if an item is finished leather, lightly scratch it on an area not noticeable to others. If the scratch is roughly the same color as its surroundings, it's finished leather. Finished leather is very durable as well as stain and water resistant. It is also not susceptible to fading and scratching. Most leather furniture, automobile upholstery, and some high quality shoes, boots, handbags, belts, and wallets are fully or partially finished to resist damage. Partially finished leather might be extra sensitive to cleaning products so always check the tags before cleaning.
Following a few simple steps can help finished leather look new:
Vacuum and dust: When dealing with leather furniture, remove any debris from the surface by vacuuming and dusting. The surface of leather handbags, wallets, boots, and other small products can be cleaned with a small, soft dusting cloth.
Mix water and soap: Most finished leather can be cleaned with warm, soapy water. Use a gentle cleanser or face soap and make sure the water isn't too hot.
Wipe down the surface: Dip a gentle cloth into the warm, soapy water. Wring out to remove excess liquid. When a cloth is too wet, water stains can occur and become permanent. Wipe down the surface of the leather in small, circular patterns.
Polish and dry: Use another damp cloth to remove any excess soap residue. Then, use a dry cloth to polish.
Stain Removal for Finished Leather
Sometimes, stains may occur on a leather product. Sofas and chairs are prone to ink and grease stains while boots often incur damage from salted sidewalks and puddles. There are several household remedies to help remove finished leather stains. However, if a stain is particularly large or has been there for awhile, professional cleaning methods should be considered.
Ink Stains
Isopropyl, known as "rubbing," alcohol can safely and easily remove ink stains from finished leather. Any drugstore, pharmacy, or shopping center will sell rubbing alcohol. Use a cotton swab to rub the alcohol into the ink stain. Let the alcohol sit for 30 minutes. For severe stains, let the rubbing alcohol sit overnight. Then wipe clean with a damp cloth..
Dark Stains
Remove dark or discolored spots from leather upholstery with a mixture of one part lemon juice and one part cream of tartar. Rub the mixture on the stain and let it sit for 10-20 minutes, depending on the severity of the discoloration. Some stubborn stains might require two applications. Then use warm water, a gentle soap, and a soft cloth to remove the paste. Wipe clean with a fresh damp cloth, then dry. Additionally, consumers should consider purchasing a discoloration kit to remove stains quickly and easily.
Mildew Stains
Rubbing alcohol can also be used to get rid of mildew stains. Mix one cup of rubbing alcohol with one cup of lukewarm water. Dip a soft cloth in the mixture and wring dry. Rub into the affected area and let the leather air dry.
Gum Adhesion
If gum becomes stuck to leather, simply cool down the gum by placing an ice pack or a bag of ice cubes over the gum. The gum will harden and become easy to pull off. For any gum residue, use a hair dryer to heat the area and rub off the excess with a clean, damp cloth. Then polish it with a dry cloth.
Removing Oil and Grease Stains
Do not use water to remove oil and grease stains. Let the stain sit for a minute then blot with a dry cloth to take off the excess oil. Cover the affected area with either talcum powder or cornstarch. It's usually best to let the powder sit overnight then wipe away the next day.
Removing Salt Stains
To remove salt stains, mix a mild solution of three parts vinegar to one part water. Use a cotton ball or gentle cloth to gently wipe away the salt stains from the leather. Allow the leather to air dry naturally.
Conditioning Finished Leather
Leather owners should regularly apply a leather conditioner to protect and nourish their furniture or clothing. There are many suitable products on the market. Use a conditioning product specific to the item. For example, use a furniture conditioner for chairs and sofas, a shoe conditioner for boots and high heels, and a purse conditioner for handbags and wallets. Follow the directions on the packaging for best results. This will help protect the leather product and make it shine like new. Buying leather conditioners is easy on eBay.
Leather owners also might consider nourishing leather with a homemade concoction. Mix one part white vinegar with two parts linseed or mink oil, shake well, and apply to the leather using a chamois cloth. Use round strokes, covering the whole surface. Rub in thoroughly, let it sit for about 10 to 15 minutes, then buff dry with another dry chamois cloth.
Cleaning Unfinished Leather
Unfinished leather is very susceptible to staining, water damage, fading, and discoloration. Unfinished leather does not have a topical pigment applied or has only been treated with a small amount of resin coating. Any leather described as aniline, semi-aniline, raw leather, pull-up, waxed, distressed, suede, or nubuck is considered unfinished. Additionally, unfinished leather can be lambskin or calfskin, which are particularly sensitive.
Unfinished leather can be difficult to clean and maintain. Without a protective coating, stains penetrate beneath the surface. Boots, horse tack, belts, purses, wallets, and clothing are frequently unfinished. Quite frequently, stains are permanent because they are under the surface and cannot be wiped off. Often, it's best to leave cleaning unfinished leather to the professionals.
Unfinished Leather Maintenance
For those with unfinished leather products, general and preventative maintenance will be the best option. Regularly wipe down with a slightly damp cloth. Dust with soft dusting cloths. Wipe any mud or dirt off immediately to avoid caked-on stains. If oil gets on unfinished leather, it is safe to use cornstarch or talcum powder to soak up the grease or oil.
Cleaning with Saddle Soap
The only way to safely clean unfinished leather is with Saddle Soap, also known as lather soap. However, saddle soap can only be used with certain products. Do not apply saddle soap on most clothing items and accessories; only use on unfinished boots, shoes, and horse tack. The following instructions will help individuals clean with saddle soap:
Work saddle soap into the leather: Pour a dime-sized portion of saddle soap onto a damp sponge or cloth. Work the cleaner into the all the cracks and crevices of the leather, forming a light lather.
Wipe the leather: Using a new, damp cloth, wipe away the soap. Be sure to be thorough as to not leave residue behind.
Allow the leather to dry: Most leather experts will recommend letting the object dry overnight after using saddle soap. Don't let leather dry out in the sun, as this could cause it to fade.
Apply conditioners: Use mink oil or another conditioner on leather after it has dried.
What Not to Use on Unfinished Leather
Many soaps, detergents, and household cleaners will damage or discolor unfinished leather. Unfinished leather is very porous and the wrong cleaner will seep beneath the surface, disturbing the leather's pH.
The following products must always be avoided when cleaning unfinished leather:
Detergents
Household soaps, including hand soap, facial cleansers, dishwashing soap, and more
Hand creams or lotions
Hand wipes or baby wipes
Lanolin creams
Rubbing alcohol
Conditioning and Protecting Unfinished Leather
The best treatment for unfinished leather is prevention. Every six weeks, treat unfinished leather with leather oil, Mink Oil, hard wax, or other type of conditioner. Treating unfinished leather prevents stains and discoloration. Always choose the right product specific to the leather item. Cleaners are sold specifically for cowboy boots, belts, shoes, and more. Research the right product for each item. Additionally, some products are sold for aniline, semi-aniline, and other varieties of unfinished leather so knowing the exact type of leather can help owners chose the right product for their needs.
Cleaning Faux Leather
Faux leather is typically made of PVC, micro-suede, vinyl, polyurethane, polyamide microfiber, and other synthetic, non-animal products. Handbags, furniture, wallets, jackets, belts, and more are frequently made with faux leather. It is an inexpensive and animal-free alternative to leather. As an added bonus, faux leather is generally easy to clean and maintain.
In general, one can use the same techniques used to clean finished leather to clean faux leather. The following steps can be used for general faux leather cleaning:
Dust and vacuum regularly: Once a week, dust or vacuum faux leather. A microfiber cloth attracts dust well and is great for smaller products like belts and wallets.
Wipe down with soap and water: To clean faux leather, create a solution of warm water and a bit of mild, liquid detergent or hand soap. Use a soft cloth or gentle soap to apply the soap and water solution.
Wipe down with household cleaners: For tough grime, use a non-bleach household spray cleaner like Fantastic or Formula 409 on faux leather furniture. Wipe clean with a soft cloth.
Clean with damp cloth: Use a fresh, damp cloth to remove any residue.
Polish dry: Using a dry towel or paper towel, wipe down the faux leather until it dries.
Maintaining and Protecting Faux Leather
There are many products available to help faux leather stay looking fresh and new. Depending upon the type of item, buyers should consider different types of products, like creams, waxes, oils, or polishes. Armor All works well for protecting vinyl while most finished leather conditioners work well for PVC and poly-blends. For sofas and chairs, look for furniture-specific cleaners. Faux leather cleaners can be purchased online and in stores by easy cleaning and maintenance.
Removing Stains from Faux Leather
The techniques used for finished leather can be applied to remove stains from faux leather. For ink spots and mildew, blot with rubbing alcohol. Remove grease with talcum powder or cornstarch. Vinegar gets rid of salt damage while lemon juice and cream of tartar removes discoloration.
Buying Leather Cleaning Products
There are hundreds of cleaning products available for purchase. Many retailers have items to clean their specific products. For example, if you own a Coach purse, you can buy a Coach handbag cleaner. There are many different leather cleaners, polishes, oils, and waxes to consider buying to care for your leather goods.
Consumers can check in department stores, supermarkets, and pharmacies for general cleaning products. To find more specific cleaners, used for cleaning leather saddles or unfinished boots for example, buyers might have to look into speciality stores where the original item is sold. Buying leather cleaning products online is generally simple and easy. These items are easily accessible through simple searches on sites like eBay.
Buying Leather Cleaning Products on eBay
To buy on eBay, first type in the leather cleaner you want to purchase into the search box. Be as specific or general as you like. If you are looking for leather cleaner for a jacket, clothing, or various leather accessories, you can check out the Cleaning, Shoes, & Accessories portal. For saddle soap and horse tack cleaning products, you can look in the Horse Supplies portal under the Pet Supplies category.
When you find the leather cleaner you want, in order to purchase you must r egister for eBay if you don't already have an account. Then, input a bid higher than the current bid. Or you can choose the Buy it Now feature or the Best Offer option. If you have any questions or reservations, Ask the Seller a question. Also, check the seller's feedback rating and reviews so you can feel confident in his or her track record.
Pay for your item using PayPal or another safe method of payment. Don't use a money wiring service like MoneyGram or Western Union. Always complete transactions from within the eBay portal. All purchases made on eBay are covered by eBay Buyer Protection. You can feel safe and secure buying all your leather cleaners, waxes, and polishes on eBay.
Conclusion
There is no standard way to clean leather goods. No one product can clean all types of leather. Always buyer a cleaner, conditioner, oil, or wax specific to the type of leather and suitable for the leather product itself. Check the tags, consult with the manufacturer or retailer before using any cleaning method or product. Finished leather and faux leather are durable and stain resistant, making them fairly easy to clean and care for. The unique look and texture of unfinished leather is highly desirable but stains easily and is sensitive to most cleaning products. Don't forget to pick up essential leather cleaning products, such as sprays, wipes, waxes, and oils to easily clean and protect all leather goods. Using a few simple methods can make leather furniture, clothes, and all other items last for years.