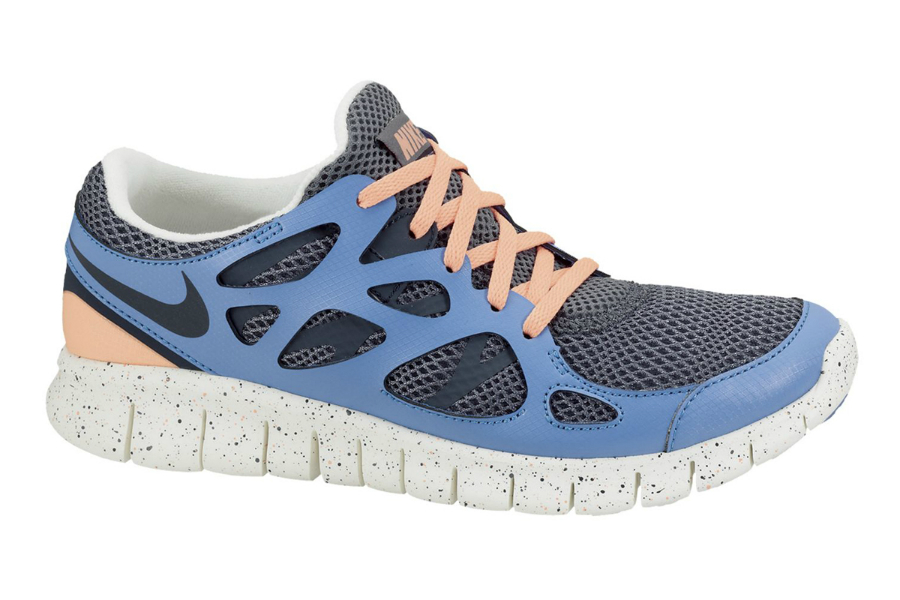 Nike is one of the top sports and active wear brands in the United States, and their famous swoosh logo is known around the world for quality and comfort. Nike designs footwear for nearly any athletic need as well as for specific sports such as golf, basketball, and soccer. They also offer a line of fashion athletic shoes for everyday wear, as well as sandals.
About Nike
Founded as Blue Ribbon Sports in 1964, the company took the name Nike in 1978. By 1980, the company sold 50% of the athletic shoes in the United States, and its popularity grew in the mid-1980s with the release of the Air Jordan, a basketball shoe endorsed by star player Michael Jordan. The company sells shoes, apparel, and sports equipment around the world, and it is among the most popular athletic brands today. Nike is sold through many retailers large and small, online at sports and apparel sites, and through eBay.
Nike Shoes
Nike makes shoes in a wide array of styles and for many specific purposes, and has lines for men, women and children. Nike's product line includes shoes for walking, running, cross-training, basketball, and even weight-lifting. To choose the right shoes for you, it's important to first understand your needs from a shoe. Nike designs their athletic shoes with the most current science to provide comfort, stability, and foot support. You can best put that science to work for you by choosing shoes that are designed for the activity you pursue in them.
Nike Shoes for Exercise
Many people purchase Nike shoes for their workouts, and there is a shoe for just about every purpose. Common workout activities can be matched with the Nike shoe that is designed for them.
| Shoe Type | Good for | Shoe Needs | Nike Shoe Lines |
| --- | --- | --- | --- |
| Running shoes | Jogging, marathon running or sprinting | Good impact absorption to protect joints, stability to prevent injuries | Free, Air, Lunar, Zoom, Flyknit |
| Walking shoes | Easy pace to speed walking, different impact from running | Stability, support and cushioning | Air, View, Free |
| Trainers | A combination of activities that may include jumping, side-to-side motions, running and more | Stability, ankle support, and good impact absorption | Free, Air, Lunar, Flyknit |
The many lines of Nike shoes overlap, with specific models in each line intended for common exercise activities.. Looking at each of the shoe lines makes it easier to select the right Nike shoes for your needs.
Nike Workout Shoe Lines
One of Nike's best-known and most popular lines, these shoes are available in running, walking, and training shoes. Air shoes are distinguished by the technology that creates cushioning by the use of air. The Air Max, which has multiple subsets, is one of the best-selling shoes in the product line and has been since the 1980s. Also included in the Air line are the Air Force, Air Monarch training shoe, Air Pegasus running shoe, and Air Avenue walking shoe.
A recent line of shoes that uses a new technology to create a highly supportive and cushioned shoe. The line of Lunar shoes includes LunarGlide, the Lunar1 running shoe line, and the LunarBase and Lunar TR1 training shoes. Nike, who also owns Converse, has also developed a line of Chuck Taylor All-Stars with this cushioning technology built-into the iconic sneaker.
This recent addition to the Nike lineup is designed to provide a custom fit and flexibility based on the wearer's need. Nike Free shoes use a number system to indicate the flexibility of the shoe. A 3.0 is the most flexible and barefoot-like feel, while higher numbers increase the stiffness of the sole. Free shoes come in running shoes and walking shoes, as well as trainers for both men and women.
Nike View
This line of walking shoes for men and women includes basic shoes that provide comfort and stability for walking.
Nike Zoom
The Zoom line includes shoes for a variety of sports, including running shoes and tennis shoes. These shoes include the Zoom cushioning technology, which is much like the Air technology but designed to be more lightweight. There's also the Air Zoom collection, with technology built into the shoe's cushion that allows it spring back quickly while the wearer is in motion.
This line of shoes is made using ultra-light knit instead of multiple panels stitched or glued together, and offers stretch and protection that doesn't weigh the user down while he or she is in motion. Flyknit running shoes are a great fit for people seeking a natural running shoe, referring to a technique of landing on the middle of the foot while running (as opposed to the soles). But the Flyknit style isn't limited to running, as there are styles also available for soccer, basketball, tennis, and training.
Nike Sports Shoes
Nike makes shoes for basketball, football, soccer, tennis, and golf. Some of these are very specialized shoes such as cleats that are not worn off the field, but some, specifically Nike's basketball shoe line, have crossed over into everyday wear.
Basketball Shoes
Basketball shoes are easy to spot by their high-top design, although in recent years there have been low-top basketball shoes as well. Nike has basketball shoe lines inspired and endorsed by some of the biggest names in the game:
Michael Jordan
Kobe Bryant
Kevin Durant
LeBron James
The endorsement of celebrity athletes makes these shoes popular among fans of the game as well as amateur and professional basketball players. The Jordan line is by far the most famous. Basketball shoes are good for any activity requiring jumping and side-to-side movement, and for general everyday wear.
Tennis Shoes
Nike's line of tennis shoes is lightweight and durable and designed for the quick sprints and sudden stops needed in the game. The Nike tennis shoe lineup includes:
Nike Zoom Courtlite
Nike Air Max Cage
Nike City Court
Nike Zoom Vapor 9
Nike Breathe Court
Tennis shoes make good all-around athletic shoes since they combine so many different needs in one shoe.
Football, Baseball, and Soccer Shoes
While true shoes used to play football, baseball, or soccer are cleats, Nike has created a few shoes with stars of each sport that are more usable for everyday wear or for training. These include shoes inspired by football star Chris Johnson and baseball legend Ken Griffey, Jr. These shoes are generally good choices as all-around trainers or for everyday wear.
Choosing the Right Nike Shoes
The many different options for Nike shoes can sometimes make it confusing to find the right pair. The good news is that Nike has so many options, you are bound to find the perfect pair with a little effort. One of the easiest ways to select the shoe for you is to consider how you like a shoe to feel and what level of cushioning and flexibility you want. Although there is crossover between Nike's women's athletic shoes and men's athletic shoes, some of the lines are different.
| If You Want… | Women Should Try… | Men Should Try… |
| --- | --- | --- |
| Lightweight, natural feeling shoes for running or walking | Nike Free 3.0 - 5.0, Nike LunarGlide, Nike Zoom Elite | Nike Free 3.0 - 5.0, Nike Flex |
| Comfortable shoes for multiple exercise activities at the gym | Nike Free TR , Nike Air Max Fusion, | Nike Free Trainer |
| Extra cushioning and impact absorption | Nike Air Max, Nike Zoom Structure | Nike Air Max, Nike Air Jordan, Nike LunarGlide |
| A comfortable, everyday shoe | Nike Air Max, Nike Cortez | Nike Air Force, Nike Skateboarding |
Nike Shoe Sizes
Nike shoes come in standard American shoe sizes including half-sizes. The shoe size range is from size 4 through size 18. Shoes are also available in both regular and wide widths. If you have never worn Nike shoes before, it's a good idea to try on a few pairs to get an idea of how they fit your feet. Because Nike makes athletic shoes they are known for good fit and comfort, and they generally fit true to size.
Buying Nike Shoes on eBay
Nike shoes range greatly in price, depending on what your needs are and what type of shoe you want to buy. Shopping around can often bring good deals, and many people look to eBay as an option for saving some money on a pair of high-quality athletic shoes. Conducting a general search like "mens Nikes" (without the quotation marks) for example yields plenty of results to browse through. Or refine your search by adding keywords to be more specific if you know what you're looking, for example "Nike SB Zoom red canvas size 8". Because you are buying footwear, something that should be tried on, it's best to look to sellers that accept returns in case they don't fit. This is especially true if you have not purchased Nike shoes in the past.

Shoppers can also use eBay for Nike accessories, everything from socks to activewear to insoles and laces for their new athletic shoes.
Conclusion
Whether using them to train or for fashion, Nike offers a wide range of athletic shoes for both the serious athlete and those who just want a comfortable everyday shoe. Athletic shoes' technology is designed to create comfort, stability, and good shock absorption. Nike is also known for attractive shoes endorsed by celebrity athletes.
Whatever you need from an athletic shoe, Nike likely has something that fits you perfectly.