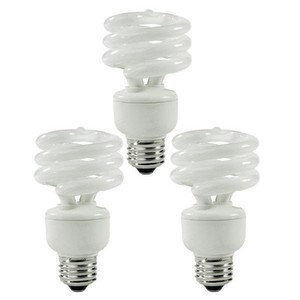 According to the federal government's Energy Star website, more than $600 million could be saved annually, and 9 billion pounds of greenhouse gas could be prevented from entering the atmosphere each year if every American household replaced just one regular light bulb with an ENERGY STAR approved alternative. Unfortunately, determining which ENERGY STAR bulbs are best is not as cut and dry as examining lifespan and energy usage. Instead, users should examine the pros and cons for each bulb type and determine which bulb is best suited for his or her unique purpose.
Light bulbs are found in everyone's home, but many people don't pay them much mind. Despite this, light bulbs can account for a significant amount of wasted energy. By replacing light bulbs with energy efficient bulbs, home owners can do their part to help the environment. They can also save a significant amount of money over the long-run.

History of Light Bulbs
In 1809, Humphrey Davy noted in his research that the world had a real need for a practically powered incandescent light. He used a battery to run a current between two strips of charcoal. His intention was called an arc lamp, but he failed to develop a truly incandescent bulb. In 1820, Warren De La Rue enclosed a platinum coil in a vacuum-sealed tube. He passed an electric current through it, and it worked well but the platinum coil made the final design cost prohibitive. In 1879, both Thomas Edison and Joseph Wilson Swan both developed incandescent lamps that lasted between 10 and 15 hours. The two bulbs were independently developed, but had very similar internal designs based on a cotton filament.
During the 1880s, Edison reworked his design to include a bamboo-based filament that could last up to 1,200 hours. The design was continuously improved until today's modern design was reached. As the cost of electricity became a major concern, low-temperature alternatives, like fluorescent lamps and LED lights, have provided energy efficient alternatives. Beginning in 2012, the federal government began exercising new limitations on the amount of energy a single light bulb can use. The first step taken was the retirement of large-watt incandescent bulbs. The changes in energy efficiency regulation, with regard to lighting, will culminate in 2014.

Qualifications for ENERGY STAR Light Bulbs
For a light bulb to carry the ENERGY STAR seal, it must meet a specific list of qualifications. Most of those qualifications are based on how the bulb performs when compared to the performance of a standard light bulb.
First and foremost, for a light bulb to receive a seal it must provide the user with significant monetary savings. The energy efficient bulb must be expected to save at least $6.00 per year, and $40.00 over the bulb's lifetime.
The bulb must also be expected to use less energy than traditional bulbs. The bulb must use at least 75 percent less energy than traditional bulbs, and produce at least 75 percent less heat. Lowering the heat produced by the bulb saves on energy costs by reducing the amount of energy used to cool the space during summer months.
Finally, the bulb must meet certain advanced performance standards. The bulbs must undergo performance-based testing by a certified and unbiased third party. It must also be expected to last at least six times as long as a standard incandescent bulb.

Types of Bulbs
Three of the most common types of bulbs available on the current market include incandescent, fluorescent, and LED. Each is best suited to different environments and fixture types.
Incandescent Bulbs
Incandescent light bulbs are the traditional form of bulbs that have been used in homes for generations. They are typically available in 40 to 75 watt varieties. The amount of light produced increases proportionally with their wattage.
Pros of Incandescent Bulbs
These are by far the least expensive lighting option. They are readily available in stores and provide a quick and easy solution to lighting needs because they are equally well suited to all fixtures.
Cons of Incandescent Bulbs
Incandescent bulbs are extremely inefficient. Using incandescent bulbs will drive an electricity bill up significantly; they also have a shorter lifespan than any other bulb type. In time, they will cost more to replace and power than is saved on their initial purchase price.
Fluorescent (CFLs)
Fluorescent bulbs, often referred to as CFLs, are compact versions of the fluorescent tubes that have been used in schools and industrial buildings for decades.
Pros of Fluorescent Bulbs
Fluorescent bulbs are extremely energy efficient and relatively inexpensive. They also have a much longer lifespan than incandescent bulbs.
Cons of Fluorescent Bulbs
Fluorescent lights contain mercury, a poisonous metal. If a fluorescent bulb is broken, HAZMAT professionals should be called in to clean up the debris. Similarly, fluorescent bulbs cannot simply be discarded in the trash like a standard bulb because of their mercury content.
Fluorescent bulbs are not ideal for areas where a user is likely to switch the light on and off quickly, like in a closet or the garage. Fluorescent lights tend to need several minutes to warm up to their full brightness. They are also not dimmer-switch compatible.
LED
LED, which stands for light emitting diode, has already taken hold of flashlight and other compact lighting technologies.
Pros of LED
LED lights are by far the most energy efficient screw-in bulb option available, and they have a significantly longer lifespan than any other bulb type. They contain no harmful chemical or metal components, so they are safer for the environment than the other bulb types.
Cons of LED
Unfortunately, the cost of LED lighting is still prohibitive for most people. Recently, it has also been introduced as a screw-in lighting option. LED light often has a blue tint and may not carry as far as other light varieties.

How to Select the Right Energy Efficient Light Bulb
The first step to selecting the right energy efficient light bulb is to determine what type of bulb is best suited to the light fixture. Remember to consider where a light is located and how it is used.
Next, read the lumens produced by the bulbs under consideration. Select the smallest wattage possible for the most energy-friendly results. Keep in mind that light bulbs are not one size fits all. Do not try to force every fixture in your home to use the same bulb size and type.
Make sure to turn the light bulbs off when not in use. This will lengthen the lifespan of each bulb and ensure that the light bulb has as the longest life possible, maximizing savings over time.

Shopping for Energy Efficient Light Bulbs
When shopping for energy efficient light bulbs, users can shop online or offline. There are a variety of brick and mortar shops that provide good-quality light bulbs, and there are also a variety of online retailers such as eBay where buyers can purchase them.
When trying to decide which ENERGY STAR rated bulb is right for a fixture, a buyer should consider where the light is, what type of fixture it is going in, and how it will be used. Consider these special lighting situations when selecting light bulbs.
Recessed or Track Lighting
Recessed lighting tends to naturally dim the light source and absorb some of the light produced. LED lights are not typically recommended for use in recessed lighting.
Outdoors
Outdoor lights are typically used only in the evening or after dark, and may be needed as an immediate light source. CFLs are not recommended for outdoor light sources because they take time to light up and may produce less light when used in cool weather.
Dimmer Switches
Lights which are connected to a dimmer switch may require halogen or incandescent bulbs. When purchasing light bulbs, read the label to ensure that they are dimmer-switch compatible.

Buying Energy Efficient Light Bulbs on eBay
If you're ready to shop for energy efficient light bulbs on eBay, head to the Home & Garden section and proceed to the Lamps, Lighting & Ceiling Fans section. From there, head to the Light Bulbs section and begin browsing through the various options available. You can sort the light bulbs by LED, Halogen, Compact Fluorescent, or Appliance Bulbs. You can then sort by the various search modifiers, including Location, Price, and Condition. Be sure to look for the ENERGY STAR seal, or information about the bulb being energy efficient.

Conclusion
Now is the time to start converting every light in homes and offices to energy efficient alternative bulbs. Remember that changing just one bulb a year could save 600 million dollars, or stop an enormous amount of greenhouse gas from further damaging the environment. As incandescent bulbs burn out, replace them with an energy-efficient alternative. Read the package carefully to ensure that bulbs purchased have the ENERGY STAR seal. For the best bulbs in each class, reference user reviews on various sites to find the right ones for you.