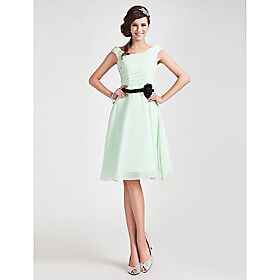 Although planning for a wedding is fun, it can also be quite overwhelming. Selecting the perfect bridesmaids' dress is just a small part of the stress. Going into a bridal shop or department store with several friends who all have different body types and budgets can be overwhelming. As such, brides may want to consider choosing used bridesmaids' dresses as a cost effective and convenient alternative to purchasing brand new.
This guide will explain how women's dresses are sized, tips for choosing bridesmaids' dresses for a variety of figures, where to find good deals, and how to select and purchase used bridesmaids' dresses at various local vendors such as thrift stores and consignment shops, as well as on eBay .
Size Chart
It is a good idea to have a general idea of women's dress sizes before shopping. Asking the bridesmaids to take their measurements will speed up the shopping process. Shoppers can refer to the size chart below to determine their correct dresses sizes.
The chest, waist, and hip measurements are given in inches, and the sizes listed are U.S. standard dress sizes.
| Chest | Waist | Hips | Size |
| --- | --- | --- | --- |
| 31.5-32 | 23.5-24 | 34-34.5 | 0 (XS) |
| 32.5-33 | 24.5-25 | 35-35.5 | 2 (XS) |
| 33.5-34 | 25.5-26 | 36-36.5 | 4 (S) |
| 34.5-35 | 26.5-27 | 37-37.5 | 6 (S) |
| 35.5-36 | 27.5-28 | 38-38.5 | 8 (M) |
| 36.5-37 | 28.5-29 | 39-39.5 | 10 (M) |
| 37.5-38.5 | 29-30.5 | 40-41 | 12 (L) |
| 39-40 | 31-32 | 41.5-42.5 | 14 (L) |
| 40.5-41.5 | 32.5-33.5 | 43-44 | 16 (XL) |
| 42-43.5 | 34-35.5 | 44.5-46 | 18 (1X) |
| 44-45.5 | 36-37.5 | 46.5-48 | 20 (2X) |
Just because a used bridesmaids' dress is marked a certain size, doesn't mean it's exactly that size, so be sure to inspect it first. Some fabrics tend to stretch or shrink over time, depending on the washing methods that the previous owner used. Additionally, it is common for alterations to be made to formal dresses, so even if a dress is marked a certain size, there may be some nips and tucks taken in the fabric. Also keep in mind that sizes and brands vary and fit differently, so it is best to get specific measurements of the dress, or if possible, have the bridesmaid try it on first.
Shopping Tips for Used Bridesmaids Dresses
When considering what used bridesmaids' dress to choose, it is important to think about the colors, styles, and sizes that are available. It is also a good idea to inspect dresses carefully to ensure their quality.
Color Selection
Selecting the colors of bridesmaids' dresses depends on the preferences of the bride. Many times light shades are chosen for spring and summer weddings whereas deep jewel tones are seen more at autumn and winter weddings. Black bridesmaids' dresses are considered appropriate for weddings at any time of the year but are seen more at night weddings. Traditionally, all of the bridesmaids wear the same dress. However, it is becoming popular for the bridal party to wear the same dress but in varying shades of one color. Having some choice in shades can offer bridesmaids with different features the ability to choose those that are most flattering.
Mix It Up
As mentioned, it has long been the tradition for the bridal party to all wear the same dress. However, brides are coming around and realizing that the same dress just does not work for everybody. So, brides are keeping the body types of their bridesmaids in mind when selecting dresses. Because one style rarely suits every girl, it is now common to offer bridesmaids a selection of silhouettes in the same color so each bridesmaid can choose whichever one best suits her figure.
Size Up
Buying a used bridesmaids' dress may mean that the exact size for each member of the bridal party may be hard to find. However, it is acceptable to buy dresses that are too large because these can be tailored to fit anyone's frame. When saving money on a used dress, a bridesmaid can likely afford to invest in some hemming or tucking.
Flaws
Before buying, be sure to carefully inspect any used bridesmaids' dresses in natural light. Look for loose threads and seams, stains, and holes. Pay close attention for staining under the armholes and around the hemline. If an item has any of these flaws, reconsider buying it. Although some secondhand clothing can be revived after a trip to the cleaners, this is not always the case with stubborn stains.
Where to Find Used Bridesmaids' Dresses
Finding used bridesmaids' dresses is possible, but shoppers may have to do some searching. Shoppers should check out all outlets, including brick and mortar local stores as well as online shops, such as eBay, to find the best deals.
Consignment Shops
Some of the best deals can be found at local consignment shops. Because bridesmaids' dresses are typically worn once and for a short time, they are often in excellent shape. Additionally, shoppers can often reap the benefits of previous owners who may have bought the wrong sized dresses by finding some still with the original tags.
Nearly New Sales
Mega nearly new sales, which are often held twice a year at large venues, such as county fairgrounds, have gained notoriety in recent years. Although these sales only last for a few days, deals abound from others looking to make money off of unwanted clothing. Many times, these sales sell children's clothing, but some have special sections for all-sized formal wear. Consider volunteering at these sales to reap the benefits of helping out, which often includes shopping before the sale is open to the general public.
Yard Sales
On nice weekends, there is surely a yard sale going on somewhere close to a shopper's home. Special occasion dresses are prime items for sale at these events. Usually, clothing is priced to sell, and if a shopper wants an even deeper discount, a price can usually be agreed upon without too much effort. Often, sellers will offer a fixed price for several pieces of clothing, so shoppers should keep this in mind when haggling.
Thrift Stores
National thrift stores sell used items and are located throughout the country. Additionally, many towns have small scale thrift shops as well. These stores sell used clothing for low prices. Shoppers can feel good about buying at shops such as these because profits go towards worthy causes.
Online Sites
There are several online sites that are specifically designed to sell bridesmaids' and other special occasion dresses. These sites connect buyers and sellers who are looking to benefit from a gently used formal dress.
eBay
eBay is another place to consider when looking for used bridesmaids' dresses. Rather than pick through racks at a consignment shop or fight the crowds at a nearly-new sale, eBay allows shoppers to search for clothing in an organized format from the comfort of their homes. Shoppers can limit their searches in many ways, such as by size, brand, or type clothing. eBay's used clothing sellers are plentiful, and there are always outstanding deals to be had.
Shopping for Used Bridesmaids Dresses on eBay
A large selection of used bridesmaids' dresses can be found on eBay from many sellers. And, many of the items available might be new but considered "last season" or gently used, so bargains abound. Since eBay boasts competitive pricing and many opportunities for free shipping, the site is a wise option for buyers who want an extensive and convenient shopping experience. Finding bridesmaids' dresses in the sizes you need on eBay is easy. Consult the size chart and choose your dresses with confidence.
To easily locate used bridesmaids' dresses from the eBay homepage, go to All Categories. This will bring up an extensive list. Navigate to Clothing, Shoes & Accessories, and select Wedding & Formal Occasion. From here, choose Bridesmaids' & Formal Dresses. Next, you will be able to narrow your choices by selecting the Size, Designer/Brand, Color, Material, or Sleeve Style. Using the check boxes by each option will make navigation of the site much more manageable.
You may also want to limit your search to only looking at those sellers who offer discounted or free shipping.
Know Before Buying
As a buyer, it is important to make the best decision possible. Read the feedback that is available for a specific seller to see what others have experienced with their purchases. Always ask the seller questions if you should have any before placing a bid. Make sure that you are comfortable with the available feedback provided by other buyers and that you have read all of the information in the product description given by the seller, including the return policy.
Conclusion
Although a wedding is meant to be a once in a lifetime event, there are ways to make it memorable without breaking the bank. Buying used bridesmaids' dresses is one way to save money without forgoing the beauty of the day. By thinking outside the traditional wedding box, brides can consider selecting different colors or dress styles for each member of the bridal party. Also keeping in mind the sizes and features of each bridesmaid will make dress shopping easier.
Shoppers have many routes to consider when looking for used bridesmaids' dresses. In addition to brick and mortar shops, prospective buyers will also want to visit eBay for a large selection of used bridesmaids' dresses. Buying from sellers on eBay provides shoppers with a convenient and enjoyable experience.