A frequently asked question I see on the community message boards is "Where is my order?"
Sellers set handling times, for their sales. If you make a purchase today, and their handling time is 1 day, then the package will most likely ship the next business day. When they have shipped a package within their stated handling time, they (most often) will upload a tracking number.
(Image 1):
Go to "My eBay" and in the left column click on "Purchase History" and find the item.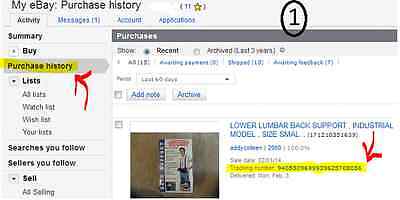 Under the item name, look for the tracking number. The number is a clickable link, and when clicked, is a pop-up window, showing you delivery status.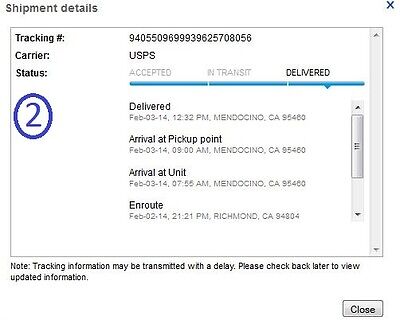 (Image 2):
This is an example of the pop-up window showing delivery status.
Additionally, you can have delivery status emailed to you! Go back to the item in 'Purchase History" Select the number, and copy it (Control or Command C) then go to the carrier page - this example is for a package sent USPS (United States Postal Service)
(Image 3.)
Go to USPS.com, and paste the tracking number into the search field (Control or Command V)

(Image 4):
Next, you will see, under 'Available Actions', the text 'Email Updates'. Click the small drop-down arrow to the right of 'Email Updates' and page will expand to offer you fields to type your name and email address into the field. Then click 'send me all future activity' and finally click 'Get Updates' to submit the form.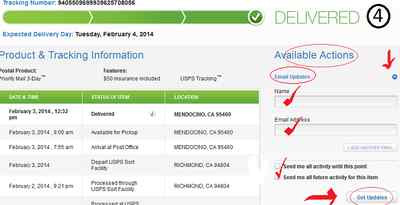 *Tip, if you have more than one package to track, change the name field to what your order is. For example, instead of just my name, KA, I would type my name as momsbirthdaybook or summerdress. This works, because when you receive an email including tracking, it will say 'Hi KA, here's the status of your package" and when it says "Hi momsbirthdaybook, here's the status of your package", then I know for sure it's the book I ordered for Mom, and not my summer dress, that I may be expecting to receive around the same time.
PLEASE REMEMBER: Estimated delivery dates are only estimated, and do not take into account such things as winter storms and holidays, both of which severely impact travel. Your package is being handled by dozens of actual people, (hard at work in nasty weather or during a busy holiday), to get you your treasure. If you need a package delivered ASAP, ask your seller before you order if they can for sure will ship your order the next day, or if they offer an expedited method. Best to put a note in your order, letting them know you would like a fast turnaround, if possible. Even best to plan ahead for your purchases!
ANOTHER NOTE: A Seller is protected by uploading tracking information, and for that reason, most do. However, if no tracking information has been uploaded but the order is marked as "Shipped", contact your seller through 'message for seller' and ask them to provide a tracking number for you. If it doesn't show up in 30 days, open an 'item not received case'. You have 30 days to open a case, if your order is not received. There is no need to be hasty! Your purchase on eBay is covered under "Buyer Protection", and more information about that can be found here: http://pages.ebay.com/coverage/
As you purchase more things through eBay, it will become very familiar to you how this all works. We were all new at one time and all had to learn!
Wishing you the best, and good shopping experiences on eBay,
KA
If this guide was helpful to you, please click the thumbs up button! And have a great day!