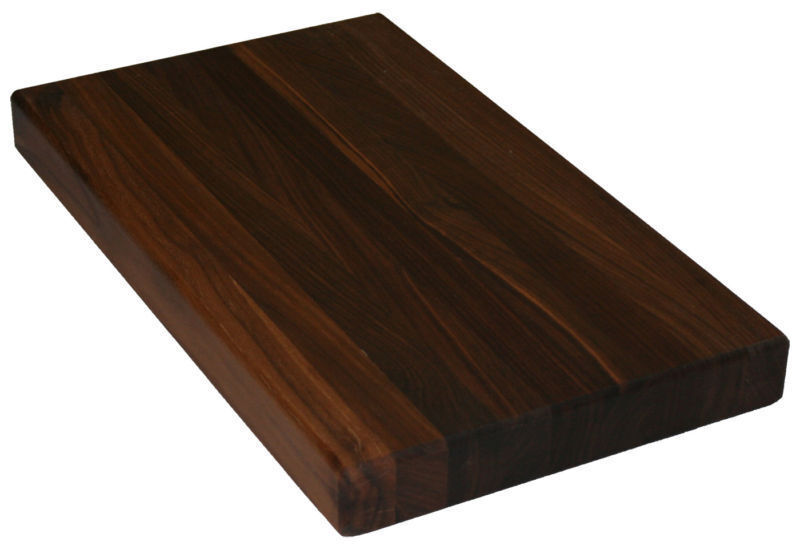 When shopping for a new cutting board, there are a number of factors to keep in mind. From worrying about buying the most earth-friendly to the most sanitary to the least knife-damaging, there are many considerations when deciding what will best complement a kitchen. Most cutting boards fulfill several culinary needs: Home cooks use these boards as chopping platforms, final serving platters, and hot pads for warm pots or pans. While almost all kitchens have at least one useful cutting board for these occasions, most rely on a trusty rotation of four or five to fulfill so many culinary duties.

Different Types of Cutting Boards
Traditional cutting boards are made from hardwoods that can stand the test of repeated knife stabs and general kitchen wear-and-tear. However, due to the concern of wooden cutting boards being a breeding ground of bacteria, there has been a rise in popularity of other materials.
Wooden Cutting Boards
Despite the worry for bacterial infection, wooden cutting boards are still the most popular type. Usually constructed from maple or beech hardwoods, these boards maintain their popularity thanks to their gentle treatment of knives, their ability to self-heal from cuts, and their overall affordability. The worry with these cutting boards is that they are difficult to clean well, and they are not dishwasher-friendly. Deep cuts or cracks formed in the wood might harbor dangerous bacteria, but careful cleaning with hot, soapy water can reduce any health concerns.
Plastic Cutting Boards
Generally the most affordable option, plastic cutting boards are available in a wide variety of colors, thicknesses, and flexibilities. While the harder, thicker plastic boards are more durable and work well to hold hot items, the thinner, more flexible types are best for food transfer. Many food enthusiasts consider these cutting boards to be the safest because they are the easiest to keep clean and sanitary, and many can be put in the dishwasher. However, it is difficult to completely clean and disinfect deep cuts made in plastic.
Marble and Granite Cutting Boards
These cutting boards feature a non-porous design which makes them resistant to stains and bacterial growth, and most marks and cuts in these boards can be repaired. Consumers prefer marble and granite cutting boards because they are available in many colors and sizes, but the design prevents them from withstanding high temperatures and being used as hot pads.
Tempered Glass Cutting Boards
Known for beauty and intricate patterns, tempered glass embodies the best features of cutting boards. They are very easy to clean and sanitize, and they are durable and heat resistant. These qualities make them multi-functional. However, the hardness of the glass surface makes these cutting boards the most damaging for kitchen knives, and many people find the sound of knives hitting glass to be irritating. Thick glass cutting boards can be very heavy and cumbersome for some kitchens.
Bamboo Cutting Boards
A happy compromise for many environmentalists and wooden cutting board-enthusiasts, bamboo boards are made from hard, renewable woods that do not rely on chemicals to be harvested. Bamboo is a much harder wood than maple or beech, so sometimes knives can be damaged when struck against these boards. Small grooves in these boards are not self-healing and may catch knives, and few studies have been done on their potential to harbor bacteria the same way traditional wood does. However, bamboo does absorb less liquid than most wooden cutting boards, so this type may be a viable solution.

Finding Cutting Boards on eBay
Many of these cutting boards can be found and purchased on eBay. Begin by visiting the All Categories tab from the eBay homepage and locate the Home & Garden link. From there, click on Kitchen, Dining & Bar to move to the home goods section, followed by the link for Kitchen Tools & Gadgets and the Cutting Boards category. Using search options on the left side of the page, selections can be made for bamboo, glass, plastic, marble, and wood cutting boards. In addition, keywords for brand or size can be entered into the search bar at the top of the webpage.

Conclusion
Cutting boards are a necessary tool in any kitchen. With uses varying from cutting surfaces to resting places for hot pots and pans, most homes have multiple cutting boards on hand at all times. There are a number of advantages and disadvantages to each type of cutting board, and it may benefit most kitchens to rely on a combination of cutting board materials to meet all culinary needs. Because of their necessity in cooking, cutting boards can be purchased at many locations, including eBay.