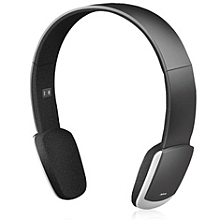 With an ever-increasing number of electronic technologies providing people with enhanced mobility, it has never been easier to stay in contact with friends, family, and business associates. One of these technologies, called Bluetooth, provides cell phone, iPod, or other Bluetooth-enabled MP3 player users with wireless and hands-free headphone technology. However, there are so many Bluetooth products that choosing the right option could prove challenging.
To make the purchase process easier, before buying your next Bluetooth product, make sure to learn about the different Bluetooth wireless headphone devices available. Also find out how the technology works and how to select the right Bluetooth headphones for you.
History of Bluetooth
Introduced in 1998 by the Bluetooth Special Interest Group (SIG), the name Bluetooth comes from the Scandinavian king of the same name, Harald Bluetooth. The Bluetooth symbol is a combination of the Runic symbols for H and B. Over the years since its introduction, the Bluetooth SIG has adopted many specifications, allowing its users to leverage such optimized features as uploading workout stats straight from a fitness center computer to the cloud and other helpful feats. Whichever version a consumer uses, Bluetooth makes a mobile lifestyle much easier.
Shoppers looking to buy Bluetooth wireless headphones can use the sections below to help them make a more informed purchasing decision. In the following sections, the types of Bluetooth wireless headsets, a comparison of the various headset types, and how to safely clean and store Bluetooth wireless headphones is given. This information should help you decide which Bluetooth wireless headphones are right for you.
How Does Bluetooth Work?
Bluetooth offers a low-power, wireless solution for a shopper's communication needs. The biggest advantage to owning Bluetooth is that it does not require line-of-sight to function correctly. So just how does Bluetooth work?
Bluetooth uses infrared and radio frequency inside a wireless headset or headphone unit. It transmits data through the use of low-power radio waves. It does this on a frequency between 2.402 GHz and 2.480 GHz, a frequency (known as the ISM band) set aside for industrial and scientific uses, as well as in medical devices.
Even though such items as baby monitors, garage door openers, and some cordless phones use this frequency as well, Bluetooth gets around interfering with these devices by sending out low-level signals in the 1 milliwatt range. This low-powered signal only gives the Bluetooth-enabled device a range of around 30 feet, enough to do what it needs to but small enough to keep it from interfering with other devices.
For other devices on the Bluetooth network, the technology allows for the pairing of multiple devices at the same time. How many depends on which particular device a shopper owns. This information can be found in the device's user manual, but typically seven to eight devices can be paired at the same time, though users can generally only use one of the same type of device at a time, such as only one cell phone.
Bluetooth communicates with all these devices by using what is called spread-spectrum frequency hopping, changing frequencies in a randomly chosen range. This is done up to 1,600 times a second, meaning that any one transmitter is unlikely to be on the same frequency as another device at any given time. This also means that any interference from other devices, such as a baby monitor, is unlikely to cause any interference, and if it does, the interference should only last for a fraction of a second.
Types of Bluetooth Wireless Headphones
While most Bluetooth headsets operate on the same principles, they come in a variety of different types. The first step to purchasing Bluetooth headphones is to determine your mobility needs. From earbuds to full headphones, the table below describes the different types of Bluetooth wireless headphones.
| Type of Bluetooth Wireless Headphone | Description |
| --- | --- |
| | Either in a single earbud or dual earbud models. Slips into the ears like ear plugs. They are controlled through the use of a separate device attached to the earbuds. |
| | The most common type of Bluetooth headset. Slips over the top of the ear and is controlled through the attached control module. |
| | Fits snuggly over the top of the head or even around the neck. Usually can be folded. |
| | Bluetooth speakers can be clipped to a visor and offer the ability to listen and talk hands free. Some Bluetooth speakers even have the capability to voice text, making them even more versatile. |
Using the above section, shoppers can more easily select the Bluetooth wireless headphone type that is right for their needs.
Determine which headphones are right for you by watching this video:

Comparisons of Bluetooth Wireless Headphone Types
Cost, ease of use, comfort, and portability are just some of the comparisons a shopper can make when deciding on the right Bluetooth device for them. The chart below gives comparisons of these criteria and where each device ranks against the others.
| Type of Bluetooth Wireless Headphone | Cost | Ease of Use | Comfort | Portability |
| --- | --- | --- | --- | --- |
| In-Ear Bluetooth Headsets | Least | Average | Average | Most |
| Over-the-Ear Bluetooth Headset | Average | Average | Average | Most |
| Bluetooth Headphones | Above Average | Average | Least | Average |
| Bluetooth Speakers | Most | Average | Most | Least |
The above table suggests that for in-car use, after cost, a Bluetooth speaker looks like the best option, unless of course shoppers want to keep their conversations private from others in the same vehicle. For on-the-go use, the in-ear Bluetooth headset is a great option as a result of its portability and inconspicuousness. Whatever type of Bluetooth device a shopper decides to buy, they will get the best in Bluetooth quality.
Popular Bluetooth Brands
The list below includes popular manufacturers of Bluetooth wireless headphones and devices.
How to Pair a Device to a Bluetooth Wireless Headphone
In order to use a pair of Bluetooth wireless headphones with a Bluetooth capable device, first it must be paired to the device. The table below lists and describes the necessary steps to pair a cell phone to Bluetooth wireless headphones.
| Steps | Description |
| --- | --- |
| Step 1 | Make sure both the Bluetooth wireless headphones and the cell phone are charged before pairing. |
| Step 2 | Put the Bluetooth wireless headset in pairing mode. This is typically accomplished by starting with the Bluetooth headset powered off. Hold the multifunction button until the LED on the headset begins to blink. The Bluetooth headset is now in pairing mode. |
| Step 3 | Next, go to the cell phone menu that allows for the setup of Bluetooth devices for use with the cell phone. This is typically in either the general settings, for older phones, or the Bluetooth setup menu for newer phones. |
| Step 4 | When the cell phone finds the Bluetooth headset it will then ask for a PIN code, which is usually "0000." Enter this code into the field when prompted. |
| Step 5 | Once the cell phone and Bluetooth headset are connected, the cell phone should give a connection message. |
The cell phone and the Bluetooth wireless headphones should now be successfully paired. If shoppers have any questions, they can consult the cell phone or Bluetooth device user manuals or consult a sales associate at their local phone provider store. To pair other devices, consult user manuals or a professional.
Find Bluetooth Wireless Headphones on eBay
To purchase Bluetooth wireless headphone online, shoppers can go to the All Categories portal on eBay and under the label Consumer Electronics click Portable Audio & Headphones.. Then click Headphones,, and under Connectivity located in the search modifiers, click Bluetooth Wireless,, and then start searching for Bluetooth wireless headphone listings.
eBay Keyword Search for Bluetooth Wireless Headphones
You can search eBay listing titles for specific words when shopping for Bluetooth wireless headphones. Visit eBay's Search Tips page for more advice on searching for headphones with keywords. If you can't find the exact Bluetooth wireless headphone you want, you should try shopping eBay Stores for more options.
Buy Bluetooth Wireless Headphones Online with Confidence
Before bidding, shoppers should understand all the terms and conditions of the sale by carefully reading the details in the seller's product listing, including delivery costs. When buying a more expensive product, such as a Sennheiser MM 550 Travel Bluetooth wireless headset, make sure the seller insures the product when it ships. And for more information about Bluetooth wireless headphones, shoppers can ask a seller questions by clicking the Ask a Question link on the listing page.
Know the eBay Seller
Remember: It is very important to research the eBay seller to ensure a positive and secure sale when purchasing products, including Bluetooth devices, online. Think about asking the following questions when buying headphones.
What is the seller's feedback rating on previous transactions, including those involving Bluetooth wireless headphones?
Does the seller provide a money-back guarantee for their electronic devices?
Conclusion
Shoppers looking to simplify their life through the use of a Bluetooth wireless headset have a variety of options to choose from. From actual headphones, to speakers that clip on the visor, to the standard over-the-ear Bluetooth headset, shoppers can find a Bluetooth headset to fit their needs.
But before buying Bluetooth wireless headphones, remember to investigate available options and learn about the different types of Bluetooth wireless headphones, how to operate them, and how to buy Bluetooth wireless headphones safely and securely on eBay.