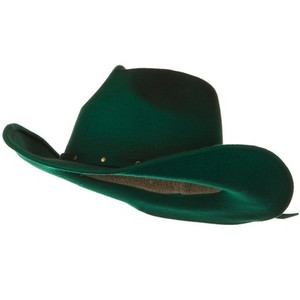 Hats have existed for thousands of years, protecting people from potentially harmful UV rays, making known the wearer's social status, or simply looking stylish. Today, hats are sold nearly everywhere, from clothing stores and sporting goods stores to mall kiosks and online on websites like eBay. Many hats are now mass-produced and sold without bothering to size the hat, instead counting on the buyer to try it on before making the purchase. The art of making hats and selling them isn't lost, though; much consideration still goes into keeping up with the latest trends. Some companies are also sticklers for using high quality materials that last for years.
Buying a used hat is similar to buying used clothing of any kind. Sizing is often important, in addition to the hat's purpose and condition. While hat sizes aren't universal, they're generally close enough. For example, someone who wears a small in one brand might occasionally find themselves wearing a medium in another, just like how tops and skirts vary in size. The purpose of the hat helps determine the perfect hat for the buyer; some people only want a hat that looks great, while others want a hat for protection against the sun. Lastly, used hats are often sold at a deep discount, but some may be so well-used that they no longer have much life left in them. In this case, the buyer should probably move on to a similar hat that's in better condition.
Understanding Hat Sizing
Sized hats are usually sized from small to large or extra large. Some hats aren't sized by the manufacturer, though. It's possible to a size a hat by measuring the interior of it with a tape measurer. If buying used hats online, it may help to ask the seller for the hat's measurements, if they haven't already listed them.
To size a person for a hat, the head must be measured where the hat should rest. A body tape measure is ideal, because the tape is flexible. If there's not one on hand, the head can be measured with a piece of string. To ensure accuracy, the person can cut or knot the string once the measurement is determined. After this, the string should be measured using a regular, inflexible tape measure or ruler.
Choosing the Right Hat
Part of choosing the right hat is knowing what's out there. From berets to beanies, women have a lot of choice when it comes to hats. Some hats, like the baseball cap, are meant for very casual occasions. On the other hand, a sun hat can be appropriate for a formal, outdoor event in warm weather.
Baseball Cap
A baseball cap has several purposes. It can be used as protection against the sun, to look stylish, and to display a favorite team logo or mascot. Baseball caps have a rounded, soft cap with a stiff bill. This type of hat became popular in the 1900s, but its ancestor was worn in the mid-1800s. True to its name, it was originally worn by baseball players.
Beret
The beret has been worn for hundreds of years, but mass production due to increasing popularity didn't start until the 1900s. Today, the beret is one of the most popular hats, particularly during winter among women. Besides fashion reasons, the beret is sometimes worn as military headgear, as a symbol for activists, or for religious reasons.
Beanie
A beanie is another very popular, cold-weather hat. They're generally soft, rounded caps that don't hold their shape when not being worn. Beanies are often handmade from wool or cotton. Sometimes, they're made of other materials, such as leather and silk. A beanie is a unisex hat that became popular in the mid-1900s, but has had bouts of unpopularity.
Wide Brim Hats
Wide brim hats are mostly used to shield one's face and eyes from the sun. They're sometimes called sun hats, straw hats, or floppy hats. Depending on the style, they can be worn casually or in more formal settings. Wide brim hats are rarely worn indoors.
Cloche Hats
Cloche hats waver in popularity, but they can still be purchased from many clothing stores. They resemble a beanie hat, but are usually made from stiffer material and meant for more formal occasions.
Pricing Used Hats
It's hard to put a specific price on any category of hats. It largely depends on construction, material, and brand. As for construction, for example, a handmade beanie will almost certainly cost more than a similar, mass-produced beanie. These costs are still relevant to used hats because the costs were passed to the original buyer, and then on to the second.
| Construction | Estimated Price |
| --- | --- |
| Mass Production | $ |
| Handmade | $$ - $$$ |
| Fair Trade, Imported | $$ |
In general, the price reflects how much effort was put into creating that product. Mass production usually allows the manufacturer to create more hats per hour and may pay less for the fabric they use, due to buying in larger bulk. Next to consider is the material; a used cotton hat often costs less than a used wool one, for example.
| Material | Estimated Price |
| --- | --- |
| Cotton | $ |
| Wool | $$ - $$ |
| Synthetic Materials | $ - $$ |
| Organic Cotton or Wool | $$ - $$$ |
Essentially, materials that are harder to gather in large quantities cost more. Cotton is easier to source than wool, for example. Wool is also often considered a superior fabric for its wicking properties and durability. Lastly, buyers might also consider brand, especially when purchasing used hats on a budget. Even used hats can be expensive if the brand is designer.
| Brand | Estimated Price |
| --- | --- |
| Columbia | $ - $$ |
| Abercrombie & Fitch | $ - $$ |
| Gap | $ |
| Burberry | $$$ |
| Chanel | $$$ |
Hundreds of clothing companies sell hats. Overall, they have a wide range of prices, but the price of a hat is generally pretty consistent within that brand. For used hats, the price might deviate a bit more than usual, especially is purchasing in a secondhand store that marks all hats at the same price.
Before Buying a Used Hat
Before buying a used hat, the buyer should either inspect it in-person or have several, detailed pictures of the product from various angles. Some used hats may show excessive wear, such as unraveling seams or damaged fabric. A well-used hat may have stains from hair products or sweat. Depending on the hat, throwing it in a washing machine or having it dry-cleaned might not be viable options. These are concerns to keep in mind when considering any used clothing, not just hats.
In addition, many people believe that lice can be transferred from one person to another via hats, head scarves, hair brushes, and other previously used products that make contact with hair. Fortunately, lice generally die after 24 to 48 hours without feeding, though often considerably faster. Therefore, for example, if a buyer makes a used hat purchase online and shipping takes two to three days, there's virtually no chance of the hat carrying live lice once it arrives.
Buying a Used Hat on eBay
To buy a used hat on eBay, navigate to the main page at eBay.com. Next, put the most relevant keywords into the search bar. For example, if you're looking for a pink winter hat, try searching for "pink beanie." If a beret of a specific brand entices you, enter "[brand] beret" without the brackets. Once the results load, you can narrow them down until only the most relevant products show.
Selecting an eBay Seller
Because eBay has millions of sellers, some are bound to sell duplicates of certain items. If your favorite hat is for sale by multiple sellers at about the same price, pick one who has a history of positive feedback. eBay's feedback system is in place to determine the fastest, most reliable sellers based on experience and comments by other buyers. You might also wish to consider choosing one who is most local to you, in order to expedite shipping and minimize shipping costs.
Conclusion
The most important part of buying a used hat is deciding what kind of hat to purchase. Once decided, potential buyers can browse online shops or visit local, secondhand shops. It may be necessary to have a measuring tape to measure one's head and determine the proper hat size to wear. Next, the buyer should examine the hat, or pictures of the hat, to decide whether it has a reasonable amount of wear. A certain amount of wear is to be expected with used items, but buyers should try to determine if the amount of wear justifies buying the item used.
If a used hat costs about 50 percent the price of the same hat sold new, but it might only last for a couple months while the new hat will last years, buyers may wish to reconsider purchasing this specific hat. Used hats can be purchased from some sporting goods stores, secondhand shops, and online. The Internet has a selection of millions of hats, from most brands, available at the buyer's fingertips. A website like eBay is often a one-stop shop for used items like hats. In addition, since eBay encourages sellers to adopt lenient return policies, eBay buyers can usually return or exchange items they're dissatisfied with.