UPDATE Aug 25, 2009: HOORAY! California State Assembly Bill # 462 became law July 1, 2009. It adds to the DMV's YOM - Year Of Manufacture program, 1963-1969 series, black, steel plates to be utilized on passenger vehicles or the owner of a commercial vehicle or pickup truck 1972 or older, and increase the fee to $45. The entire text of the amended DMV section is below. Basically what the amended law does is allow YOM use of the 1963 series, California, steel, Yellow over Black license plates and the 1970 series, six and seven digit blue and yellow aluminum license plates for commercial vehicles and pickup trucks 1972 or older. This opens up two classic and important California series of license plates to include YOM for rare and important 1960s and early 1970 vehicles. This is absolutely fabulous because AB 462 now provides YOM plate use for all the 60's muscle cars, GTO's, Mustangs, MoPars, Corvettes, and in my case, the dog slow, but rare, 1967 VW Bug.
So, which plates are OK? Any set of 1963 series, steel, black California license plates are acceptible for YOM use by DMV if: They are not registered to anyone (clear), in legible condition and require a corresponding year sticker. Repainted, restored plates are also acceptible if they look original. No bullet holes.
Are we clear? DMV requires that your YOM Black plates be "DMV Clear," that is, not registered to, or not recorded as in use by anyone else. This is a key first step. Any set of 1963 series black plates can be "cleared" simply by checking them on the California DMV website, license plate section for personalized plates. So, before you plunk your money down for a set of plates, run the numbers and see if they are clear. If the DMV personalized plate database says they are "available", then you're OK, don't don't take anybody's word.
Year Stickers: You vehicle plate will also need a corresponding year sticker to show at the time of registration. If not already on the rear plate, it's probably a good idea to wait until your plates are actually cleared by the DMV window tech before affixing your year and month sticker. At last report some of the vinyl repro stickers available on eBay and elsewhere were being accepted by DMV. But, that's no guarantee. I highly recommend using a real one to avoid any problems. Yes, they are hard to find and expensive, about $40 to $65+ depending on condition and the sellers greed level. Note: Beware of peel-offs or "reclaimed" stickers selling on eBay and elsewhere. These are stickers that have been removed from an old plate with a razor blade. Condition is iffy at best, as most of the peel-offs are very brittle after 40+ years. I bought a peel-off for $55 that mostly decomposed and flaked off the plate after a short time. Repros aren't much better. Repo's are obvious because the California state seal is so muddy with poor detail, also the repro sellers don't get the color or type font right.
The 1963 series black, steel, plates, has "63" stamped in the upper right hand corner recess. The left recess was for the expiration month. Amazing how many people still get this placement reversed. 1963 series was the last of the California steel license plates. Some of the last, very late, 1969 issues of the 1963 series plates were aluminum (rare). The 1970 series replacement plates were aluminum (some with steel), yellow six digit over medium blue field, with yellow digits increasing to seven in 1972. For the first time Californians were able to have personalized plates (at extra cost) with up to seven digits of their choice, if available. California was late with personalized plates, as other states had offered them for several years. People lined up to get them; it was first come, first served chaos. The most sought after plate at the time was, of course, PORSCHE. This first issue of California personalized plates were only available in the stock plate color of the day, Yellow digits over medium Blue plate field. I eventually got a set for my 1967 Bug, with the call letters of the Rock FM radio station I worked for. Unfortunately, I had to surrender my original Black plates to the DMV at the time. Darn . How was I to know I would have this car for over 40 years? It's OK though, its now got the correct 1963 series, black steel plates on it again.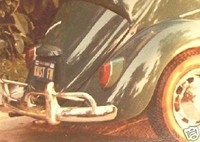 My personalized plates, KWST- FM, Los Angeles, nickname "K-WEST"
The 1963 series six digit, black, steel plate began with three letters, followed by three numbers. The 1970 series, aluminum plate was just the opposite, beginning with three numbers followed by three letters. The 1963-69 alphanumeric series of plates constituted 17,558,424 possible combinations, as did the 1970-72 six digit series, only in reverse. By the end of 1969, the 1963 series was exhausted, using nearly all the 17.5 million plate combinations in the seven year period, not counting commercial, truck, trailer, motorcycle, medical, amateur radio, state and county exempt and other service plates. Interestingly, 1969 and 1970 plate issuance overlapped not only with steel vs. aluminum, but colors as well. In other words, it was possible to be issued an aluminum Blue plate in late1969 or a 63 series, steel, black plate in early 1970, depending on the location of the DMV issuing office and their leftover or new stock. By 1973, California added a seventh digit.
The 1963-69 series plate began alphabetically, with three letters beginning with AAA and ending in 1969 with approximately ZZW. Consequently, you can reasonably estimate the approximate year the plate was issued by the beginning three letters. For example, a plate beginning with D,E, F, G or H would or could have been issued in 1964. T, U or V would have been issued in 1967. W and X, 1968, Y and Z, 1969 and so on. So now, with the 2009 YOM amendment, an entire era of great American classic cars can run registered, correct year, original California plates and stickers (if you can find them).

Note: Custom made novelty aluminum plates are available from a number of sources that look pretty darn close to original California plates, but are different in a few crucial details: Gauge or thickness of aluminum is thinner, some are stamped (or blind embossed from rear) while others are just flat surface with painted on numbers. These type plates typically do not use the correct fonts and do not have the 63 year and month sticker recesses. It is illegal to reproduce even an old, license plate in California and probably in most states. However, the novelty plates are just the ticket for car shows, but will get you a ticket if run them on the street. They are NOT legal or acceptable at DMV and cannot be registered.
Don't expect the DMV window techs to know much about this new law, SB #462. I recommend that you printout copy of the law section below and take with you. Be kind, patient and courteous with them and have all your paperwork in order. You do not need to bring the car unless DMV, for some reason, asks you too.
My research has shown that the 1963-69 year-by-year, letter allocation plate issuance breakdown has some overlap, but plates beginning with the following letters generally correspond to the year of issue: ABCD=1963, EFGHI=1964, JKLMN=1965, OPQRS=1966, TUVW=1967, WXYZ=1968-69. Note: There is some exception to this general guide because rural county DMV offices issued plates at a much slower rate as LA, SF, SAC and SD, etc. So, it is possible to have an early letter designation, e.g., DAB-123 on a later 1968-9 vehicle.
YOM plate transfer and retention rules appear to remain the same, so you can take the plates with you if you plan to put them on a different, but same year vehicle, regardless of make. I think this is a great change and about time. I am not an expert but tried to get it right as best I know. This needed amendment to the YOM VC section was cultivated and driven by several dedicated car club members who worked hard and spent real time going after it in Sacramento. My thanks to the Golden Gate Chapter of The Vintage Volkswagen Club of America and The Alfa Romeo Association of Northern California, and many other fine folks who love their cars.
Jerry, Santa Rosa, California 2006
#####################################
BILL TEXT

CHAPTER 497
FILED WITH SECRETARY OF STATE OCTOBER 11, 2007
APPROVED BY GOVERNOR OCTOBER 11, 2007
PASSED THE SENATE AUGUST 30, 2007
PASSED THE ASSEMBLY SEPTEMBER 5, 2007
AMENDED IN SENATE JULY 17, 2007
AMENDED IN SENATE JULY 10, 2007
AMENDED IN SENATE JUNE 20, 2007
AMENDED IN ASSEMBLY JUNE 1, 2007
AMENDED IN ASSEMBLY MARCH 27, 2007

INTRODUCED BY Assembly Member Villines
(Coauthors: Assembly Members Galgiani, Horton, Lieber, and
Solorio)

FEBRUARY 20, 2007

An act to amend Section 5004.1 of the Vehicle Code, relating to
vehicles.



LEGISLATIVE COUNSEL'S DIGEST


AB 462, Villines. Vehicle: license plates.
Under existing law, an owner of a vehicle that is a 1962 or older
model-year vehicle may, under specified circumstances, utilize
license plates of this state with the date of year corresponding to
the model-year date when the vehicle was manufactured. A fee of $35
is required to be charged for the application for the use of these
special plates.
This bill instead would authorize this option for the owner of a
vehicle that is a 1969 or older model-year or the owner of a
commercial vehicle or pickup truck that is a 1972 or older
model-year. The bill would also increase the amount of the
application fee to $45.
The changes made by the bill would become operative on July 1,
2009.


THE PEOPLE OF THE STATE OF CALIFORNIA DO ENACT AS FOLLOWS:

SECTION 1. Section 5004.1 of the Vehicle Code is amended to read:
5004.1. (a) (1) Subject to paragraph (3), an owner of a vehicle
that is a 1969 or older model-year vehicle or the owner of a
commercial vehicle or a pickup truck that is a 1972 or older
model-year may, after the requirements for the registration of the
vehicle are complied with and with the approval of the department,
utilize license plates of this state with the date of year
corresponding to the model-year date when the vehicle was
manufactured, if the model-year date license plate is legible and
serviceable, as determined by the department, in lieu of the license
plates otherwise required by this code.
(2) The department may consult with an organization of old car
hobbyists in determining whether the date of year of the license
plate corresponds to the model-year date when the vehicle was
manufactured.
(b) A fee of forty-five dollars ($45) shall be charged for the
application for the use of the special plates.
(c) In addition to the regular renewal fee for the vehicle for
which the plates are authorized, the applicant for a renewal of the
plates shall be charged an additional fee of ten dollars ($10). When
payment of a regular vehicle renewal fee is not required by this
code, the holder of license plates with a date corresponding to the
model-year may retain the plates upon payment of an annual fee of
twenty dollars ($20), that shall be due at the expiration of the
registration year of the vehicle to which the plates were last
assigned under this section.
(d) Whenever a person who is authorized to utilize the special
license plates applies to the department for transfer of the plates
to another vehicle, a transfer fee of twelve dollars ($12) shall be
charged in addition to all other appropriate fees.
SEC. 2. This act shall become operative on July 1, 2009.