CORELLE DINNERWARE FOR THE HOLIDAYS
CORELLE Holiday dishes are extremely popular and appropriate for casual dining as well as entertaining. Whatever your style is, you are sure to find something to your liking. Current patterns (as of this writing) you may want to consider include the "NEW" Winter Holly, Cheerful Flurry, and Birds and Boughs. This version of Winter Holly has red rims as opposed to green - and bright red coffee mugs, but the pattern is exactly the same as the wildly popular Winter Holly we all know and love. Which also means you can add these to your existing Winter Holly as they are a perfect match! Available right here on Ebay, at Amazon, and Macy's to name a few retailers. You can also Google to find large images and examine this lovely reintroduction.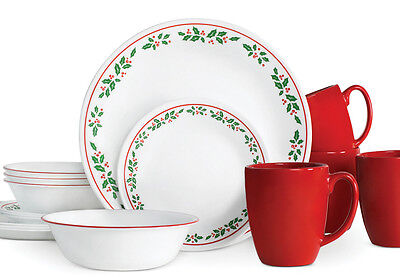 As seen below, Cheerful Flurry (left) is a whimsical pattern of bright red and green snowflakes while Birds and Boughs (right) feature a festive pattern of winter greenery accented by red bands and Cardinals. Both are also available at many online retail websites including shopworldkitchen.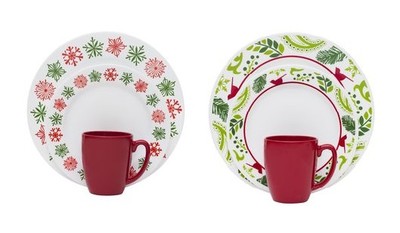 New for 2015 is the Nordic Blu collection as seen below - in a very nice coordinating design of snowflakes, reindeer and Christmas trees. A solid red mug rounds out the classic yet festive pattern.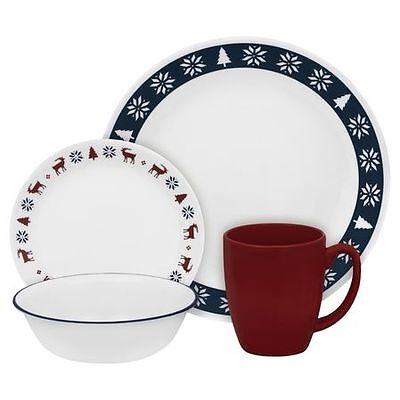 Patterns from recent years include Evergreen Rose, Callaway Holiday Ribbons, Holiday Fun, Holly Impressions, and Holiday Stitch. Additionally, patterns can be mixed and matched to compliment each other. In example, Callaway Ribbons coordinates with Corelle Callaway and Corelle Enhancements very nicely - while Winter Frost White can be paired with virtually all Corelle Christmas items to create a fun and festive table.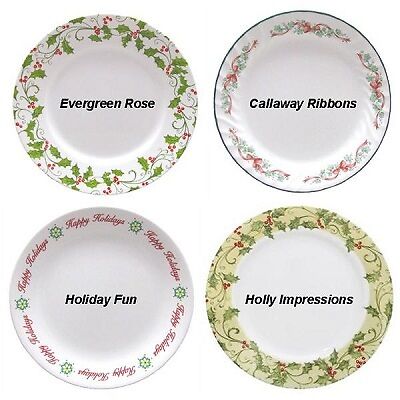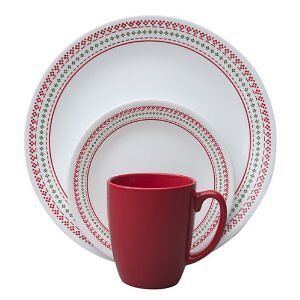 Holiday Stitch is yet another favorite. Also available in this collection are popular open stock pieces such as lunch plates and flat rimmed soup bowls.
The design is described as a festive twist on the Folk Stitch pattern, in red & green for the holiday season - however it can certainly be used throughout the year for every day dining as well as casual entertaining.


SEARCHING FOR DISCONTINUED PATTERNS ?
Although the products discussed in this section are discontinued, many can still be found auctioned right here on Ebay. Notable are the Holly Days and Winter Holly holiday dinnerware sets, now retired. Almost identical with a beautiful evergreen holly pattern, Holly Days has black stems in the leaves of the design while Winter Holly has white stems. Bowls were made with coordinating bands surrounding the rims, which compliment either pattern. These collections are quite attractive, and included classic white Corelle/Pyrex coffee mugs with matching accents until Corelle retired those in favor of stoneware mugs as seen here.
Additionally, there were open stock pieces available in the Winter Holly pattern which included serving pieces, glassware, lunch plates, rimmed soup bowls, and more.
Worth mention is Corelle Holiday Bands - featuring candy stripes of bright red and green on the rims of each piece (which also coordinate perfectly with both Winter Holly and Holly Days). These are now very rare, and have become collectors items.

More discontinued favorites are pictured below from left to right:
Christmas Joy, Holiday Magic, Gingerbread Men, Blue Snowflakes, Winter Magic, and Frosty Morn.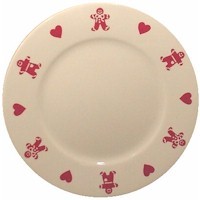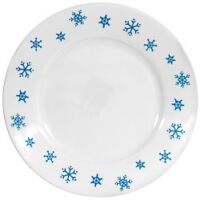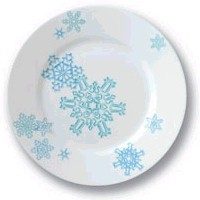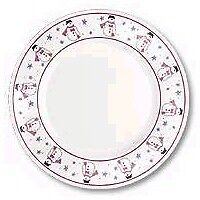 OTHER RETIRED HOLIDAY PATTERNS
Callaway Holiday/Ribbons - White with festive red ribbon accents and forest green outlining sculpted rims.
Country Memories - Winter scenes in the center of each plate depicting a horse driven sleigh in the snow.
Holiday Bands - Winter white with Holiday green and red bands on the rims of each piece. *Coordinates with Winter Holly, Holly Days, and Winter Frost White.
Winter Festival - Decorative red and green borders displaying "cookie cut out" shapes of Christmas trees, falling snow, and reindeer.
Winter Harmony - Elegant holiday pastel pattern with graceful poinsettia flowers and green holly leaves accented by red holly berries.
Sponge - Two designs were offered in this pattern. The Christmas Tree and St. Nick which have the same "sponge" motif, featuring a whimsical Holiday tree (green) or Santa (red) in the center of each plate.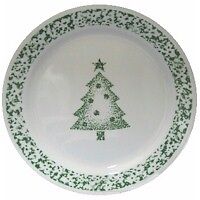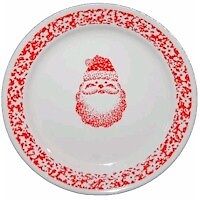 Also available were limited edition collectors plates, sold separately and dated the year they were released. If you already have one of these discontinued patterns, lucky you! Having such a classic item for the holidays enables you to add to or mix and match with current Corelle patterns.
Thank you for visiting !