I have combination skin. My cheeks are normal, sometimes dry. But my t-zone? It is a bit on the oily side, especially during the summer! I'm not a fan of being shiny, but I also hate to spend all day using blotting sheets and caking myself with powder, powder and even more powder.

I've found a lot of great ways to mattify over the years, and really it is a big process. Here's a look at the steps I've found help keep my skin looking matte!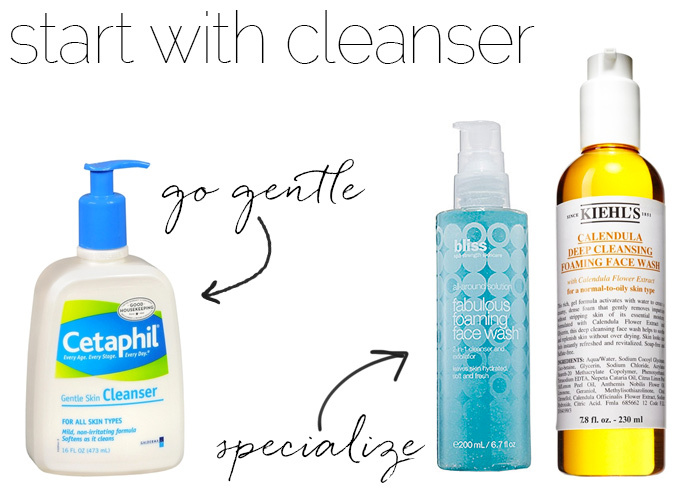 Experiment with Cleansers
I've found that depending upon the time of year, I either need to go with a very gentle facial cleanser or for a cleanser more specialized for oily skin.

In the winter, my skin needs to be pampered and babied. Using a gentle cleanser like Cetaphil Cleanser works for me most of the year. However, when my skin starts getting more shiny in the summer, it's time for me to reach for a more specialized cleanser! I need something that will cut through the oil each morning to help prep my skin for the day.

Strangely enough, using the wrong cleanser at the wrong time of year really does seem to make my skin more shiny! The specialized cleansers dry out my skin too much in the winter, resulting in over production of oil as my skin tries to compensate. In the summer, the gentle cleanser just isn't enough for my skin and sticking with it means my entire face (and not just my t-zone) becomes a problem.

The cleanser situation is different for every person, but really experimenting with different types of cleansers might make a big difference.

Gentle Cleansers to Try: Specialized Cleanser to Try: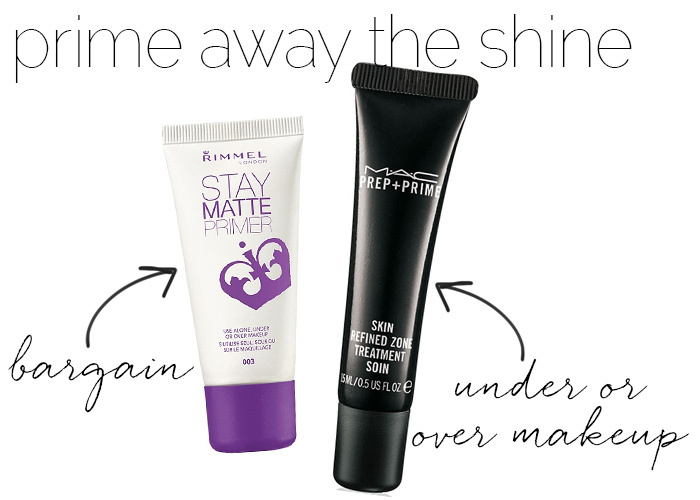 Mattify with Primer
Whether you're using makeup or not, applying a mattifying primer is a must for shiny skin! They're lightweight, usually sink into your skin or dry completely clear, and they can make a big difference in hour shiny your skin is. My favorite, MAC's Prep + Prime Skin Refined Zone Treatment can even be used over makeup!

Primers to Try: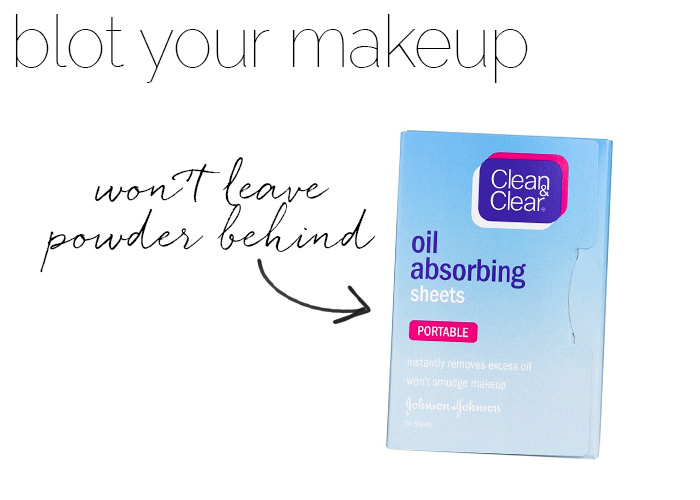 Blot While Applying
It sounds crazy, but once I've applied my foundation and concealer, I'll actually blot my face. I use a tissue or blotting papers (
Clean & Clear Oil Absorbing Sheets
) to remove excess oil from my makeup, leaving behind just the pigment from the makeup. This step seems to make a big difference in how long my makeup lasts!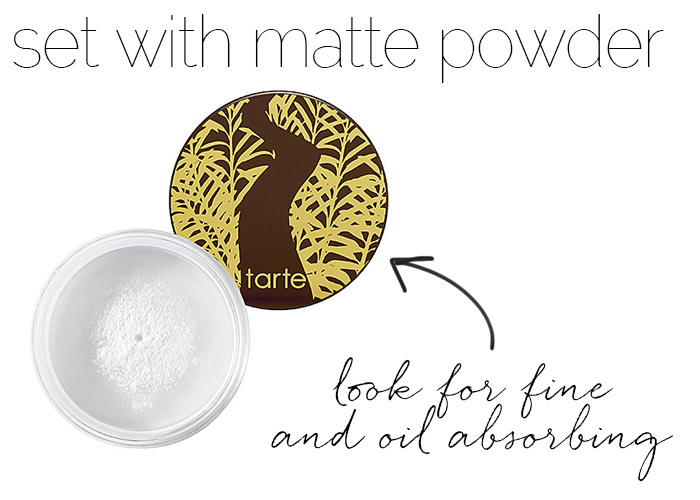 Great Powder
I'm not a fan of reapplying powder all day. My skin tends to look cakey very quickly, so I prefer using a great powder in the morning. I look for a very finely milled powder, I use it sparingly (mostly just in my t-zone), and I blend it like crazy! There are some powders that absorb more oil and have a matte finish, those are must haves as well.

Powders to Try: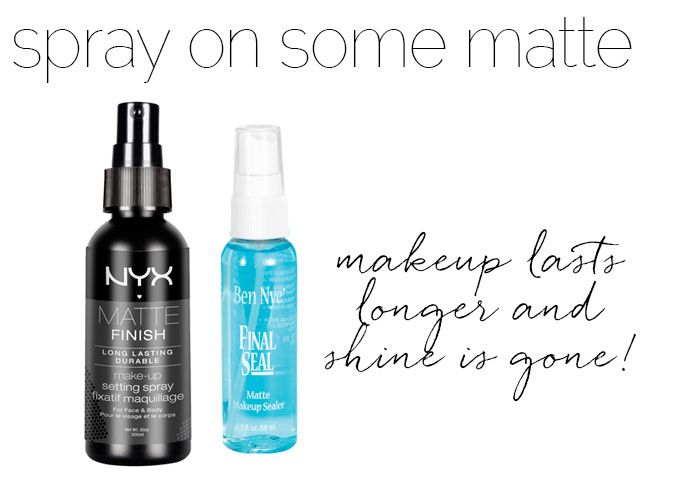 Spritz and Mattify
I'm not an every day setting spray girl, instead I'll spritz one on only on days that the weather is particularly warm or humid. However, these spray are great for really keeping your makeup in place and keeping oil away. Just spray them on after your makeup has been applied, I recommend from about 10 inches away. I also wait to apply my mascara until after the spray.

Setting Sprays to Try: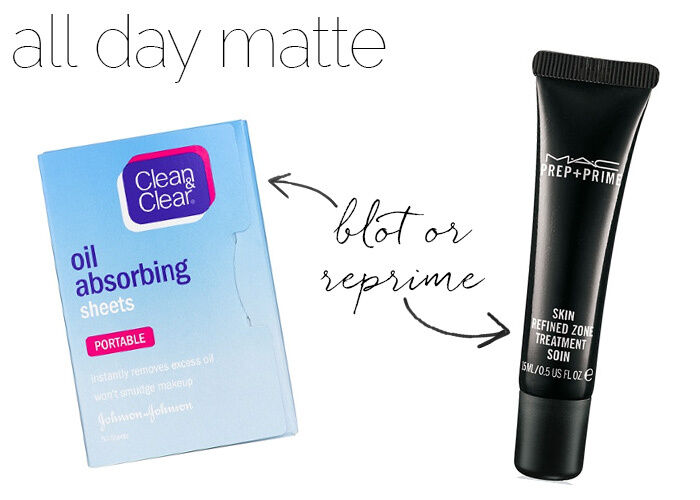 Upkeep
I've mentioned that I really, truly hate to reapply powder many times a day to my face. Using all of the above steps means I rarely need to do much during the day, but when I do, these are my best options!

The first is to use a blotting sheet. There are a lot of options out there, but most of them will leave a light layer of powder on your face. Which I'm trying to avoid. So I stick with the Clean & Clear Oil Absorbing Sheets since they won't leave behind any powder, they soak up a ton of oil, and they're very affordable.

For days that I have more shine at midday, I grab my MAC Skin Refined Zone Treatment. This is a light lotion that can be used under or over my makeup! For midday application, I use a very small amount and dot it around my face, then gently rub it in. It doesn't mess up my makeup at all and creates a semi-matte finish immediately.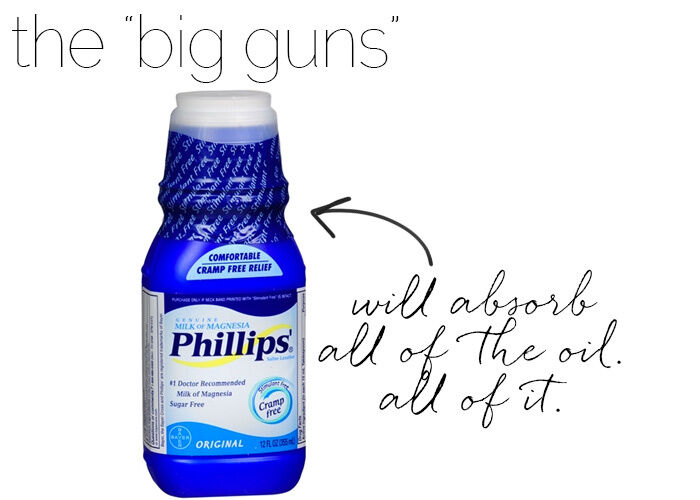 When All Else Fails....
If none of the usual products and tips seem to be helping and I've become an oil slick, it is time to really break out my secret weapon! Milk of Magnesia will absorb any and all oil on your skin.

To use MoM as a shine fighter, it works best watered down (I do about 1 part MoM to 3 parts water), a super light layer as a primer. I apply it with a finger and let it dry. It does leave some white residue, I just rub it off with my hand, and I'm ready to apply makeup.

Note that MoM has a basic pH, and if you have very sensitive skin then everyday use is probably not a good idea. I do have sensitive skin due to Rosacea, but have never had any issues.