This page shows the various methods for adding a video or sound file to you auction.
Adding Video to your Auction
A video is an excellent tool for showing how an item operates or to confirm a motor or LCD screen is functioning. Video is also useful for rotating an item to display a 3D presentation.
Flash Sound or Video files
eBay approves of FLASH files for sound or images (but not for auction description). Here is a coding example of the OBJECT tag that automatically runs a Macromedia Flash player from a remote site.
<OBJECT id="FlashPlayer" width="290" height="135"
classid="clsid:D27CDB6E-AE6D-11cf-96B8-444553540000"
codebase="http://download.macromedia.com/pub/shockwave/cabs/flash/swflash.cab#version=6,0,29,0">
<param name="movie" value="
http://www.myhost.com/flashfile.swf
">
<param name="quality" value="high">
<EMBED src="
http://www.myhost.com/flashfile.swf
" quality="high"
pluginspage="http://www.macromedia.com/go/getflashplayer"
type="application/x-shockwave-flash" width="290" height="135">
</EMBED>
</OBJECT>
Using an Online Video Hosting Service
The recent appearance of online audio/video services seems to solve the problem of both hosting and posting audio and video into an auction. eBay allows creation and inclusion of
Videos
if they are hosted by one of these companies and if the hosted file is Flash. Although I haven't tested these products, those that I have seen appear to work just fine in the auctions I examined.
AOL
AuctionMercial
AuctionPlayer = eCommercePlayer (either audio or video)
AuctionVideo
CarTHINK
CreativeVideosOnline
Dailymotion
Google
i2iAuction
Microsoft
MySpace
Silverdock
Vzaar
YouTube.

eBay allows links to the video on the host site, or the video can be embedded directly in the auction.

Link to Video: The code to add a link to your page, that users would click, is similar to one of these:

<a href="http://www.youtube.com/v/abcdefghi">click for movie<a>
<a href="http://www.youtube.com/watch?v=abcdefghi">click for movie<a>

Embed Video: Or you can embed the flash video in your auction using code that is similar to the flash file code above, like this:

<object height="360" width="480">
<param name="movie" value="http://www.youtube.com/v/abcdefghi" />
<embed src="http://www.youtube.com/v/abcdefghi"
type="application/x-shockwave-flash" height="360" width="480" />
</object>


YouTube Videos
Old YouTube Videos:
YouTube, the most popular video host, changed their embed code to an iframe version in 2011. The newer iframe version is not accepted by eBay's listing form. However, YouTube may still offer their "old embed code" that is similar to the Embed code above. If it is available for your video, you will find it on their "share" button:
Upload your video and then Click the "share" button to open more options.
Click the "embed" button to open still more options.
Select "Use old embed code".
Copy the code from the slot and paste that code into the HTML tab of eBay's listing form.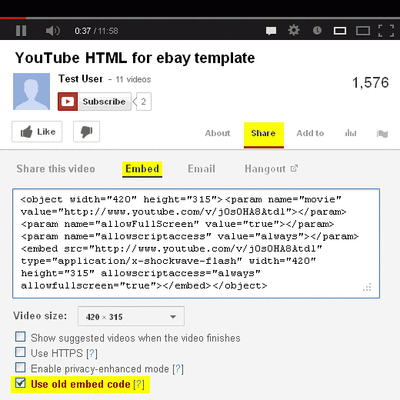 New YouTube Videos: If your newly uploaded YouTube video does not offer the older Embed code option, you'll need to construct the code. In that case, copy the string of letters (KnUnRSiHk) from your video and substitute it for the string of letters (abcdefghi) in both places in the sample "Embed Video" code above. You can change the width and height (in both places) to fit your page.
A simpler method may be to copy your video number or YouTube page address and use this online tool to generate eBay compliant embed code.
Adding Sound to your Auction
Many users don't like the distraction or download-time associated with music in an auction and may hit the back button. However, there are many instances where music or sound is an integral part of the product being sold. These include illustrating the sound of a music box, vinyl record, running engine, and such.
Capture your sound and save to a file, using the media software that came with your computer. Be sure the sound clip is short and the file is small. If the sound is to autostart with the auction, it should be under 40K, otherwise it may not load in time and could lock up your listing for some viewers. Midi files are the smallest sound files.
If you need to supply a larger file, then put it on a clickable link or use a start button so that the buyer can start the download when they are ready to do so. This is a courtesy to the 30-40% of dialup users who might find their machines tied up for 5 minutes or more waiting for a megabyte download.
Sound files must be hosted online to be used in an auction. They can be hosted on your website, on a file host, or on some
image hosts
.
All of these methods have been approved by eBay for SOUND CLIPS ONLY.
Replace the URL for your own hosted file wherever we show
http://www.myhost.com
in the examples below.
Clickable Link
This is a clickable link that gives the user the option to hear the sound.
<a href="
http://www.myhost.com/soundfile.mid
">Click to hear it</a>
Default Media Player
This method calls the sound player that may be on the user's computer. There is usually some sort of player on most machines. If there is no player, the user's computer may seem to lock up during the time it searches for one. In the end, it may ask the user if a player should be downloaded.
<center>
<EMBED SRC=
http://www.myhost.com/song.mid
HIDDEN=false HEIGHT=100 WIDTH=195
AUTOSTART=false LOOP=true>
</EMBED>
</center>
Download Microsoft Player
This method will fetch a player from Microsoft for Windows computers. This method will be rewritten and voided if it passes through eBay's description rewriter on the listing form. Do NOT touch the Standard tab or preview the code on the listing screen.
<OBJECT ID="Player" height="100" width="150"
CLASSID="CLSID:22d6f312-b0f6-11d0-94ab-0080c74c7e95"
CODEBASE="http://activex.microsoft.com/activex/controls/mplayer/en/nsmp2inf.cab#Version=5,1,52,701"
STANDBY="Loading Microsoft Windows Media Player components..."
TYPE="application/x-oleobject">
<PARAM name="filename" value="
http://www.myhost.com/mysong.mid
">
<PARAM name="autoStart" value="false">
</OBJECT>
Background sound
This is a method for invisibly embedding sound that can't be turned off, so it is NOT visitor friendly and not recommended for auctions. It only works in Internet Explorer and is merely included here for completeness.
<bgsound src="
http://www.myhost.com/soundfile.mid
" loop=-1>
---
Visit my
ME
page for
Free Tools and Resources for Better Auctions
Copyright © 2004-2012
shipscript

The About ME page design series:
Auction Template Help:
eBay Guide Help: