Do you really want to pay $$$ for an American Girl doll or is there a less expensive version? There are a few look-alike dolls that are very comparable and can wear the same AG doll clothes. I'll tell you a bit more about the American Girl dolls and their look a likes, and I will even touch on accessories, clothing and pets. :)

First off, is this for you as a collector's or display item or for a child?
If you are buying for a collector or display, you want the real thing. Look for firm limbs, nice hair, eyes that open and close without problems, full eyelashes and authentic AG outfits for that specific doll. But if the doll isn't in the best of shape but the price is right, you could always send the doll away to the American Girl doll hospital (yes, there is such a thing). The best for retaining their value and increasing are generally Historical dolls, Dolls of the Year and often overlooked, doll's friends.

If for a child, there is a lot more to consider
:
Is my child one that is a bit harder on her toys?

If so, I would opt for one of the look-a-likes.

Is my child old enough to properly care for the doll?

If your child is a bit too young to mess with handling the doll with care or maintaining the doll's hair properly, I would consider the Bitty Baby, Bitty Twins or one of the look a likes.

These are not dolls to sleep with your child

, I have heard of many that woke up to find a limb or head popped off from just rolling on to it. And because of the way the doll is built, you can't just "pop" it back on like a traditional vinyl doll. But they are fun to buy matching accessories for and say sleep in a doll sleeping bag or doll bed.

Age Appropriate:

American Girl dolls are meant for ages 8 and up. While the Bitty dolls are designed with the younger ages in mind. Bitty dolls have vinyl limbs that connect about elbow and knee from the fabric portion of the doll, since they don't have jointed limbs, they won't stand on their own but they will put up to a little bit of rougher play.

American Girl, Bitty Twins or a Bitty Baby?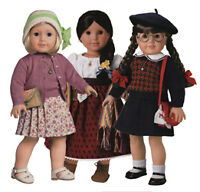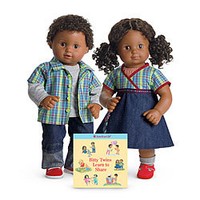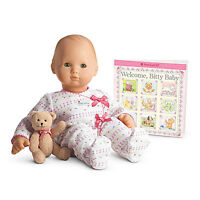 American Girl dolls
Starting price in stores, catalogs and their website is $95, that is the basic doll, dressed in her basic outfit, no accessories and usually includes a paperback book.
Vinyl limbs with a vinyl head, cloth body. 18" sized posable doll (movable arms and legs that raise and lower) - the limbs are jointed to the body, like a traditional vinyl doll but their body is made of fabric.

American Girl and American Girl BITTY TWINS both have wig-style hair. You

cannot

use a normal brush or comb on their hair without risking pulling it out or damaging, you will need to American Girl brush or buy a "wig brush" for the same AG thing without the brand's price. You can find "wig brushes" at most beauty supply stores.


AG dolls come in several varieties:
Historical dolls

- these come dressed as that particular timeframe (such as the famous Kit Kittredage doll is from the Great Depression era) - there is usually a storybook series that stars this doll set in that time. Great way for children to learn about life "back in the olden days" (as my 4yr old says).


Doll of the Year

- this special doll is a limited release available only during that year. These are a "Doll of Today" - 2008 was Mia the ice skater, 2009 is Chrissa the swimmer.


Just Like You

- you can pick between a ton of hair colors, skin tones and eye colors to find a doll that most resembles your daughter. These come in a pink mock-layered hoodie dress, leggings, ballet flats and a headband.
Doll "Friends" - you will see these with the Historical dolls and Doll of the Year - these are the BFF in the stories.

American Girl "Bitty Babies" and "Bitty Twins" dolls
Unlike the American Girl dolls, these cannot stand on their own.
Slightly smaller (15") size, non-poseable limbs (a bit more durable), designed for the slightly younger child. The fabric body connects to the vinyl limbs around elbow and knee - they can nearly always wear the same size clothes.
Bitty Babies
- retails for $42 - great for the mommy type - cloth body with vinyl limbs and head, bald - come in a variety of ethnicity choices. The doll comes dressed in a footed sleeper, with a teddy and a paperback book.
Bitty Twins
- retails for a set of TWO dolls for $95. Cloth body with vinyl limbs and head, hair to style. This is an awesome secret - you can pick ANY variety mix/match of dolls. Do identical, boy and a girl, and even mix the hair color or skin tone (they currently have a brunette, blond, Asian, Hispanic and an African American to choose from in a boy or a girl) - each twin comes dressed in a full complete outfit, and you will get one storybook. The boxes come together with a lid that covers the two boxes, but you can remove the lid, and carefully remove the boxes from each other and have two dolls to gift. This is a great way to introduce preschoolers and young grade school children to American Girl. The limbs don't have joints like the bigger American Girl dolls, so they can stand up to a bit more play.
SIMILAR (but oh-so-cheaper) budget friendly AG-look-a-likes!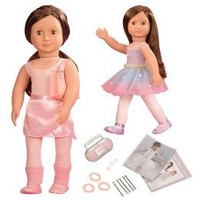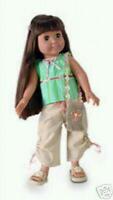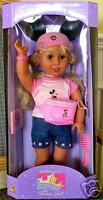 Okay so these are probably not heirloom quality that will wind up passed along to generation to generation but as far as AG friends go, these have a much more welcome pricetag so you won't mind your daughter actually PLAYING with these - plus each of these can wear AG brand doll clothes (interchangeable) - So now that you know a bit about the brand - if you decide that the price is just too high or think your child isn't quite ready to care for a doll worth that much.... here's a few VERY comparable alternatives:
Madame Alexander 18" dolls
- (shown below in the undressed doll comparison) these dolls can wear the same AG clothes, the line does not offer much in way of accessories, extra clothing or pretty much anything beyond a doll, but she has a great price ($30) - which includes one very smartly dressed doll. The hair is unbelievably soft, though it is plugs, pretty much the "wig" that AG dolls have is the only thing that really sets them apart from all these "wanna be's". But as far as Wanna-Be's Go, my favorite "knock-off" is the Madame Alexander brand, though the MA brand is hardly a knock-off - very nice quality doll and a surprisingly great price. I like this body style, it has the cloth part of the body starting just under the breast bone area so your doll does not look weird sporting tank tops or swimwear. Yet the cloth body offers cuddling like the AG dolls. The way the head is attached allows for the doll to look up and down as well as left and right. Available at Toys'R Us, Walmart and Target in a variety of skin and hair colors. There is a line for around the same price that I have heard was available at Costco locations called "Girlz" - they are dressed very trendy and usually include a pet and a pet accessory like a carrier purse. I cannot say enough about this brand of doll - for now on, I will buy this type OVER American Girl dolls, though I might still invest in some actual AG brand clothes for the style or to go along with the storybook character. VERY well made. Can wear the same clothes as the American Girl dolls, even the shoes. Feels MORE DURABLE and better made than the MUCH higher priced, AG dolls.
Our Generation dolls
- (
ballerina shown top row on the left
) these are available at Target in stores or online, this is an awesome buy - you can find the doll with an extra outfit as low as $21.99!!! With a few accessories for $32.99 and with a storybook and more accessories for $39.99. Their hair isn't as easy as the American Girl dolls, I would say the quality is more like that of a My Little Pony or Barbie - it can look great if you maintain it with brushing, but left to it's own devices, it will look quite matted and frizzy. Heavy brushing I have heard can lead to bald patches (but then again, that is true for just about any doll). For easiest care, just make it braids or ponytails and let it be. I prefer these for my six year old. Our friends children are all about the brand AG but my wallet isn't all about the price, plus my daughter is not so brand crazy that she would know the difference. I like that these dolls almost always come with accessories and all the ones I have seen come with a 2nd COMPLETE outfit. Wish AG could do this! Standing side by side naked, the dolls look very similar, the AG doll is a bit heavier weight (lbs not chubbier) but that to me is an aesthetics thing more than a quality thing. I prefer the variety of faces this brand offers, versus AG same bucky tooth grin mold. I think this brand's faces look a bit prettier and offer a lot more variety. I find they fit VERY close almost identical in size to AG dolls.
FB - "Friends Boutique" (found at Walmart) - these are Walmart's answer to the Our Generation dolls - they have a smaller and harder to find selection but have cute accessories and clothes WILL fit American Girl (we have several) - dolls are very comparible to the Target "Our Generation" dolls.
Here is OG's blonde "Hally" on the left and American Girl's "Just Like You" on the right - this Hally doll also has bendable bones so you can manipulate her limbs to bend a bit too - sorta weird but neat. The Our Generation dolls that have this feature will say "Poseable" on the outside of the box in a pretty sticker. Notice the shoes, the pink pair is the AG's Just Like You shoes and the purple pair on the AG doll is the Our Generation brand shoe. No problems with fit either way.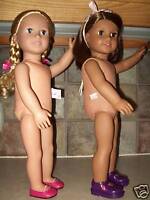 Goetz Gotz dolls
spelled either way - (shown second row, left side) - Retails for around $65 - these are
almost
as pricey as AG dolls but very collectible and did you know, the German Gotz doll company was actually the maker of the original American Girl dolls before it was later sold to Mattel? Some specialty doll store carry these, more available overseas but not impossible to find here in the USA. My favorite line from this maker was called "Little Sisters" but those are pretty much only able to be found on sites like Ebay as they are a few years older, their current line is "Precious Days" and includes much trendier clothing. I love their Mona Lisa Smile (looks a lot more somber in pictures than they do in real life) their eyes and their sweet faces make them downright irresistible - this company knows AG dolls and this is AS CLOSE TO IDENTICAL in size and quality without being AG as you can get. The funny part is their boxes would have you guessing otherwise. VERY cheap looking packaging but VERY high quality doll. So if you want quality as well, something that is an American Girl but still don't want to pay the $95 price, foot the bill for a Gotz doll! Very versital fitting with AG dolls. Nearly identical fit down to their shoes.
My Disney Girl doll
-(shown 2nd row, far right) The hair isn't all that great, but these would still make a fun AG "friend" dolly, even if you are only buying for the outfits! Below is the striped down version of the doll to see that they are built very similar. The outfits ($15-25)
WILL
fit the AG dolls wonderfully - as we have several - their outfits are cute for dressing up the dolls for costumes or a trip to the House of Mouse - I found on here the cute pink Mickey souvie shorts set that came with mouse ears and a doll-size pin trading lanyard - they fit my daughter's AG doll like it was made for her. The outfits are all Disney themed, either souvenir like the short set above or costume like Disney Princess or Tinkerbell. I can't speak much for the quality of the doll but the dolls run around $45 at Disney World and Disney Souvenir shops. Extra outfits around $20.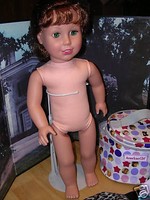 (My Disney Girl doll)
BFC INK dolls - these are similar as to the concept but are TALLER and SLIMMER - (stands for Best Friends Club) - these dolls are found at Walmart and usually include quite a bit with a single doll. Fun to play with but won't fit any of the AG items or furniture.
Kariot Kids are a newer line - cute dolls but they are much taller at 21" instead of 18" so they will not fit into the clothing or furniture of AG dolls.
All 18" dolls are NOT equal. Shown below are stripped down versions of some similar looking dolls but with very different body sizes: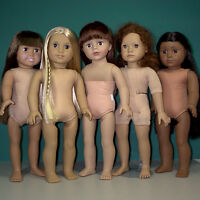 Shown from L-R:
Lindsey - a Springfield Collection doll (hard to find)
Julie - an American Girl Doll (2008)
Girlz Madame Alexander doll
German Doll by Heidi Ott (hard to find)
Kaya, an American Girl doll (2002)
As you can see they look very similar when you strip them down. Other than the vinyl shoulder/chest on the Madame Alexander doll, without looking for tags, most children won't even notice a difference. In our house my daughter has an American Girl doll, an AG twin doll, a Madame Alexander doll and a few Our Generation dolls. All of her friends that have came over, even a few American Girl brand-fans, don't pay any attention to which is the AG doll and which is a "knock-off" - so for play - my top pick for quality is a Gotz doll, my top pick for clothes fit and play is the Our Generation dolls and my favorite doll (and my daughter's) is the Madame Alexander doll for the aesthetic look of the vinyl upper half that looks much better in strappy tops and swimwear.
Accessories, Clothing, Pets and the like:
American Girl Brand

: Clothing and Accessories, by far, hands down, these are the most well made and authentic. For resell purposes, they retain their value quite well. The outfits start at $20 but you can buy accessories like a ball cap or shoes for as low as $6. Watch the AG website for good sales, I managed to find a few complete outfits for as little as $8 and they come packaged neatly in American Girl gift boxes complete with AG logo tissue paper. But as far as the pets go, I am

NOT

impressed at all. Teensy stuffed animals for $20? I mean c'mon - the often are just a few inches tall/long and they are quite simply just a single stuffed animal. The only one worth anything are character specific ones like Kit's dog Grace but for the most part, you can buy much cheaper elsewhere and the kids won't notice the difference. See my tip below.


Our Generation Brand

: The clothing is A LOT more of a value at just $10 and they usually are complete outfits and even include a few themed accessories. Now it isn't as well made as AG, but as far as DOLL CLOTHES go for children, it's a good buy in my book. They have cute themed accessory sets that work well back and forth with AG dolls and the kids will not notice a difference. The biggest STEAL in this line is their furniture - for $50 you can get a COMPLETE trundle bed set with bedding and throw pillows, it is made with metal and plastic (unlike the AG's higher priced furniture without bedding that is all plastic), they have nice quality horses (VERY much like AG's - but not $75) - the kids will never know it isn't PENNY (ala' AG's Felicity) more on that below - you can even find whimsical items like a doll styling chair, bathtub, I've seen a jeep and a dune buggy - all at VERY reasonable prices and they work wonderfully with AG dolls!

Madame Alexander

: Somewhat cute variety, especially in the themed sets, reasonably priced, though harder to find. You can usually find clothing and accessories at Walmart or Target.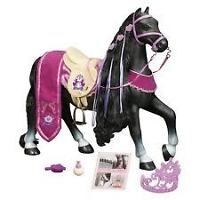 Horses:
This was a gift for my daughter last Christmas. She fell in love with Felicity the movie and her horses Penny and Patriot and loved the idea of having some for her dolls - the American Girl ones are pricey and do not come with ANYTHING. So I considered the two versions found at Walmart and Target. There are two types on the market there (Our Generation and the Madame Alexander one found at Walmart) - for the Horse (not pony) - I bought the Our Generation horse (photo above) which came with a TON of accessories - I found three types, one for beauty, one for equestrian show (jumping) and one for the outdoors with camping stuff. I opted for the beauty since she came with a very pretty saddle and lots of hair accessories plus a crown for the doll. The molded plastic body is covered in a soft fabric and the manes are silky and long. The other horse type (walmart's) had a hard molded plastic body without fur but had jointed limbs and a movable mouth. Both of which were nice cheaper versions of the AG one - so much cheaper I also bought the Our Generation pony - built like the horse only smaller - these are both great buys in my book! Again, I'm talking for child-play not collecting.
Check out the very movable horse from Friends Boutique! (Found at Walmart) - this has a soft "fur" - the legs are jointed and the mouth moves - plus it comes with several accessories. Another good trade for the pricey AG version.
Dogs and Cats -
As far as dogs and cats go, you can almost always find great buys at ANY toy store MUCH less expensive than American Girl brand. The biggest thing to remember is the size compared to the doll. You want it to be no larger than around 6-7 inches. I found at Walmart on clearance a set of 3 Yorkie Terrier puppies that came with a bed and pillow for (seriously) $1. They are the perfect size, compared to say "Sugar" (AG's newer doggy). I think original retail was $13.99 but even then, you are getting 3 pups, a bed and a pillow. (

Right now they are living in Kit's Treehouse in my daughter's room

) - ours were puppies that were meant to go along with the MUCH bigger tote and go fashion dogs. But the puppies are the perfect size. So keep an eye out next time you walk a toy isle!
Clothes and Accessories -
Hands down - Target's Our Generation and Walmart's "FB Friends Boutique" are AWESOME finds!! The clothes are more readily found for the OG dolls but for accessories - we are loving the selection both of these offer - in Christmas 2011 both released vehicles for the dolls - OG has a pink jeep and FB has a pink car - I was not pleased with the car for the windsheild that seemed flimsy and cumbersome so we unsnapped it and tossed it - we think it looks better without. :) Walmart's brand doesn't have as large of a selection but both are worth looking at - and when it comes to reselling - when you pair some of these with AG items - they sell nearly as well dollar for dollar - especially the vehicles - the motorscooter (OG) that was released several years ago for example, is still selling USED for around what the NEW price was! The same can be said for the dunebuggy/VW Bug type car that OG released even before the scooter.
Hopefully, I have helped enlighten you a bit more on American Girl products and a few budget friendly alternatives, please take a second to click that this was HELPFUL - thanks ~ Angie