Reference Points: Understanding the Nike SB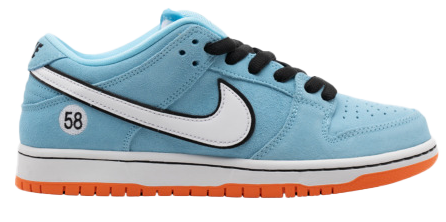 Nike SB Dunk Colorways: Skateboarding with Tech
Going against top competitor brands that specialize in skateboarding equipment and shoes, Nike took it as a challenge to enter the sneaker culture of skateboarders, an unfamiliar territory back then.
Vulcanized soles, canvas uppers, and thick midsoles; the usual suspects seen on most skate shoes. The lackluster tech in skateboard allowed Nike to revolutionize another sport by innovating their shoes - to equip them with Zoom Air. They introduced Nike SB in 2002 and released the Nike SB Dunks - which took the majority of its identity from the iconic Nike Dunk.
The Nike Dunks appear to have been reincarnated to transform into skateboard shoes after making waves as a basketball shoe since 1985. But the Nike SB Dunks are much more advanced, more skateboard-specific. Bright and stylish colorways made even more iconic with graphic prints that cover the entire shoe - the Nike SB Dunk's culture is for those who break the limits, for anyone who isn't afraid to stand out and catch everyone's attention. And that's exactly what the shoe did - even after 19 years since its first unveiling.
Seven years after Nike SB was formed, the Nike SB Zoom Stefan Janoski was born. Another iconic skate shoe that pays tribute to famous professional skateboarder Stefan Janoski and cemented itself in skateboard history.
Sit back and read on to take a trip down memory lane and look at the most memorable and most iconic Nike SB sneakers and colorways.
Nike SB Dunk Low Dark Grey Black Gum
Beyond the Kickflips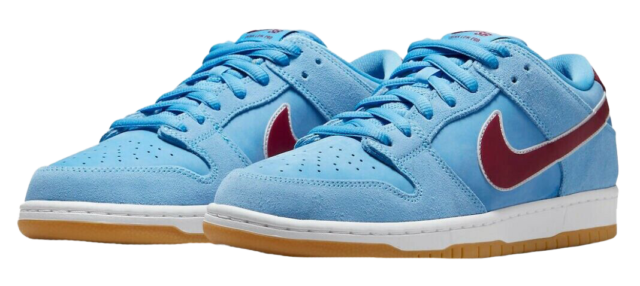 A timeless icon due to its rarity and history.
What made them so valuable? Well, aside from a limited number of 500 pairs, they only released in Supreme's branches in New York and Tokyo - making them even harder to get for sneakerheads who don't live near the places.
Made up primarily of leather, the Supreme SB Dunk White Cement also features the usual thick sockliner equipped with Zoom on the heel for impact protection.
The second Supreme SB Dunk Low from 2002 is also reminiscent of the Air Jordan 3 - this time with the Black Cements as the shoe utilizes a Black base upper and graphic elephant prints on the vamp, quarter, and forefoot panels. Red inner linings give the shoe a livelier look and contrast the White Cement's blue inner lining.
The Supreme Black Cement SB Dunk is one of the more expensive Supreme SB Dunks together with its counterpart White Cement.
These two sneakers paved the way for other rare and iconic colorways that are now highly sought after by collectors, resellers, and sneakerheads. The legendary elephant prints were only the start of the SB Dunks' true potential when it comes to color combinations - a worthy shoe to be given the same design as the Air Jordan 3s.
In late 2002, Eric Avar designed a modern skate shoe called Zoom Air E-Cue that aims to protect the skater by constructing the upper with ventilated rubber that gives it a futuristic look. The outsole is also crafted in high-resistant rubber for full-fledged durability. It didn't receive too much attention and looked more like an experimental design, but it's great to see the capabilities of designers to prepare for the future.
2003 saw the departure of the Nike SB's orange box during its debut. It transitioned into the silver box that ran from 2003 until September 2004.
One of the first to debut the silver box was the Todd Jordan Nike Dunk High Pro SB, or the Nike Dunk High SB Hulk. Dressed in an Olive and Green combination, the midsole is painted in dark purple to accompany the tongue and the purple leather Swoosh - kinda looking like Marvel's angry superhero Hulk.
There are many notable releases throughout 2003, too many actually. The following March 2003 releases were the SB Dunk Low Bison, Futura, and the Takashi - each with their own legendary stories on their come about.
The Bison SB Dunk Low is an eye-catching piece due to its brown and tan suede upper combination. What sets it apart is the red forefoot vamp that changes the whole aesthetic of the shoe. It's even nicknamed the Red Toe due to that.
Nike SB Dunk Low Pro Slate Blue
The Timeless Icons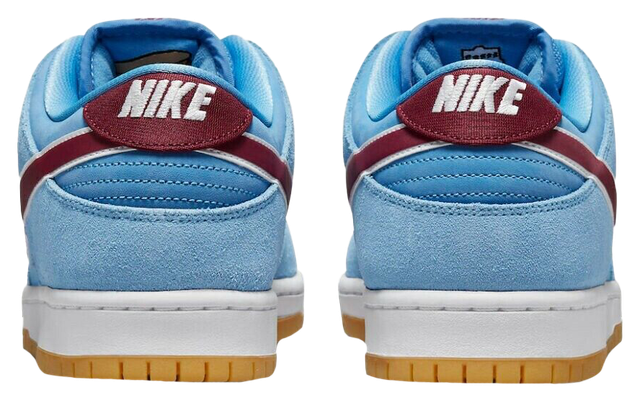 There have been countless SB Dunks that release during the course of its debut. The majority of the limited colorways are now highly valuable and are being sought after by SB sneakerheads and collectors all over the world. It's now time to select which Nike SB sneaker is the most valuable based on its resale price on various reselling sites, so prepare to take a blast to the past and keep reading to find out their current market value.
Paying homage to skateboard culture all over the world, Nike conducted the White Dunk: Evolution of an Icon exhibit to showcase sneakers, arts, and various cultures throughout the famous cities that had an impact on skating. Special SB Dunk Lows were also unveiled that tell their own unique story and differ per country. The first to release, a legendary tribute to French Painter Bernard Buffet, Nike crafted a bespoke Nike SB Dunk Low Paris that has a completely different upper per pair. Unfortunately, due to the build-up of hype during the event, the release was delayed and eventually sold through select stores.
The shoe features a canvas upper that showcases Bernard Buffet's artworks throughout the quarter, vamp, and heel panels. Each pair has a different canvas artwork which made it even more special as no pair will ever be the same. The rest of the upper features tan canvas, while a red Swoosh makes up the side panel.
The upper sits atop a white midsole and a black outsole - to fully give the emphasis on the artistic upper.
Nike SB Dunk Low Court Purple
Nike SB Dunk Low Freddy Krueger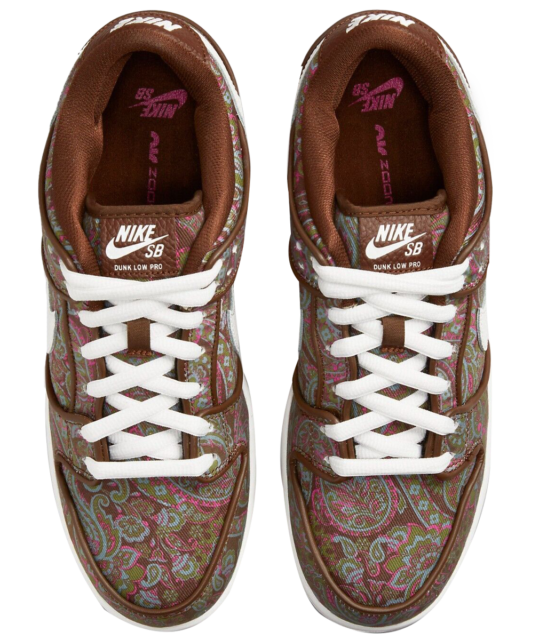 One of the most limited sneaker in existence because of an unfortunate backstory, the Freddy Krueger-themed SB Dunk was supposed to be a Nightmare on Elm Street tribute by Nike.
Intended to be gifted to the cast and crew of the movie, and a limited sneaker release on select stores, the Nike SB Dunk Low Freddy was recalled and destroyed by Nike after the movie's holders issued a legal action to Nike if they continued its release. The green and red knit uppers resemble Freddy's sweater, while the blood splattered all over the suede overlays is another obvious hint to the movie. But since it was trademarked, all pairs were supposedly recalled and destroyed - except for a very few survivors that made it off of the hands of the recall.
Anyone who ended up having a pair are probably the luckiest sneaker collectors in the world because the Freddy SBs are so limited and aren't expected to cease anymore after Nike called for an "Order 66".
Nike SB Dunk Low Concepts Purple Lobster (Special Box)
Nike SB Dunk Low "Pigeon"
Arguably the very sneaker that changed the sneaker game due to its crazy hyped-up fan base, the Nike SB Dunk Low Pigeon was a masterpiece by legendary designer Jeff "Staple" NG, the founder of Staple Pigeon. The shoe caused campouts and riots before its release on February 22, 2005, because of its extremely limited quantity that was only sold at Staple's Reed Space in New York City. Jeff Staple received a lot of calls as soon as shipment arrived, he even recalled how kids were setting up tents four days before the initial release and cops arrived trying to break the line to avoid chaos.
Why was the SB Dunk Pigeon so hyped? Aside from only 150 pairs existing, the answer may be each to their own. But its visuals combine different tones of grey on its suede upper and labeled with a white Swoosh, an embroidered pigeon trademark, and an orange sole made this shoe one of a kind. It also arrived in a pink box, issued for September 2004 to December 2005 SB Dunk releases.
Its hype and limited release may be justified, but the riots, quarrels, and other chaotic mess that took place before, during, and after its release is still a crazy thing to think about for a shoe.
The shoe was part of the Nike SB's White Dunk: Evolution of an Icon exhibit throughout the world. The NYC Pigeon was the fourth and last of the project that saw the likes of SB Dunk Low Paris, SB Dunk Low Tokyo, and SB Dunk Low London. All of which are exclusively limited pairs and reselling for premium prices.
Nike SB Dunk Low Pigeon (Engraved)
Nike SB Dunk Low Yellow Lobster
Nike has a knack for limited pairs that aren't meant to be released for the general public, so they made an SB Dunk that pays tribute to a lobster that probably isn't meant to be seen by the general public - the yellow lobster.
After collaborating with Nike for other "lobster" SB shoes, Concepts created a yellow pair that was made available for their friends and family and Nike SB. It was even reported that only 34 pairs were created and gifted to the lucky people. It's so rare that sneakerheads who see anyone wearing a pair would probably congratulate them if they're actually a legit pair.
Featuring an all-yellow base upper with a brown Swoosh and splatters of brown atop a brown midsole, the shoe features a dark green rubber band placed on the forefoot for extra detail.
It's legendary and rare anyway - just like a real yellow lobster.
Nike SB Dunk Low London
From one legendary SB Low to another, the SB Dunk Low London is the third SB Dunk Low to release as part of the White Dunk exhibit. This time it never actually happened because the London event was eventually canceled. The shoe features a simple Soft Grey and Magnet color combination that pays tribute to River Thames with an embroidered pattern on the rear.
Anyone who snagged a pair might be pretty lucky right now because of the shoe's resale status in the present.
Final Thoughts
Unveiled in 2002 and features various colorways and designs that are unique to their own, the Nike SB Dunk is a pivotal moment not only for skateboarding but also for the sneaker culture in general. Just like the Nike Dunk's transition from basketball to skateboard and then as a lifestyle shoe, the SB Dunk has formed an undeniable love for sneakerheads and collectors who either deadstock a pair or wear them to the ground.
Its sturdy upper and Zoom cushioning on the heel proved essential to bring comfort while collectors rock a pair and flex the hyped skateboard model.
With new colorways appearing and old themes reappearing, the Nike SB Dunk will continue to live on for countless generations, whether it's for skateboard or simply as an everyday sneaker.