Reference Points: Understanding the adidas NMD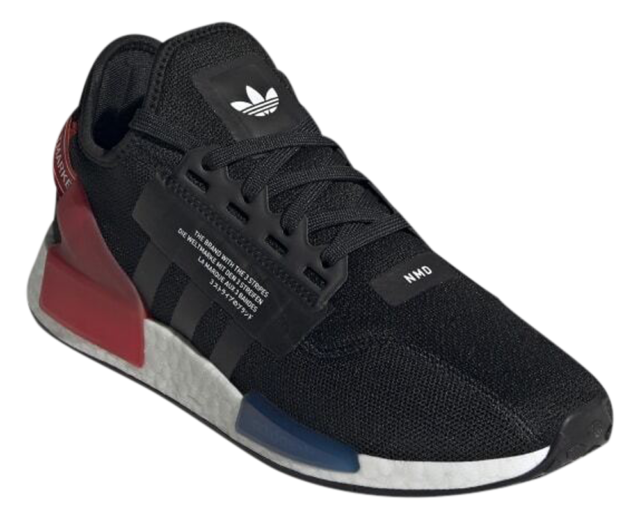 Reference Points: Understanding the adidas NMD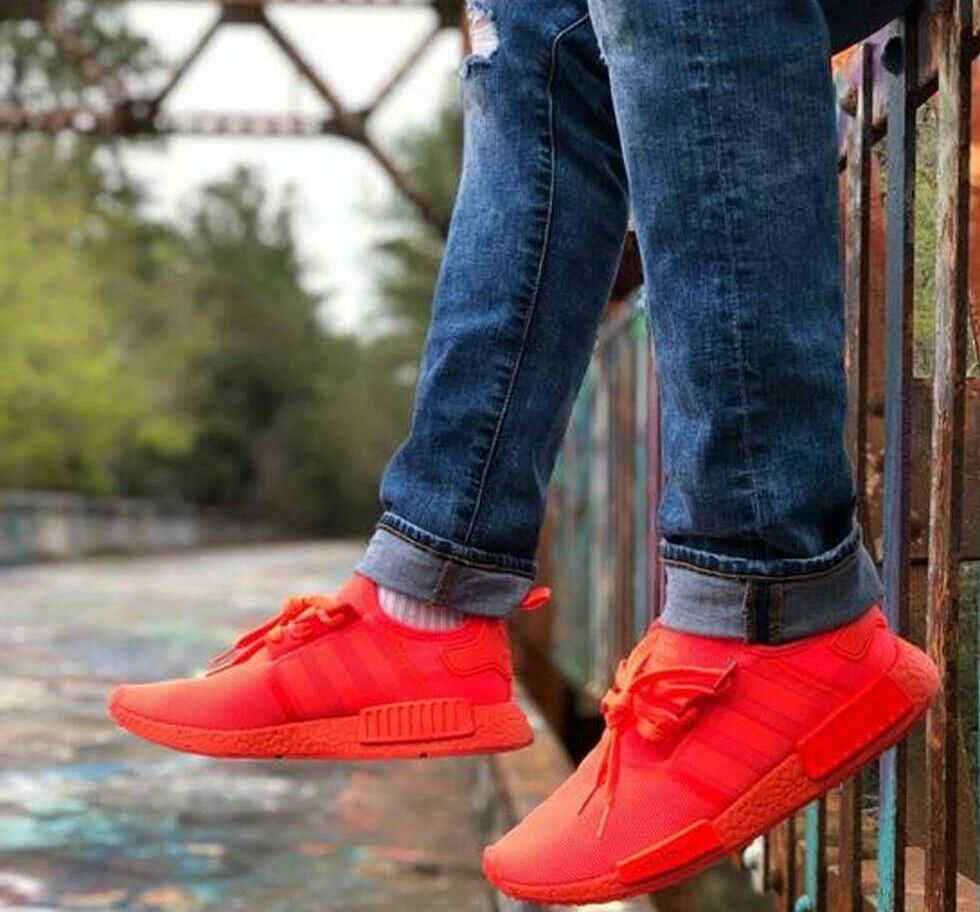 Take a look back on how the adidas NMD became a fan-favorite shoe with its iconic colorways and find out how it can be styled in this complete NMD guide.
2015 was a turning point for adidas as rival brands continue to innovate and create a new cushioning technology that can change the sneaker world completely. People weren't looking simply for style anymore - they also wanted function. Fortunately, adidas actually has a new cushioning technology that will replace their old foam adiPRENE. It worked so well that most adidas sneakers were equipped with it, and is still considered to be one of the best foam-based cushioning systems.
Boost cushioning actually debuted in 2013 with the Energy Boost, but it was the Ultraboost that started the trend after Kanye wore a Triple-White pair on-stage during the 2015 Billboard Music Awards. Months later, the Yeezy Boost 750 and 350 was unveiled, and it featured a full-length Boost midsole.
That's where the adidas NMD (Nomad) comes in, another Boost-equipped lifestyle shoe that was released during the holidays of 2015 and pays homage to everyday travellers. And it was an instant hit in the fashion industry because of its eye-catching features, like the "LEGO" bricks attached to the Boost midsole.
Take a look back on how the adidas NMD became a fan-favorite shoe with its iconic colorways.
adidas NMD R1 Vivid Red (W)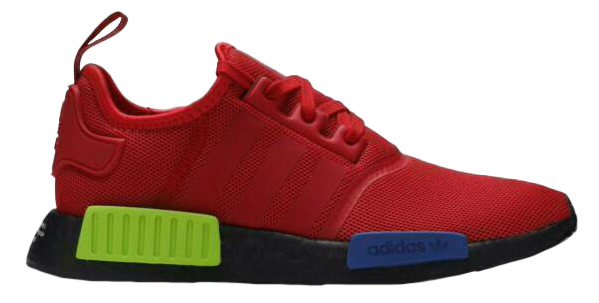 An Identity of Its Own
Unveiled in the same year with the adidas Ultraboost and the Yeezy line, 2015 was a breakthrough year for adidas when they started utilizing Boost in its full-length form.
The adidas NMD was a late 2015 release and used a full-length Boost midsole that was also featured on the Ultraboost and the Yeezys 350 and 750 - but designers gave it a unique aesthetic that sets it apart from the Ultraboost runners.
Taking inspiration from adidas heritage runners such as the Micro Pacer, Boston Super, and Rising Star, the adidas NMD is a modern take on lifestyle sneakers that made the shoe look sporty yet minimal. Comprised of a Primeknit upper and a thick full-length Boost midsole atop a rubber grid outsole, the NMD looks as basic as it can get - and that's enough to make fans love the shoe.
The first colorway arrived in an all-black Primeknit upper with fused areas on the midfoot to add more structure and secure the foot inside. The Three Stripes appear in a subtle tone and sits below the lace cage. Underneath, the full-length Boost midsole is inserted with two TPU bricks to keep the shoe stable on any movement.
Its sock-like upper and superior comfort made the adidas NMD trend beyond sneakerheads and hypebeasts. It was seen on-feet people of all ages, as adidas crafted a lifestyle shoe made for urban exploration and everyday city landscape adventures.
The NMD's different versions proved the shoe's versatility to adapt through the years. Nevertheless, the first few colorways almost instantly sold out, caused by people's curiosity about adidas proprietary Boost cushioning. Various colorways featured mesh and sometimes even Neoprene that truly mimicked a sock-like fit though it's not intended for running, some people have been seen wearing the NMD for casual jogs and gym sessions - it took the sneaker world by storm to rival the likes of Nike's Roshe Run and Lunarlon trainers.
adidas NMD took a life of its own as an ideal Boost lifestyle shoe - a great alternative to the highly-limited Yeezy Boost 350 and a performance-specific runner in the adidas Ultraboost, the NMD is another worthy newcomer in sneaker culture.
adidas NMD R1 Primeknit Friends and Family
NMD Collabs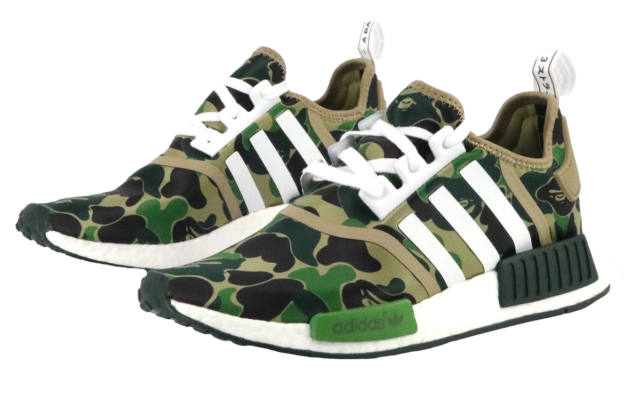 If there was one celebrity who spearheaded the NMD's long-running success, it would definitely be Pharrell Williams. It all began in 2014 when adidas and Pharrell collaborated on classic adidas Originals models, the Stan Smith and the Superstar. The debut pairs in the collection featured multiple monochromatic colorways, then as the partnership grew, doodles and different motifs appeared on the shoes that pay homage to Pharrell's Human Race campaign - which celebrate sports and art.
The adidas NMD x Pharrell Hu collection is one of the highly coveted NMDs ever released. Its minimal aesthetic accompanied by a plastic lace cage and a mesh upper embroidered with a motivational message turned the shoe into a symbol of peace and hope.
The first few colorways in the collection that appeared in hues of yellow, black, red, green, and tangerine can be found on sneaker reselling websites at a premium price. The silhouettes are now rare, and adding a piece to the collection proves difficult.
Hyped streetwear brands like BAPE and NEIGHBORHOOD also joined in on the NMD wave with the limited release of their collab with adidas' modern silhouette.
Aside from Pharrell's Human Race collection and the brands mentioned earlier, more adidas NMD collabs have released throughout the following years:
adidas NMD R1 Vintage White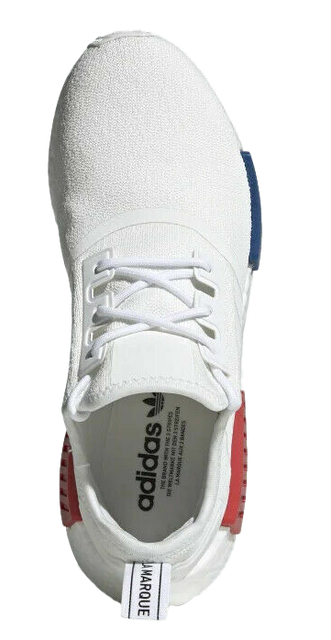 NMD 2016 Collabs
adidas NMD R1 PK x Nice Kicks - A collaboration between adidas and sneaker site Nice Kicks led to a new NMD that features a tie-dye upper combination of red and black. Met a wider release a few days later.
adidas NMD R1 PK x Foot Locker - Exclusive only in Foot Locker Europe, the NMD appears in a Primeknit upper with red and black midsole bricks that stood out on a white Boost midsole. It arrived in a premium box for a truly special collaboration.
adidas NMD City Sock x White Mountaineering - Part of the White Mountaineering x adidas Capsule Collection, the adidas NMD City Sock arrived in a tonal black Primeknit upper with adidas and White Mountaineering labels on the forefoot to flex the two brands. The City Sock is a sock-like slip-on without any laces for a more natural feel. It sits atop the Boost midsole with black foam inserts.
adidas x Mastermind NMD XR1 - Premium Japanese streetwear brand Mastermind teamed up with the Three Stripes to bring an NMD XR1 release. Arriving in an all-black upper and branded with Mastermind trademarks on the tongue, side panels, and insole, the NMD XR1 silhouette features a reinforced lace cage for added structure.
Offspring x adidas NMD R1 - The rise of the NMD during its time caused multiple collaborations with different streetwear brands and stores. Offspring, for example, released their own adidas NMD that features a tan mesh upper and what seems to be a Neoprene mid-panel for structure. The white Boost midsole remains to keep things a little fancy.
adidas NMD x Foot Locker Europe - Dubbed the "Master Craft Pack", the second collab between adidas and Foot Locker features premium material on the upper such as the suede hangtag and suede heel panel.
adidas Consortium NMD C1 x End Clothing - Premium brand End Clothing features a mid-cut NMD C1 in Olive Green with leather overlays on the lace loops. END labels can be seen on the tongue while the gum rubber outsole finishes the natural tone of this sneaker collab.
adidas Consortium NMD R1 x Packer Shoes - Sporting a vibrant color combination of light blue, dark blue, cyan, and red, the Packer Shoes adidas NMD R1 is an eye-catching sneaker due to its elegant look. Consortium labels can be seen on the insole, while the Boost midsole is inserted with red and blue foam bricks to grab more attention. It was released exclusively at Packer Shoes and followed a global release on Consortium shops.
Bedwin the Heartbreakers x adidas NMD R1 - Tokyo-based fashion brand Bedwin the Heartbreakers put a spin on the adidas NMD by releasing two collab colorways of the R1. Opting for a sturdier canvas upper, the collab features pinstripes all over the shoe, while the stitched Three Stripes on the side brings a classic detail. The NMDs appeared in black and grey.
adidas NMD HU Pharrell Y.O.U. N.E.R.D.
2017 NMD Collabs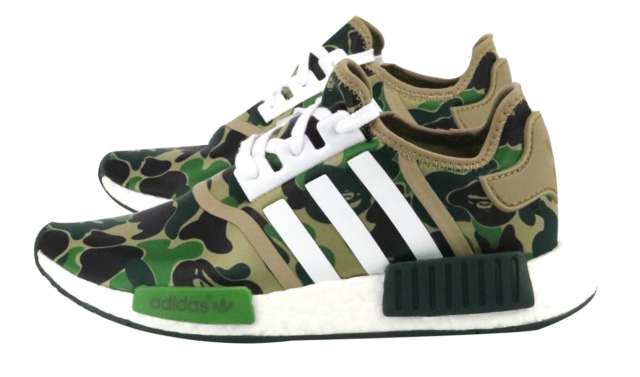 adidas NMD Trail x White Mountaineering - Specifically for rigorous outdoor trails and terrains, the new collab from adidas and White Mountaineering utilizes the NMD Trail's durable features such as the fuse overlays on the Primeknit upper - fuse covers the toe and the rest of the midfoot where the three stripes are located. The two-pair collection appears in Navy Blue, Red, and White on the first pair, while a clean Black and White combination is bestowed on the second.
adidas NMD R2 x White Mountaineering - adidas NMD and White Mountaineering have built a reputable relationship with their various collabs since 2016. This time, the NMD R2 arrives in a similar fashion to the City Sock model. Dressed in a black upper and the two brands appearing on the three stripes placed on the forefoot, more White Mountaineering details are found on the tongue and the heel. The Boost midsole has carved lines near the rear on the lateral side, while the medial side is packed with a thick "LEGO" foam to keep the shoe stable.
adidas Consortium NMD City Sock 2 x Kith x Naked Sneaker Exchange Pack - Looking like a superhero team-up between premium fashion labels, the adidas Consortium NMD CS2 collab with Kith and Naked is another exclusive release on select adidas Consortium shops. It features the laceless NMD City Sock 2 in pink and light beige colorways for a male and female appeal.
adidas x Titolo NMD XR1 Trail - Titolo partnered up with adidas to create an icy NMD XR1 Trail dressed entirely in white with a spiky trail traction pattern in translucent rubber.
adidas NMD CS1 x United Arrows and Sons - Another Japanese streetwear brand collaborates with the Three Stripes for a refreshing Black and White mix-up of the City Sock. Japanese letters are found on the forefoot midsole foam, heel tab, and the medial side of the shoe. The white Boost Midsole sits atop a gum rubber outsole for a stylish and minimal vibe.
Sneakersnstuff x adidas NMD - Sneakersnstuff is a reliable source for online sneaker shopping since 1999, the collaboration with adidas led to various NMD models getting redesigned in unique graphics like the Datamosh and stylish "Class of 99" colorways. There were instances where they opted for a sleek and stylish NMD, such as the Grey Melange Pack.
Pharrell x adidas NMD Hu Trail - Pharrell's Human Race NMD Trails ended up becoming one of the most highly anticipated NMD releases since the first Hu pack due to its various colorways appearing in literally a blast of colors. The Pale Nude, Sun Glow, Core Black, and Noble Ink were released in limited quantities last 2017.
adidas NMD CS1 x Porter - A Japanese brand once again arrives for a sneaker brainstorming with adidas, it led to a new City Sock model that integrates a nylon upper with leather overlays on the lace collars. The ninja-like shoe is still equipped with a full-length Boost midsole and inserted with blue foam bricks on the lateral and medial sides for stability.
adidas NMD CS1 x The Good Will Out - A stealthy colorway that uses buckles to reinforce the sock-like upper, the blacked-out collaboration between German sneaker shop The Good Will Out and adidas was an exclusive release in the former and adidas Consortium stores.
Pharrell x Billionaire Boys Club x adidas NMD Human Race Trail - Pharrell's very own Billionaire Boys Club released for a new NMD Hu Trail collab. Featuring a cotton candy-like upper hues of pastel pink and blue Primeknit, the sneaker features the words CUERPO (body) and TERRE (earth) in a subtle grey accent.
Pharrell x Chanel x adidas NMD Human Race - Luxurious fashion powerhouse Chanel teams up with Pharrell and adidas to bring an exclusive adidas NMD Hu that features a simple Black and White combo. The upper prints out "Pharrell" on the left pair and "Chanel" on the right for the ultimate sneaker flex.