Cameras & Photo
CAMERAS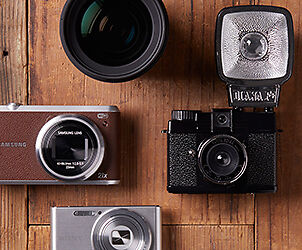 Capture the Moment
There are very few mediums that are able to affect people in the way that photography does. We've all heard that a picture is worth a thousand words, but a picture is also worth a thousand different emotions, memories, and feelings. Cameras allow us to capture moments in time as if they were an insect in amber and to convey raw human emotions and sensations through a single image. A single picture can mean so much; but in order to create such a powerful image, you need the right equipment.
Cameras of Any Kind
Shop thousands of different types of cameras and lenses that are for sale on eBay from the most current models to older iterations. Choose from top rated brands and best sellers. There are simple cameras for beginners and more complex models for photography experts. When browsing on eBay, you can find many types, including 3D cameras, digital SLR cameras, and point and shoot cameras. There are also many different types of specialty cameras, such as spy cameras, underwater and wildlife cameras.
Point and Shoot Cameras
The easiest camera for beginners to use is a point and shoot camera. However, many point and shoot cameras offer advanced settings that can be adjusted manually to change things like Aperture, Shutter Speed, and ISO. If you are looking to become a better photographer over time, you may want to consider buying a more advanced option.
Camcorders
If video is your thing, then you can find many different camcorders and other recording equipment on eBay. You can capture the action with a GoPro camera or an HD camcorder from top brands like Canon, Panasonic, and Sony.
The Perfect Accessories
While a nice camera goes a long way, nothing can help you get the shot you want like the right camera accessories. Browse eBay for critical components like tripods, filters, flashes, and lenses, or backup accessories like camera batteries, chargers, and memory cards. And be sure to protect your new camera with a camera case or bag.
Become a Master Photographer
Photography allows you to capture moments that last a lifetime, appreciate the finer details in life, and express yourself creatively. Whether you are a professional photographer or an amateur who is just getting started, you can find the cameras and accessories that you need to capture the essence of the moment on eBay. Find new and used high-quality items that fit your needs and your budget on eBay!