Western Digital Caviar SE 80GB Internal 7200RPM 3.5" (WD800JD) HDD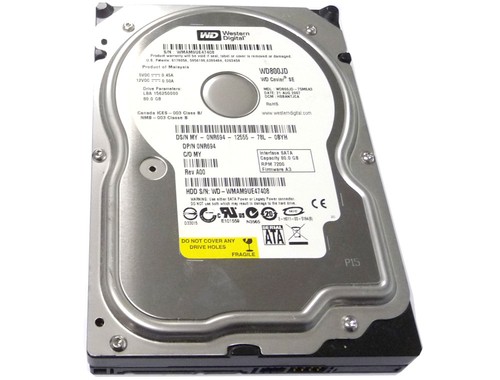 Get it by

Tuesday, Aug 22
• New condition
• Returns accepted
All listings for this product
People who bought this also bought
Computer Drive Cables & Adapters
About this product
Product Description
With this Western Digital Caviar SE 80GB internal hard drive, you can add speed and performance to your desktop computer or storage array system. The WD800JD Western Digital drive can be used to build a computer from the ground up. Alternately, you can use it to repair or upgrade an existing laptop or desktop. It is compatible with any free standard drive bay. You can also put the WD800JD-75MSA3 into a storage enclosure and use it as an external hard drive.These Western Digital drives have a spindle speed of 7200RPM. The spindle speed or RPM represents how fast a drive can read and write data. The external data transfer rate is 300 Mbps. Its internal transfer rate is 93.5 Mbit/s. The quick external transfer of these WDC drives allows you to quickly save or access stored data. The internal transfer allows your system to operate more efficiently. If you're using this WDC WD800JD-75MSA3 as an external device rather than an internal one, it means quick file transfers.The Western Digital Caviar SE has a storage capacity of 80GB. This gives it plenty of space for your important data. Its 8MB buffer size balances low latency with relieving the burden of the CPU. That allows your WDC SATA hard drive to operate efficiently. The dimensions of 7.4 inches by 7.3 inches 3.9 inches make the hard drive compact and suitable for a desktop drive bay. If you choose to slip it into a case for external use, it will be easy to carry. It weighs about one pound.The hard drive is compatible with many different types of connections, and installation is easy. Just slot the device into place and within minutes it will be working. It has an SAS and SATA I interface, and it can be used with SATA II devices. SATA, or Serial ATA, drives such as this one increase airflow to the to the system. This allows your system to stay cool. The 3.5-inch form factor of this Western Digital HDD is compatible with a wide variety of system setups and is an excellent choice for Windows computers.The exterior of the WDC SE 80GB SATA HDD is composed of sturdy metal and plastic. It can stand up to the rigors of everyday use. This model can additionally operate in temperatures of up to 131 degrees Fahrenheit. It can operate in humidity levels of 5% to 85%. It will continue to work in altitudes of up to 9840 ft. This gives the WD800JD-75MSA3 the flexibility to work when and where it needs to.This WD800JD-75MSA3 model features Data Lifeguard and Shock Guard. Data Lifeguard is a set of data protection tools, including error detection and repair. Shock Guard protects your data during high shock intervals. The tools combine to help keep your 80GB electronics safe. Combined, this gives you a predicted nonrecoverable error outcome of one in ten to the fourteenth power. This very small number means that you're unlikely to ever encounter a nonrecoverable error. The WDC is predicted to last for 50,000 stop-start cycles on average. This can give you years of reliable use.
Product Identifiers
Brand

Western Digital

Model

Caviar SE

UPC

000049255294, 683728157289, 718037721767
Key Features
Enclosure

Internal

Capacity

80GB

Buffer Size

8MB

Hard Drive Type

HDD

Spindle Speed

7200RPM

Interface

SAS, SATA I

Designation

Desktop Computer
Technical Features
Platform

PC

External Data Transfer Rate

300Mbps

Internal Data Transfer Rate

93.5 Mbit/s

Form Factor

3.5"

Seek Time

8.9 ms

Sound Emission

35 dB

Hot Swap

Yes
Dimensions
Height

1.03 in.

Width

4 in.

Depth

5.79 in.

Weight

1.6 lbs
Best Selling in Internal Hard Disk Drives
Save on Internal Hard Disk Drives
This item doesn't belong on this page.
Thanks, we'll look into this.