Toy Story 2: Buzz Lightyear to the Rescue (Sony PlayStation 1, 1999)
1999
•
USA
•
Sony PlayStation 1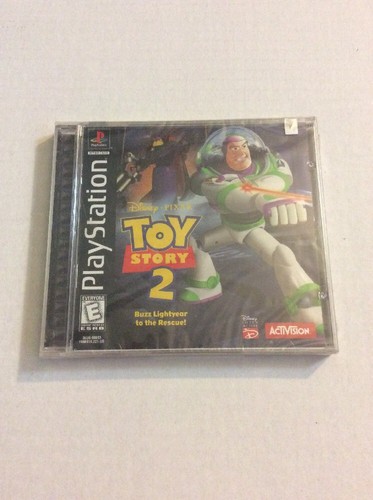 • Brand New condition
• Returns accepted
All listings for this product
People who bought this also bought
Video Game Memory Cards & Expansion Packs
About this product
Product Information
Get ready to jump to infinity and beyond when it comes to saving Woody in Toy Story 2: Buzz Lightyear to the Rescue. Join Buzz and the Toy Story gang, including Rex, Bo Peep, and Mr. Potato Head, as they jump into action. Through level after level, the loyal friends will rescue their kidnapped friend in this game. In Toy Story 2: Buzz Lightyear to the Rescue, toy store proprietor Al snatches Woody from Andy and his family just like in the movie. Woody's friends, led by Toy Story 2 hero Buzz Lightyear, jump to the rescue and go in search of him. The gang must venture out to the neighborhood, Al's Toy Barn, Al's apartment, and the airport. As he does in the film, Buzz even comes face-to-face with evil Emperor Zurg. The gameplay culminates in a tussle with Prospector Stinky Pete. When this boss is defeated, Buzz is victorious in helping you defeat the game.There is plenty of adventure to be had throughout this PlayStation game. Players will employ all of Buzz's best moves from the films. He will jump, somersault, swing, do whirling torso spins, and use handy lasers. Exciting gameplay has Buzz leap through obstacle courses and races in an attempt to unlock toy accessories for grappling hooks, rocket boots, and other items. Since the game is based on a children's movie, the skill required to play is easy for younger gamers to master while still being fun for adults. The graphics are very similar to those in the Pixar film series, making this game as exciting to watch as it is to play.Gamers will run and jump through five different areas, comprising 15 heart-pounding levels. Additional quests, puzzles, and mini-games all add to the variety. To level up, players must complete challenges issued by Buzz's friends. The reward for success in these games is Pizza Planet tokens that unlock new levels. Buzz battles a number of enemies, some of which are familiar faces to the Toy Story franchise and others who are game originals. Throughout the adventure, Buzz can turn to his trusty friend Rex for help and tips. As an extra challenge, each area of the game has one level that requires defeating an enemy boss.Movie fans will enjoy clips from Toy Story 2 that are played at the beginning of each level in the PS1 version of the game. These scenes add to the gameplay experience by setting the scene for the action that is to come. Toy Story 2: Buzz Lightyear to the Rescue is rated E for Everyone and is a fun addition to the genre of family-friendly games. This PlayStation version is also compatible with PlayStation 2 and PlayStation 3 consoles. When you use a PS1 memory card, you can even save the game. With your help, Buzz Lightyear will defeat each boss, rescue his friend, and return him to Andy.
Product Identifiers
Publisher

Disney Interactive

Game

Toy Story 2: Buzz Lightyear to the Rescue!

UPC

047875109186
Key Features
Platform

Sony PlayStation 1

ESRB Rating

E - Everyone

Genre

Action, Adventure

Location

USA
Tech Details
ESRB Descriptor

Animated Violence

Control Elements

Gamepad/Joystick

Number of Players

1

Release Year

1999

Game Special Features

Find five objects such as Bo-Peep's lost sheep within each level to help you advance through the game


Explore such environments as Andy's house as you smash through enemies including robots and the Evil Emperor Zurg


Help Buzz save Woody from an evil toy collector before Andy comes home from summer camp


Best Selling in Video Games
This item doesn't belong on this page.
Thanks, we'll look into this.