Thing (Microsoft Xbox, 2002)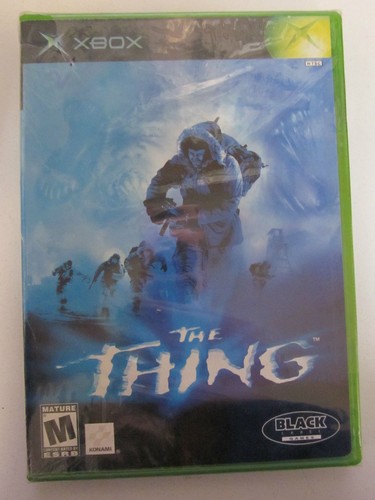 Get it by

Tuesday, Aug 29
• Brand New condition
• Returns accepted
New (Other)

: Lowest Price

$9.99

Free Shipping

Get it by

Tuesday, Aug 29
All listings for this product
Consider these sponsored items
About this product
Product Information
Taking place after the events in John Carpenter's 1982 film, the video game version of The Thing is a survival horror title set in an abandoned base somewhere in the Antarctic. As the leader of a military team sent to investigate what happened, players are pitted against a powerful monster that can morph into the people it preys upon. The game offers elements of action, puzzle solving, and exploration as players learn more about the creature that's hunting them down.

Various characters within the player's squad can be interacted with as the game progresses, and their reactions may depend on how well players respond to their tension. Squad members, divided into soldiers, medics, and engineers, can be given orders to go somewhere specific, follow the player, stay put, or relinquish their weapon and ammo. Each team member has both a trust and fear meter that change in response to a player's actions or the situation at hand.

Since The Thing can assume the identity of any member of the team, players must weigh the need for protection against the trust of those following orders. Avoiding combat results in a loss of trust, while killing a team member in plain view of the others will result in a substantial loss. Taking a weapon away from a soldier also hurts trust, but giving away ammo or a more powerful weapon increases it. Trust influences how others react, so those with little trust will not follow orders or help players, while those with zero trust will eventually attack players at some point in the game.

Fear is also a factor in the game, which is visually depicted by a soldier's actions or through the use of overhead icons. There are three levels of fear, escalating from a state nervousness to an outright loss of control. Offering team members weapons, taking them out of certain areas, or giving them an adrenaline shot may help reduce their fear. As players search through the complex, fighting off different manifestations of The Thing, they will periodically interact with items such as junction boxes, computer terminals, and closed circuit television cameras.

Weapons such as tazers, pistols, shotguns, flamethrowers, and various types of grenades can be used on enemies, or players can build their own weapons from parts found throughout the base. Items include flares, fire extinguishers, medical kits, keys, and blood test hypodermic needles, among others. The blood test can be used to reveal an infected team member or to prove to others that the player's character is healthy, thereby gaining trust. Puzzles can be solved using more than one method, setting this game apart from many others in the genre.
Product Identifiers
Publisher

Black Label Games

Game

Thing

MPN

020626714372

UPC

020626714372
Key Features
Platform

Microsoft Xbox

ESRB Rating

M - Mature

Genre

Action, Adventure

Location

USA
Tech Details
ESRB Descriptor

Blood and Gore, Violence

Control Elements

Gamepad/Joystick

Number of Players

1

Release Year

2002

Game Special Features

Features the song amp;"After Me" by Saliva


Multiple paths can be taken to solve problems


Emotions such as fear and trust must be managed while exploring the outpost


Fight enemies using flamethrowers, rifles, explosives and more


Tutorial option and three different control schemes available


Best Selling in Video Games
This item doesn't belong on this page.
Thanks, we'll look into this.