Tascam DP-01 Digital Recorder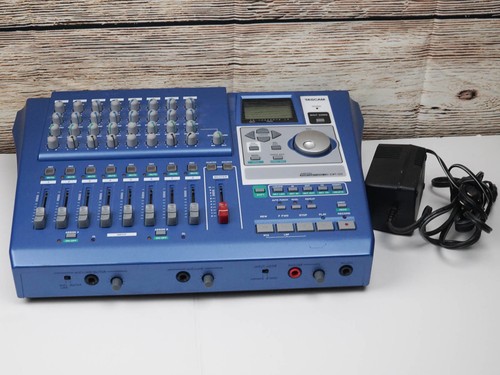 PRE-OWNED: LOWEST PRICE
See details for delivery est.
• Used condition
• Returns accepted
About this product
Product Information
Record high-quality audio that sounds exactly as it does when it is live, thanks to the Tascam DP-01 digital recorder, a valuable addition to any set of recording gear. This 8-track Digital Portastudio from industry leader Tascam brings hard disk recording to musicians and performers who may have a limited budget, especially for those just starting out who can't yet afford to build an extensive and pricey set of recording gear. This user-friendly, professional-grade digital stereo recorder makes recording accessible and affordable, so that musicians at all levels can create polished, crystal-clear music products that sound authentic, natural, and lifelike. This versatile digital recorder grows along with you, so that as your band expands with more members or more instruments, you can continue to use the same digital recorder without having to invest in additional recorders or more expensive recording gear. The Tascam DP-01 can record two tracks at once and a total of eight uncompressed audio tracks per song. You'll also get peace of mind with the Tascam DP-01 digital recorder, because it automatically backs up your recordings onto the built-in hard drive, so you never have to worry about all of your hard work being lost before you even leave the recording studio. The hard drive stores up to 60 8-track songs, which is more than enough room to back up numerous recording sessions or multiple versions of your songs so you can review the tracks and determine which one you like best. You can also connect the recorder to a computer via the USB 2.0 port to manually upload and back up your audio files, and also edit them using your favorite audio editing programs and software. Edit your tracks right from the recorder by copying, pasting, erasing, and moving them. The easy-to-use Tascam DP-01 digital recorder features an easily visible LCD display screen that shows editing functions such as meters and locate points, as well as pre-programmed recording settings. It also features two microphone inputs for recording in dual mono or stereo format, as well as a dedicated volume fader and sound effect controls for each one of the channels. There are several other input and output options as well, including analog RCA line outputs, an S/PDIF line output, and a headphone output. This versatile digital recorder is an all-in-one solution that makes it easy and simple to not only record high-quality audio tracks, but also edit your music file and add effects to a song without having to use a separate program or device. This Tascam DP-01 digital recorder is also available in the DP-01FX model, which features all of the same options and benefits as the DP01, along with enhanced features such as XLR microphone inputs with phantom power so you can connect the recorder to professional condenser microphones. It also allows you to add effects to an instrument while you record, thanks to the multi-effect processor. Plus, you can add effects during mixing thanks to the reverb processor, and use the CD-RW drive to burn your work onto a CD master or back it up on a CD for safekeeping.
Product Identifiers
Brand

Tascam

Model

DP-01

MPN

DP01

UPC

043774019762
Key Features
Type

Digital Recorder

Technology

Digital

Recording Media

Hard Drive (HD)

Interface Type

USB Audio Interface
Properties
Number of Recording Tracks

8

Number of Simultaneous Recording Tracks

2
Miscellaneous
Studio Equipment Type

Recorders and Duplicators
Best Selling in Audio/MIDI Interfaces
Save on Audio/MIDI Interfaces
This item doesn't belong on this page.
Thanks, we'll look into this.