Singer Featherweight 222 Sewing Machine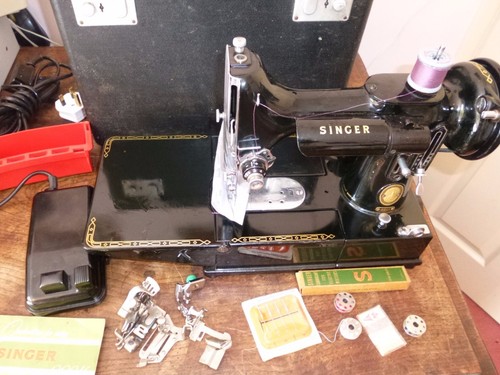 PRE-OWNED: LOWEST PRICE
$1,000.00
+ $85.00 Shipping
See details for delivery est.
• Used condition
• Returns accepted
About this product
Product Information
Sew yourself that perfect Christmas outfit with the Singer Featherweight 222 sewing machine. Gone are the days where mummy sat all day turning the sewing wheel persistently. This Singer sewing machine is a free arm machine that lets you sew at ease. You can control the speed at which you stitch as this Singer stitching machine has a sturdy foot controller in place. You can also reposition this Singer sewing machine as it weighs just 12 pounds. To keep this Singer stitching machine safe and secure; it comes with a detachable case. Cast in aluminum the Singer Featherweight 222 has a glossy sheen, making it a great home adornment. With a 110 volt-meter, this Singer sewing machine lets you stitch swiftly.
Product Identifiers
Brand

Singer

Model

Featherweight 222
Best Selling in Sewing Machines & Sergers
Save on Sewing Machines & Sergers

This item doesn't belong on this page.
Thanks, we'll look into this.