Scooby-Doo and the Cyber Chase (Sony PlayStation 1, 2001)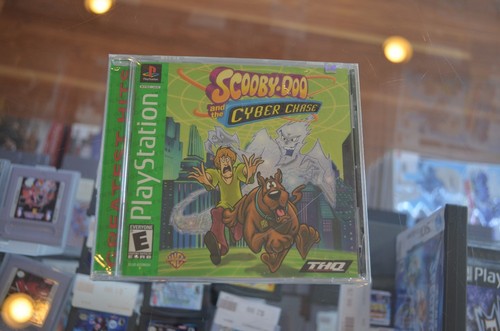 All listings for this product
People who bought this also bought
Video Game Memory Cards & Expansion Packs

About this product
Product Information
Play as Shaggy or Scooby and try to defeat the Phantom Virus in Scooby-Doo and the Cyber Chase for PlayStation. Released to correlate with the same-titled movie, this seven-stage, multilevel adventure puts the Mystery Inc. gang in the middle of cyberspace warding off bad guys and evildoers in their attempt to locate the Phantom Virus.

From a control room players can access the areas of Japan, Ancient Rome, Arctic Circle, Prehistoric Jungle, The Big City, Egypt, and an Amusement Park. Each area consists of three levels including the boss level, but initially only the Japan area can be accessed with other areas becoming available as play progresses. Each area alternates between Shaggy and Scooby as the character being controlled.

Shaggy and Scooby encounter enemies and bosses suitable for each of the respective areas along the way, while defending themselves by collecting and flinging pies at their enemies. Bad guys include ninjas and samurais in Japan, dinosaurs and crocodiles in the Prehistoric Jungle, and juggling clowns and carrot-wielding bunnies in the Amusement Park, which is the final stage where the ultimate showdown with the Phantom Virus takes place.

Pick-ups along the way include Scooby Snacks that will earn an extra chance per 100 collected, hamburgers that increase health, the occasional extra chance token, and pies for throwing at enemies. There is also an onscreen icon resembling a telephone that acts as a communicator between Shaggy, Scooby, and the rest of the gang. When it flashes, hints and tips are given by Daphne, Velma, or Fred.
Product Identifiers
Publisher

THQ

Game

Scooby-Doo and the Cyber Chase

MPN

752919470633

UPC

752919470633
Key Features
Platform

Sony PlayStation 1

ESRB Rating

E - Everyone

Genre

Action, Adventure

Location

USA
Tech Details
ESRB Descriptor

Mild Violence

Control Elements

Gamepad/Joystick

Number of Players

1

Release Year

2001

Game Special Features

Scooby and the gang have been beamed into a video game -- help them escape!


Avoid creepy creatures, explore spooky scenes, and search for clues in 18 action-adventure levels


Solve the mystery to unmask the villainous Phantom Virus


Based on the 2001 made-for-television full-length feature film


Best Selling in Video Games
This item doesn't belong on this page.
Thanks, we'll look into this.