Onkyo M-282 2 Channel Power Amplifier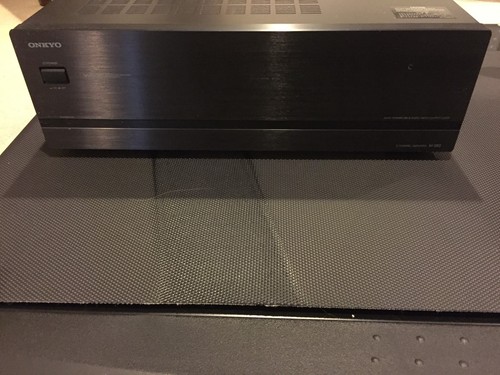 See details for delivery est.
All listings for this product
About this product
Product Information
If you're searching for high-fidelity audio, the Onkyo M-282 2 Channel Power Amplifier may be the solution. This excellent technology ensures strong sound, accurate signal, and complete control over your listening experience. It's also easy to use, conveniently sized, and stylish. If you're tired of struggling with subpar equipment, consider investing in this professional grade Onkyo amplifier. The M-282 is a powerful way to upgrade your home entertainment system. It utilizes the brand's Wide Range Amplifier Technology, which ensures dynamic power. Thanks to this tech, 2x100 WPC RMS are pumped into 8-ohm stereo systems. Alternately, 2x125 WPC RMS are pumped into 6-ohm stereo systems. The WRAT also provides greater signal accuracy. Even when sound is coming from high-resolution sources like DVDs, accuracy is not diminished. This technology applies an unusually low amount of negative feedback, which helps to get rid of the adverse impact of counter-electromotive force. WRAT also ensures that all sections of the amplifier are made of high-tolerance parts. To maintain the brand's high standard of quality, Wide Range Amp technicians always strive to create the most innovative circuit topology on the market. All of this innovation combines to create a product that delivers a flat response beyond 100 kHz. This amp can be used to upgrade from a 5.1 surround receiver to a 7.1 surround receiver. To make sure that this process goes smoothly, check to see that your current receiver has the appropriate preamp outputs. The M-282 is not a traditional preamplifier, and it does have surround processing features. Instead, it offers line-level signal amplification. The M-282 also has a 12-volt trigger, a standard feature on many comparable systems. This allows users to rig the product so it automatically detects an audio signal and powers on in response. Users who want multi-room auditory distribution can make use of the passthrough jacks. These jacks allow users to daisy chain similar components, which can expand the listening experience throughout an entire house. Other technical specifications include a frequency response of 10 Hz to 100 kHz and a signal to noise ratio of 110 dB. The rear panel of this amp features a number of controls and connections. When the system begins to hum, owners can use the ground terminal to eliminate the unwanted noise. The rear panel also has the audio in/out jacks. For best results, users are supposed to connect the pre-out jacks to the audio-in jacks. To adjust the signal input, users can turn the input level control to max. The rear panel facilities also include the speaker terminal and the AC inlet. The speaker terminals are meant to be used with banana plug connections, and the AC inlet connects the device to a wall power outlet. People who purchase this Onkyo product will receive a power amplifier and an AC power cord. The amp is housed in a durable chassis constructed of brushed aluminum. This well-constructed amp is built to last for years to come. The device measures approximately 17 inches by 6 inches by 13 inches and weighs 18.7 pounds. This relatively small size ensures that it will fit into most home theater facilities, and its stylish exterior makes it a welcome addition to any home.
Product Identifiers
Brand

Onkyo

Model

M-282

MPN

M-282, M-282RB, M282, M282B, M282RB

UPC

751398004063
Key Features
Frequency Response

10 Hz - 100 kHz

Number Of Channels

2
Tech Details
Audio SNR

110 dB

RMS Power per channel at 6 ohms

125 Watt

RMS Power per channel at 8 ohms

100 Watt

THD (Total Harmonic Distortion)

0 %

No. of Speaker Outputs

4

Remote Control

Without Remote Control

Bridgeable

Not Bridgeable
Dimensions
Depth

12 inch

Height

6 inch

Width

17 inch

Weight

19 lb
Best Selling in Amplifiers & Preamps
Save on Amplifiers & Preamps
This item doesn't belong on this page.
Thanks, we'll look into this.