Nintendo DS Lite Launch Edition Onyx Black Handheld System
Launch Edition
•
Region-Free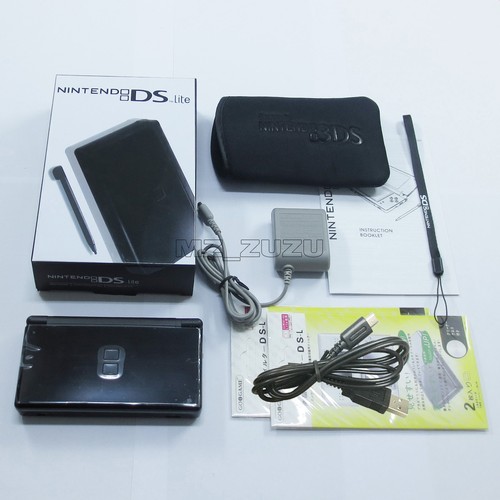 See details for delivery est.
• New condition
• Returns accepted
All listings for this product
People who bought this also bought
About this product
Product Description
Whether battling your way through the enchanted forest or learning your ABCs, find hours of fun within the compact body of the Nintendo DS Lite console. Never leave home without your favorite Nintendo DS accessory, a rechargeable battery. A rechargeable battery provides you with up to 19 hours of continuous game play so long airplane rides and trips across the country go by in a flash. The original DS Lite provides a dual ultra bright touchscreen that lasts for hours. The LCD screen provides players with amazing graphics. Its small size makes the DS Lite your ideal handheld device. You can put it in a backpack when going on a long trip or in a pocket when heading out on a short adventure. Its lightweight frame makes this console a great solution for long hours of game play. While normal game play is always front and center, the Nintendo DS Lite console also offers access to a whole new world of gaming and chat with other Nintendo DS owners around the world. With access to the Nintendo Wi-Fi connection, connect with friends who play your favorite games across the country. Have you ever traded Pokemon with a friend on the opposite coast? Using a stylus and your favorite Nintendo DS Lite console your Bulbasaur will be on his way to live in California while your buddy's Charmander makes its way to North Carolina to live with you. This is the perfect solution to catching those hard-to-find Pokemon or Pokemon that aren't available on a certain system. Trade Pokemon from your game version with your buddy's so that you can each complete your entire Pokedex. Of course the Nintendo DS can store information from multiple systems, so not only can you play Nintendo DS games on your DS Lite system but Nintendo Game Boy Advance games and videos are completely compatible with your Nintendo DS Lite. Yu can completely customize your handheld DS Lite with fun accessories like a case and charger.
Product Identifiers
Brand

Nintendo

Product Name

Nintendo DS Lite

UPC

045496717742

Product Line

Nintendo DS
General
Type

Handheld System

Console Color

Onyx Black

Release Date

9/21/2006

Device Input Support

4-Way Cross Keypad

Video Color Output

Color

Edition

Launch Edition
Audio
Audio Output Support

Stereo
Power & Battery
Battery UpTime

Up To 19 Hours

Power Source Types

Power Supply - internal

Battery Type

Rechargeable Lithium-Ion
Dimensions
Height

2.9 in.

Weight

0.48 lb

Width

5.2 in.

Depth

0.85 in.
Display
Display Type

LCD

Display Size

3.12 in.
Technical Details
Processor Quantity

2

Ram Technology

SRAM

Supported Media

Nintendo DS Game Card, Nintendo DSI Game Card, SD Memory Card

Resolutions

256 x 192

Internet Connectivity

Wireless

Ram Capacity

4MB

Region Code

Region-Free

CPU

ARM9 and ARM7
Features
Product Features

Slimmer design
The Nintendo DS Lite manages to pack even more fun into a smaller, slimmer body that's less than two thirds the size of the original Nintendo DS.
No lightweight
Nintendo DS Lite might be over 20% lighter than Nintendo DS, but it's a lot heavier on features.
Dual slot compatibility
Nintendo DS Lite doesn't just play DS games - it also features an additional port for Game Boy Advance Game Paks.
Screens
Nintendo DS Lite has twin ultra bright LCD screens that combine crisp, punchy colors, along with touch-screen technology on the lower screen to deliver some of the most groundbreaking gameplay ever developed.
Longer life
Can you outlast the Nintendo DS Lite battery? Get up to 19 hours continuous gameplay on one charge. And you can be up and running fully recharged again in less than 3 hours.
Nintendo Wi-Fi Connection
Ready to take on the world? With Nintendo Wi-Fi Connection, you can connect wirelessly, chat with friends while you play and compete with Nintendo DS owners across the globe. And it's totally free! All you need to play is a Nintendo DS and a Wi-Fi-ready game.
DS 3D
Nintendo DS Lite has powerful dual processors that bring impressive 3D graphics to life with lightning-fast rendering.
You're in control
Even the stylus for Nintendo DS Lite has been redesigned. It's longer and thicker and works with the system's improved controls to make gameplay even more fun.

Features

Voice Control
Best Selling in Video Game Consoles
Save on Video Game Consoles
This item doesn't belong on this page.
Thanks, we'll look into this.