Monster Hunter Tri (Nintendo Wii, 2010)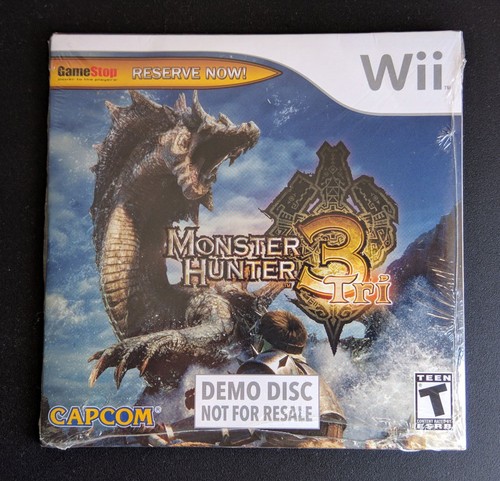 Get it by

Thursday, Aug 24
All listings for this product
People who bought this also bought
Video Game Controllers & Attachments
About this product
Product Information
Capcom's original creature-stalking role-playing series makes its anticipated Wii debut with Monster Hunter Tri. You are cast in the role of a hunter, whose mission is to seek out and defeat an assortment of large beasts in action-oriented combat. For the first time in the franchise, you will be able to explore a new "sub-aqua" environment in addition to dry land. The game's core design will otherwise be familiar to fans of the two previous installments on PSP. You'll begin your adventures in a single village, where you'll return after each hunting expedition to purchase items, forge weapons and armor, and even manage a farm. Out in the wild, you can develop skills in mining, gathering, and carving to craft items that will assist your character.

Items found in your journeys can also be used to improve the earthquake-ravaged town's appearance over time. One of the key features in Monster Hunter Tri is the ability to join forces with up to three fellow hunters to battle the giant creatures. The Wii version features a split-screen option for two-player quests as well as online support for four-player quests. The game's online features will not include a monthly fee in the U.S. and European markets. Those who'd prefer to go hunting alone can enlist the aid of an AI partner for some of the more challenging quests. Three controller configurations are available, from the Wii Remote and Nunchuk combo to the standalone Classic Controller. The Wii Speak accessory is also supported for voice communication during online adventures.
Product Identifiers
Publisher

Capcom

Game

Monster Hunter Tri

UPC

013388350117
Key Features
Platform

Nintendo Wii

ESRB Rating

T - Teen

Genre

RPG

Location

USA
Tech Details
ESRB Descriptor

Blood, Use of Alcohol, Violence

Control Elements

Gamepad/Joystick

Number of Players

1-2

Release Year

2010

Game Special Features

Track and slay giant beasts throughout multiple outdoor regions


Supports the Wii Remote, Classic Controller, and Classic Controller Pro


Connect online to team up with three fellow hunters and to access new quests


Includes underwater hunting for the first time in the series


Features split-screen support for two players in the action-oriented arena mode



Game Series

Monster Hunter Series
Best Selling in Video Games
This item doesn't belong on this page.
Thanks, we'll look into this.