Mass Effect 3 (Sony PlayStation 3, 2012)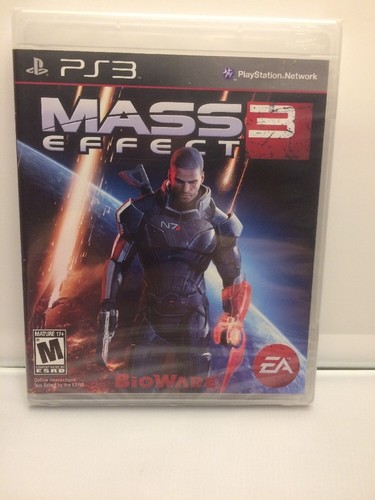 Get it by

Thursday, Aug 31
• Brand New condition
• Returns accepted
All listings for this product
People who bought this also bought
Video Game Controllers & Attachments
About this product
Product Information
Bioware's original space-opera trilogy concludes with Mass Effect 3, in the signature RPG-shooter style of its predecessors. Players resume the role of series protagonist Commander Shepard, once again customizable in appearance and character development. Combat is made more challenging by smarter computer-controlled opponents that adjust their tactics in the middle of a fight. An increased emphasis on melee and movement leads to closer, more furious battles. Players chart the course of the adventure, by traveling to remote planets and choosing which missions to attempt.

Decimated by a force of soulless invaders, known only as the Reapers, the human race is on the brink of extinction. It is left to the player to ply influence, make alliances, and discover the galactic secrets that are the last hope for human survival. Players have the option to import saved data from both previous Mass Effect games, in order to continue their own personalized narratives, or to start fresh with a new iteration of the hero. Shepard adventures along with a diverse crew of specialists, also customizable by the player. Weapons can be upgraded with scopes, grips, and other looted parts.

For the first time in the series a multiplayer mode is included. Up to four players can team up online to face off against the computer-controlled opponents and gain experience with which to upgrade their characters. Leveing up in the game's online mode also impacts the single-player game by increasing the user's "Galaxy at War Readiness" rating.
Product Identifiers
Publisher

Electronic Arts

Game

Mass Effect 3

UPC

0014633195842
Key Features
Platform

Sony PlayStation 3

ESRB Rating

M - Mature

Genre

Compilation, RPG

Location

USA
Tech Details
ESRB Descriptor

Blood, Drug Reference, Partial Nudity, Sexual Content, Strong Language, Violence, Blood, Partial Nudity, Sexual Content, Strong Language, Violence

Control Elements

Gamepad/Joystick

Number of Players

1-4

Release Year

2012

Game Special Features

Lead Commander Shepard across multiple galaxies to determine the fate of the universe

,
Steer the fate of humankind in the conclusion of Bioware's sci-fi epic


Embark on a player-driven, intergalactic adventure, against all odds


Increased focus on melee and movement for intense close combat


Chart your destiny in the customized role of Commander Shepard



Game Series

Mass Effect Series
Best Selling in Video Games
This item doesn't belong on this page.
Thanks, we'll look into this.