Dragon Age: Origins -- Ultimate Edition (Sony PlayStation 3, 2010)
2010
•
USA
•
Ultimate Edition
•
Sony PlayStation 3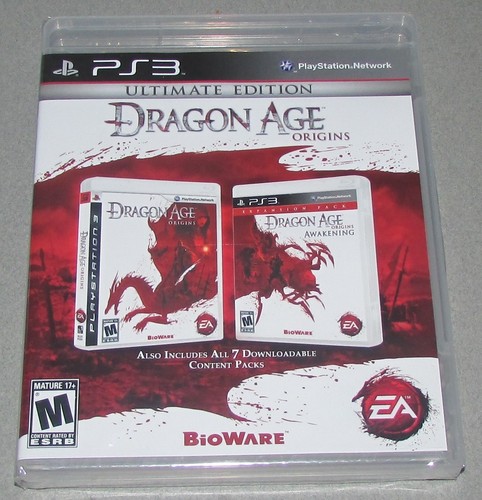 • Brand New condition
• Returns accepted
All listings for this product
People who bought this also bought
Video Game Controllers & Attachments
About this product
Product Information
You can save the kingdom of Ferelden from a demonic invasion in "Dragon Age: Origins Ultimate Edition" by Electronic Arts. Produced by legendary video game developer BioWare and released in 2009, the game lets you play as a Grey Warden, a small but elite force whose purpose is to prevent the Darkspawn from taking over the land of Thedas. You can customize your character as a dwarf, elf, or human, and choose either a mage, rogue, or warrior play style. The game is played via a third person perspective, and the story and game experience change according to the player's actions. The 2010 Ultimate Edition contains not only the original game but also the expansion pack, Awakening, as well as all nine downloadable content packs. These include Leiana's Song, Return to Ostagar, The Golems of Amgarrak, The Stone Prisoner, Warden's Keep, Feastday Pranks, Feastday Gifts, and The Darkspawn Chronicles. "Dragon Age: Origins and Awakening" for the PS3 uses a different system when it comes to dodging, blocking, and countering attacks. Depending on your character, you'll be able to battle enemies based on your character's strengths. Rogue characters have a "dodge or roll" feature that can be used during combat, and others may use shields and magic. These features could be integrated into an overall survival strategy when dealing with more difficult enemies. "Dragon Age: Origins The Ultimate Edition" for the PS3 provides several ways for you to regain health. Apart from potions and food items, you can use rings, amulets, and spells to regain health during battle. Not all rings and amulets will give you health regeneration. Choosing these items carefully is necessary to get the most health regain benefits. Spells will allow varying levels of health regeneration depending on the power of the spell and the level of your character.The frame rate for "Dragon Age: Origins" on the PlayStation 3 is a steady 30 frames per second, and an optional firmware update is available to enhance the overall experience. The PS3 version of "Dragon Age: Origins" comes translated into French or English to accommodate players with different language needs. Although Dragon Age Origins has online features, you do not need an internet connection to play. The online functionality can be ideal for when you want to download additional content and participate in multiplayer quests and challenges. New and factory sealed copies of this popular RPG come with a detailed manual. New and used copies may also come with manuals, activation keys, and other items needed to play the game. The activation key is located inside the manual or inside the case and can be entered the first time you play the game.Dragon Age may have been among the great role playing games of the last generation. This product from BioWare can contain countless hours of play time with additional quests and storylines accessed through the DLC. The high replay value of this PlayStation product can also add to the desirability for those who enjoy multiple playthroughs and varying story outcomes. Dragon Age can be easily accessible for players of all skill levels, and there's no need to have played earlier games to understand the story. If you're looking for a great third person gaming experience, "Dragon Age: Origins" may not disappoint.
Product Identifiers
Publisher

Electronic Arts

Game

Dragon Age: Origins -- Ultimate Edition

UPC

014633195248
Key Features
Platform

Sony PlayStation 3

ESRB Rating

M - Mature

Genre

Compilation

Game Edition

Ultimate Edition

Location

USA
Tech Details
ESRB Descriptor

Blood and Gore, Intense Violence, Language, Partial Nudity, Sexual Content

Control Elements

Gamepad/Joystick

Number of Players

1

Release Year

2010

Game Special Features

Customize your hero with new items, abilities, spells, and more


EXPLORE A NEW PART OF THE WORLD:



Game Series

Dragon Age Series
Best Selling in Video Games
This item doesn't belong on this page.
Thanks, we'll look into this.