Bugs Bunny in Crazy Castle 3 (Nintendo Game Boy Color, 1999)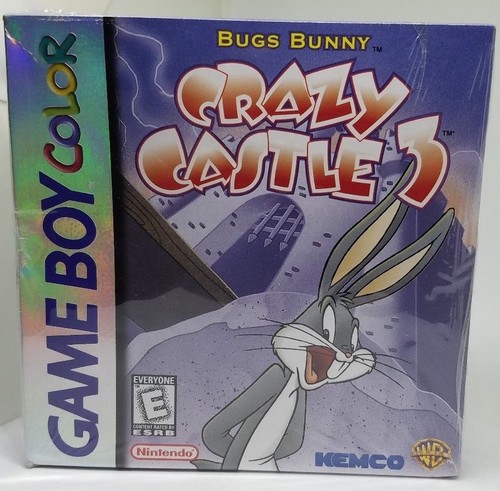 • Brand New condition
• Returns accepted
All listings for this product
Consider these sponsored items
About this product
Product Information
Help Bugs Bunny find the fabled treasure of the Old Castle in Crazy Castle 3. Witch Hazel has put a spell over the rest of the Looney Tunes characters, including Daffy Duck, Yosemite Sam, and Wile E. Coyote, who will try to stop Bugs in his treasure-seeking quest. There are 60 levels to traverse, covering four major areas of the castle: the garden, the hall, the basement, and the treasury. In each level, Bugs must find eight keys that will unlock the exit leading to the next area. To help him, Bugs has a few weapons at his disposal, from a bomb and cork gun to lightning, juice, and an anvil. Grabbing the hammer or pickaxe will help him get past physical obstacles, and the shield, clock, and shoe will protect him from the other characters. A password system is used to resume progress.
Product Identifiers
Game

Bugs Bunny in Crazy Castle 3

UPC

045496730864
Key Features
Platform

Nintendo Game Boy Color

ESRB Rating

E - Everyone

Genre

Action, Adventure

Location

USA
Tech Details
Control Elements

Gamepad/Joystick

Number of Players

1

Release Year

1999

Game Special Features

Advance through 60 levels across four areas


Collect carrots to earn extra lives


Locate all eight keys to exit each level



Game Series

Crazy Castle Series
Best Selling in Video Games
This item doesn't belong on this page.
Thanks, we'll look into this.