It might come as a surprise to Americans that, in Europe, hatchbacks are considered cool. That's hardly the case in the United States where many auto enthusiasts view hatches merely as practical commuters. How do you explain the differing viewpoints?
eBay Motors put that question to Toyota product planners at the recent introduction of the all-new Corolla Hatchback. The Japanese automaker is credited as one of the inventors of drift racing with hatchbacks—with a heritage dating to the Corolla Levins of the mid-1980s. The Levin, also called the AE86, was the car of choice for race car driver Keiichi Tsuchiya, who co-organized the first drifting grand prix in the late 1980s. (Tsuchiya fans, take note: a signed JDM-competition bomber jacket is now available on eBay.)
Thirty-five years later, Toyota is rekindling some of the early drifting magic with the all-new 2019 Corolla hatch—by producing a 1,000-horsepower drift car built by Stephan Papadakis and driven by Fredric Aasbo. It was unveiled at the recent New York auto show.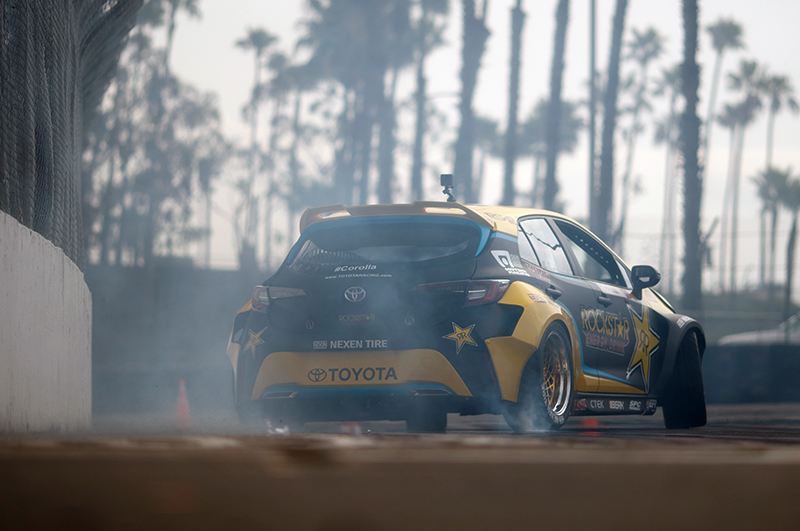 Obviously, there are major differences between the production model and the race car—which earlier this month won first Formula Drift series race in Long Beach. The race car is rear-wheel drive, powered by a turbocharged and nitrous-blown engine and four-speed GForce Dogbox transmission. The production version is front-wheel drive with a naturally-aspirated two-liter engine and six-speed manual (or dynamic CVT). But changing it up for racing is nothing new. Just look at NASCAR.
The point is made: The image of the Corolla, right out of the gate, is a hot hatch—an inspiration for enthusiasts who buy the car with the intent of modifying it for their own purposes.
Made to Be Modded
But the question remains: What makes a hatchback hot? According to Jordan Pauly, vehicle marketing for Toyota, it's a combination of styling, powertrain technology, infotainment, and most important, the ability to customize. "No one vehicle fits all the needs of our buyers," said Pauly. Hatchbacks have one of the most diverse audiences of all car segments: multicultural, equally male and female, and ranging in age from 18 to 35 years. Across the board, the ability to personalize the car is key.
Interested in modifying your hatchback? Consider the following tips.
In this era of personal branding, the key to heating up a hatch is mixing and matching these features in combinations beyond the mundane hatchback econobox. Originality wins the day.