Creations like the NeuTron electric motorcycle are usually reserved for science-fiction movies. But this one can be in your garage. It's the last of the hand-built 2018 PBC NeuTron Litecycles. The hubless electric motorcycle can now be purchased on eBay with a Buy-It-Now price of $65,000.
These motorcycles are works of art, but they're also road-legal. Parker Brothers Concepts, a team of fabrication wizards based in Port Canaveral, Fla., built the NeuTron. The brothers—Marc and Shanon Parker—produced the machines in very limited editions.
The 2018 model available on eBay is the end for this streamlined body style. The bidder is not getting a specific bike, but one that will be built with custom colors and choices for the lights, leather seating, and wraps.
The brothers admit that anyone looking for a daily driver will probably want to shop elsewhere.
Hubless Design
"Don't miss a chance to own a piece of history before it is too late," they say. "If you have ever thought about getting one of these bikes, time is truly running out."
A hubless wheel is a slightly misleading term. Actually, the hub is nearly as big as the wheel itself.
A hubless wheel is difficult and expensive to produce. In theory, the design means less unsprung weight so it should offer handling advantages. But the main point is a dramatic appearance, which the NeuTron delivers.
At the top end of the NeuTron line, the Platinum Edition sold for $75,000 with the gear needed to make it street legal. The equipment included DOT-approved lights, turn signals, license plate lights, and rear-view mirrors. The base cycle was $55,000.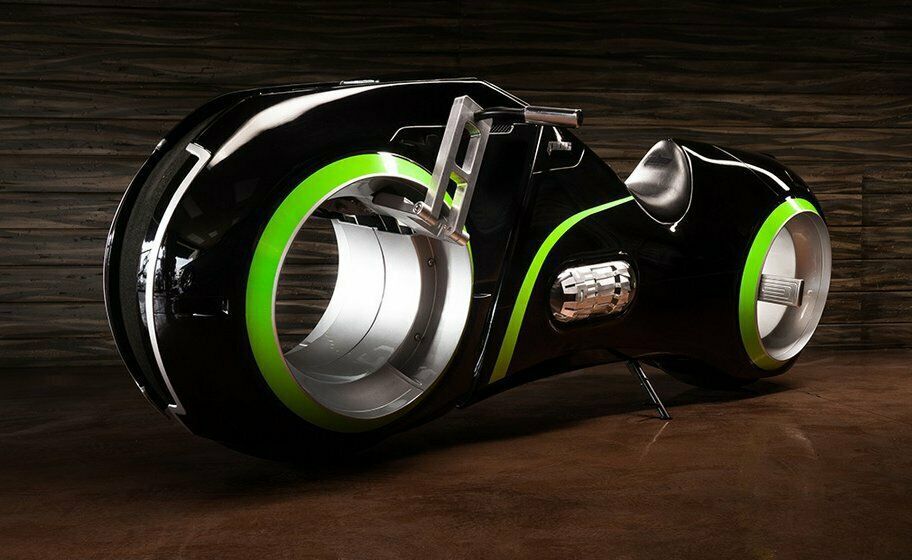 Historic prices for these bikes are all over the map. A 2016 edition sold for $23,000 at RM Sotheby's in Santa Monica in 2017. But Parker Brothers Concepts claims that "one of these bikes recently sold at auction for $22,000 over the retail price."
Heroic and Electric
Tron: Legacy, the science-fiction action movie, came out in 2010. But the bikes in it still seem quite futuristic.
The Parker Brothers team worked with original artist Daniel Simon (who developed motorcycles for the movie) and his actual blueprints. The earliest NeuTrons had 996-cc Suzuki V-twin engines. Then came the Xenon electric models, which could hit 70 miles per hour and charge in three hours.
Simon, by the way, also developed motorcycles for Oblivion and Captain America, and another real-life creation, the 200-horsepower C-01 from Lotus. The $137,000 C-01 was built with German company Kodewa.
Long List of High-Tech Features
The 2017 NeuTron, reportedly capable of 120 mph, was available as the top-end Carbon (with a lightweight carbon-fiber body) and R (composite bodywork) models.
Features of the Carbon include a new lighter frame, programmable Curtis controller, 48-volt electrical system, 60-horsepower AC motor, lithium-ion battery pack with screen readouts for remaining range, iPad with pre-programmed navigation and docking station with JBL sound system, heads-up display, custom-machined aluminum mirrors, LED turn signals, and electric kickstand.
The hubless wheel design has been updated with larger-diameter bearings and axles.
You probably won't be doing any long-distance traveling with the Neutron. It was "designed for casual cruising and slow ride-bys at shows." However, eBay offers many other electric motorcycles. Zero Motorcycles, the maker of this 2016 Zero FXS ZF6.5 available for $6,500 on eBay, was a pioneer for electric motorcycles. But the field of battery-powered bikes has dramatically expanded since Zero's founding in 2006.
Some of the available battery-powered motorcycles will be faster, longer-range, and more comfortable than the NeuTron. But none of them will match its otherworldly curb appeal.