Toyota truck owners can easily dress up their ride with a set of new rims. There are many options, but the place to start is the ultra-popular lineup of TRD Pro wheels.
Shop TRD Pro Wheels
What are TRD Pro Wheels?
Toyota Racing Development (TRD) is the motorsports division of Toyota. The American arm has been around since 1979. It offers engineering and technology to advance Toyota racers in a variety of motorsports. This includes:
NASCAR
NHRA Top Fuel and Funny car
Formula Drift
The division also adapts its racing technology for everyday car enthusiasts.
The TRD Pro Series of products offers a full range of performance parts and accessories. Many Toyota truck owners start upgrading with TRD wheels.
Popular TRD Wheel Choices
Beauty is in the eyes of the beholder. But here are my three favorite TRD Pro wheels.
1.) 2020 TRD BBS Wheel
The 2020 TRD BBS wheel looks awesome in a black matte finish that contrasts with the red TRD center caps. I also like tall-and-wide rims.
Check 'em out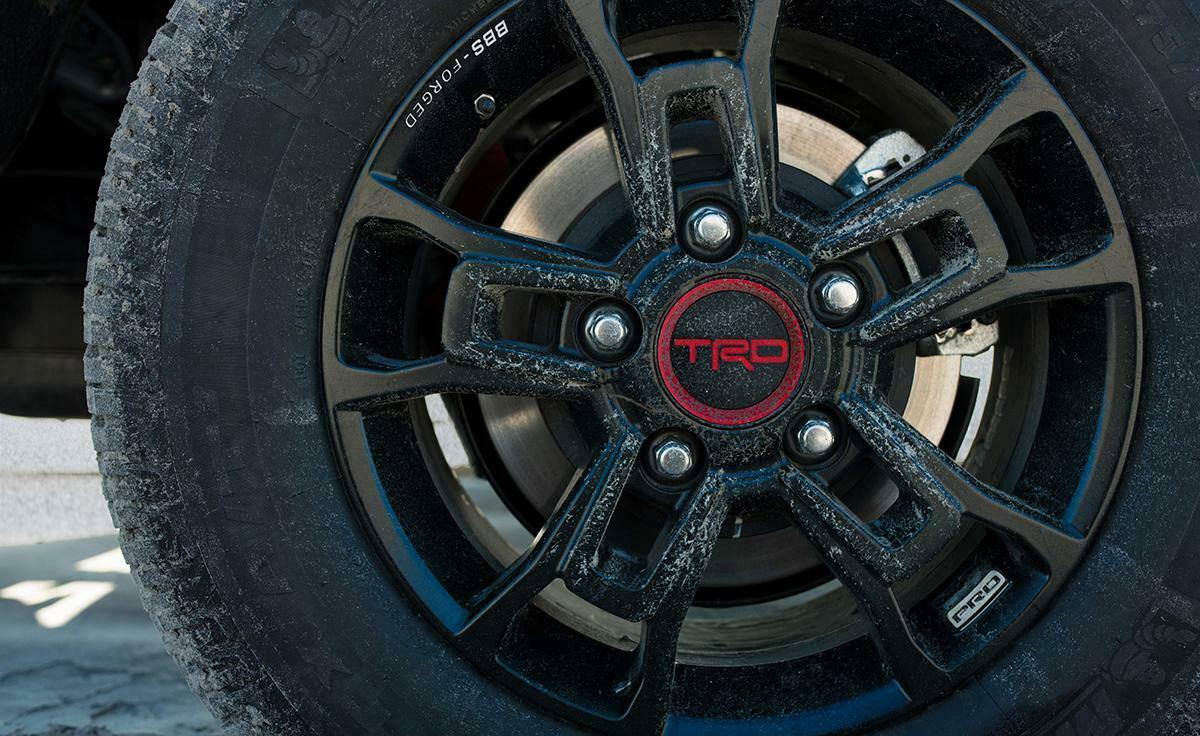 2.) Toyota SEMA 17-inch Wheel
The Toyota SEMA 17-inch wheel is also one of my favorites. Many Toyota owners love its rugged appearance.
Check 'em out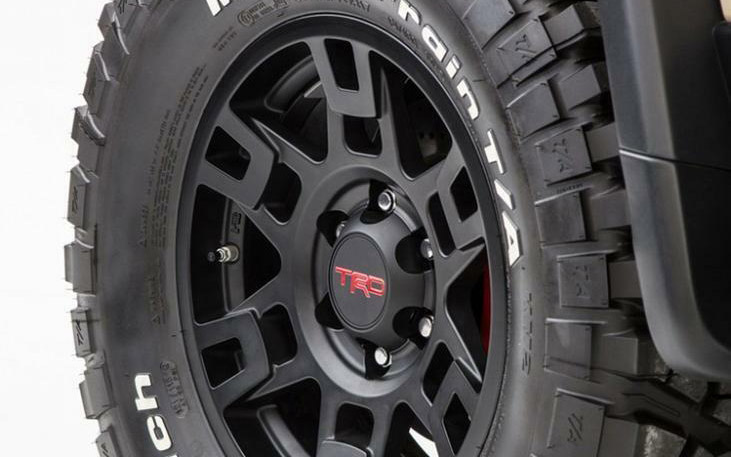 3.) 17″ Bronze Toyota TRD Pro Wheels
Or add bling with these bronze 17-inch beauties.
Check 'em out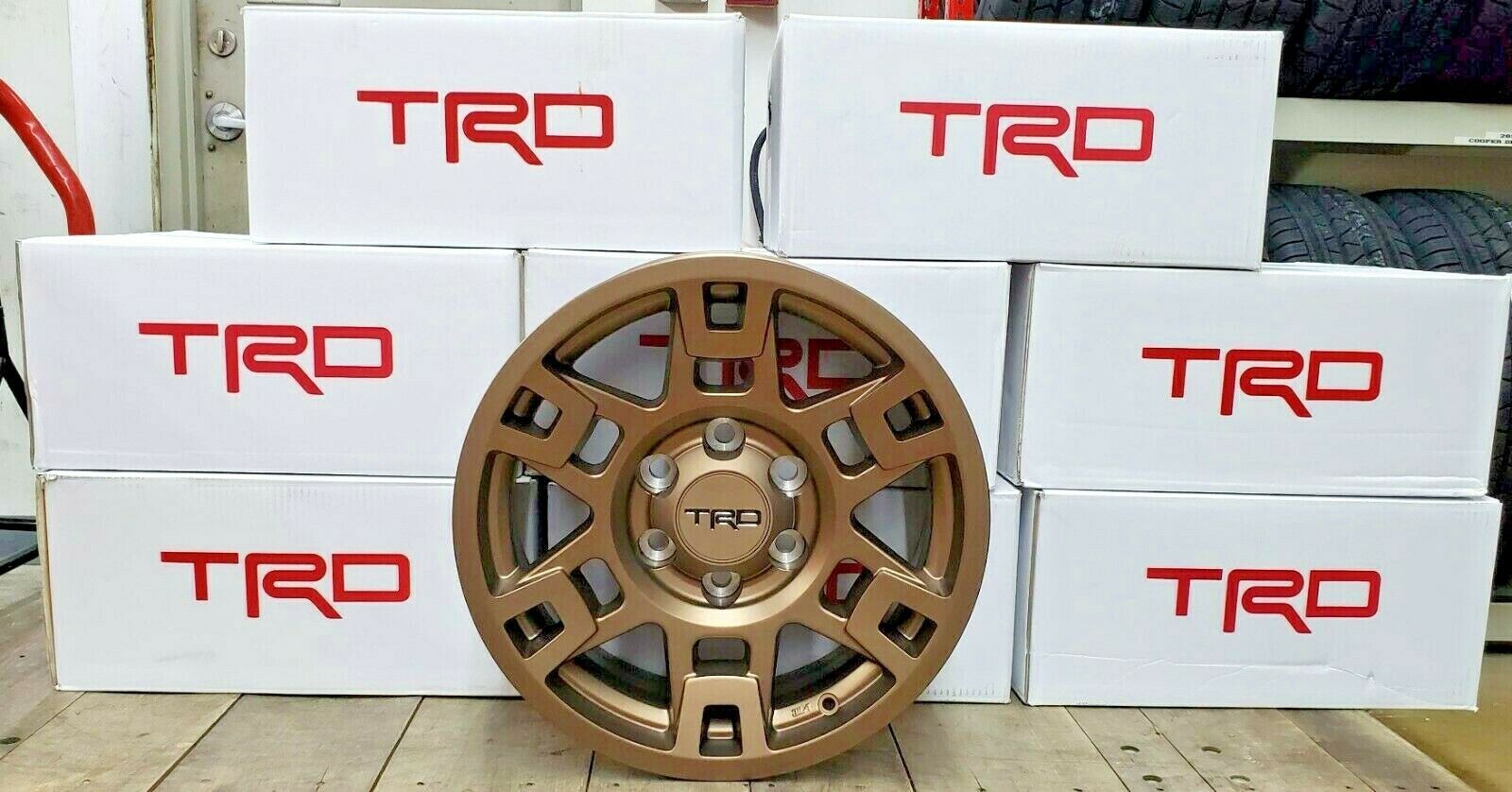 Reasons to Swap Wheels to TRD Wheels
The main reason for a new set of TRD wheels is style. But there are other real benefits.
Reduce Unsprung Weight
Replacing steel wheels with lightweight aluminum forged wheels reduces unsprung weight. That's the part of a vehicle's weight not carried by the suspension and springs. That includes the wheels, axles, and hubs.
The less unsprung weight, the easier it is to move the truck. It means better handling. Bottom line: Many of those lightweight aluminum TRD Pro wheels look slick. But they also improve the ride.
Wider Stance
TRD Pro wheels usually are seven inches wide with 11 millimeters of backspacing and a 4-mm offset. This translates to a wider stance of about an inch. BBS, the high-performance outfit, makes the latest 2020 TRD Pro wheels. Those 18-inch rims (with an 8-inch width) add even more substance to the stance.
Why TRD Pro Wheels?
While TRD Pro wheels add to the vehicle's curb appeal, you want to ensure that they're a good fit. TRD engineers look at the original factory ride and then design specific wheels that are lighter, stiff, and durable. They also make sure the designs help cool the brakes and don't interfere with the truck's suspension.
Fitment
With TRD Pro wheels, you can rest assured that the rim fits correctly against the hub of your Toyota vehicle. The stock lug nuts will be the right length to engage the wheel fully. In other words, you won't have to worry if the fit from another supplier is "close enough." Safety first.
We suggest using the eBay Motors My Garage fitment guide for your specific vehicle. You'll want to be exact based on your specific model.
For example, Toyota made 16-inch TRD Pro wheels for a Tacoma. Meanwhile, 17-inch wheels can fit the 4Runners and FJ Classics. The TRD folks know that the 16-inch wheels won't fit the 4Runner's brake rotors and calipers. So they don't list them as a choice for 4Runner drivers. On the other hand, you'll have more than enough room installing the 17-inch wheels on a 4Runner.
TRD Wheel color choices
Depending on year and model, TRD Pro wheels are often offered in matte black and gunmetal gray. But bronze and gloss black also show up as options on eBay. Have some fun with color choice.
The matte black wheels are sharp, although they blend in with the black tires. Other colors jump out. For a custom look, consider a painting (or powder-coating) to the desired shade. You can let the pro paint shop do the work.
Or give it a try yourself. If you go the DIY route, follow these steps:
Lightly scuff up the rims
Spray it with paint adhesion promoter
Spray several thin coats in a dust-free area
Top with a clear coat (matte or glossy) for extra protection
TRD wheels have an optional center cap with the TRD logo. That also helps distinguish the look. But please take note. Some sellers do not include the center caps with the wheels but offer them separately.
Shop TRD Pro Wheels
See TRD Car & Truck Wheels for Toyota for sale on eBay.