Ben McCloy's custom surf wagon started in 2013 when he found a 1926 Hudson Essex body online, and bought it for $900. The body of the Essex, after sitting in the elements for more than eight decades, was understandably rough. There were no doors, no roof, no fenders, and no instrument, but plenty of bullet holes from the vehicle being used for target practice. Most people would have only seen junk, but McCloy recognized what he needed to create a truly original wagon.
McCloy started his career as a mechanic at a BMW Land Rover dealership, but grew dissatisfied with "remove and replace" work. His Essex-based surf wagon was his first attempt at something completely original. McCloy is now the owner of Jack Dick Customs in Martinez, Calif.—so the vehicle is commonly called "Jack Dick's Surf Wagon."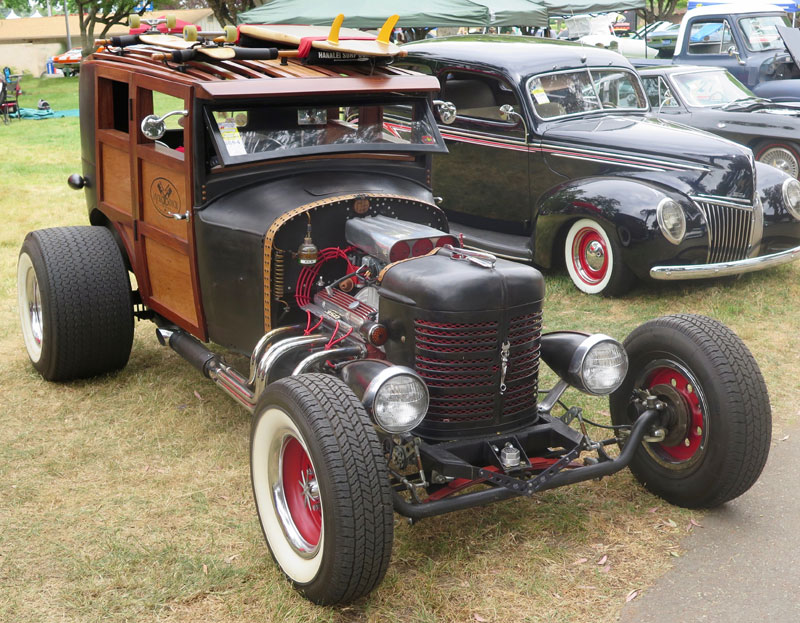 A surf wagon is essentially any vehicle cool enough to convey a surfer's attitude and long enough to quickly stow a surf board or two. It's commonly a woodie of a certain vintage, like this gorgeous 1955 Ford Fairlane Country Squire Wagon or 1976 Buick Estate Wagon—both now listed for sale on eBay—but can be anything from a 1929 Model A Ford Woody Wagon to a late-model Ford Flex.
Inspired by Visits to the Hardware Store
McCloy says that he likes to walk the aisles of a hardware store—just looking at things he might use for his car projects. He picked up mahogany paneling at a home improvement store to fabricate new doors, after removing the Essex's rear quarter-panels and shortening the body by nine inches. The roof and dashboard were made from finer woods. The interior door latches on the suicide doors were intended for use on a garden gate.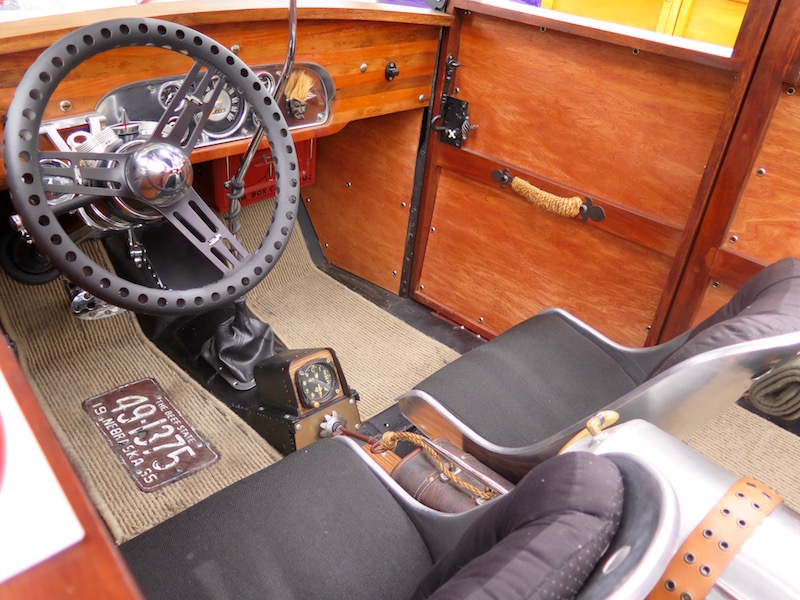 Garden shovel handles and banister railing became a surfboard rack, and a spray bottle was repurposed as a coolant overflow tank.
McCloy bought a Garden Weasel tool at a yard sale, and the spur-like blades became the wheel center caps for the Surf Wagon. The aluminum seats were pulled from an airplane, and made more comfortable with seat pads from a kitchen chair bought at a discount store. The dome light is a mason jar—and an altimeter on the center console features a barometer that can indicate potential rain in the forecast.
The chopped radiator cowl is from a 1950s International Harvester tractor, and is adorned with a hood ornament from a 1948 Chevy Fleet Master and a discarded wrench that McCloy obtained from the pit lane at a NASCAR race.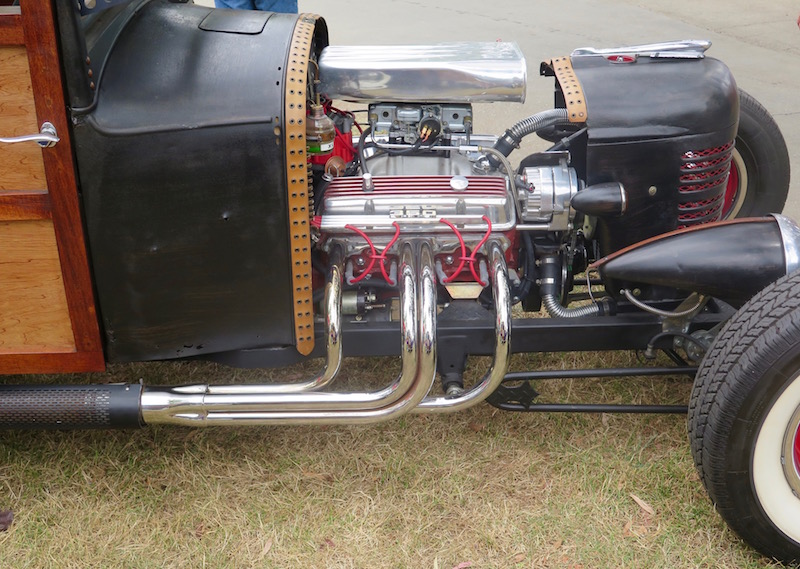 The oompf behind the Surf Wagon is a 400-horsepower Chevy 350 crate-motor driving a GM 350 3-speed automatic with a 4:11 gear ratio. The rear tires are huge: Mickey Thompson Sportsman 33×19.5 drag tires with Portawall whitewall inserts that have been vulcanized to the wheels. Stopping power comes from 8-inch disc brakes in the front and 10-inch drums in rear. A basic front suspension is a leaf spring on a speedway kit, with coils and trailing arms in the rear. The Surf Wagon tips the scale at 3,000 pounds, so with 400 horses on tap, it has ample muscle.
McCloy shows the wagon at classic shows in Northern California—venues like Woodies on the Wharf in Santa Cruz and the Good Guys Rod and Custom. McCloy says the crowd gathered around his wagon at those shows usually results in a couple offers to buy his creation, but that's not going to happen. "The Surf Wagon is not for sale," he said. "It's my work in progress and I don't know when I will ever be done with it."