Food trucks come in all shapes and sizes. However, you won't find another one like the extraordinary intergalactic Space Shuttle Cafe available now on eBay.
Despite appearances, the Space Shuttle Cafe did not land from an outer space mission. Its earth-bound story begins in California in the 1970s. That's when Smokey Rolland, a retired flagpole painter, grafted a McDonnell-Douglas DC-3 fuselage on a vintage school bus chassis.
The DC-3 loaner had spent its early years in military service in the Second World War. Then, several private commercial airlines flew the DC-3, also known as the Gooney Bird.
A decade later, Rolland rescued the plane from an Arizona airline boneyard. He made quite a sight as he toured the United States in the plane turned into a DIY mobile home.
From Mobile Home to the Smile Shuttle
In the vehicle's next act, Robert and Heike Pfeiffer bought the vehicle. The Pfeiffers performed the Shuttle-tribute facelift. They added a trio of pseudo rockets, a snazzy interior, and a NASA-like exterior paint scheme. It was dubbed "The Smile Shuttle." The truck made the rounds to various trade shows and conventions, where it was rented as a hospitality lounge.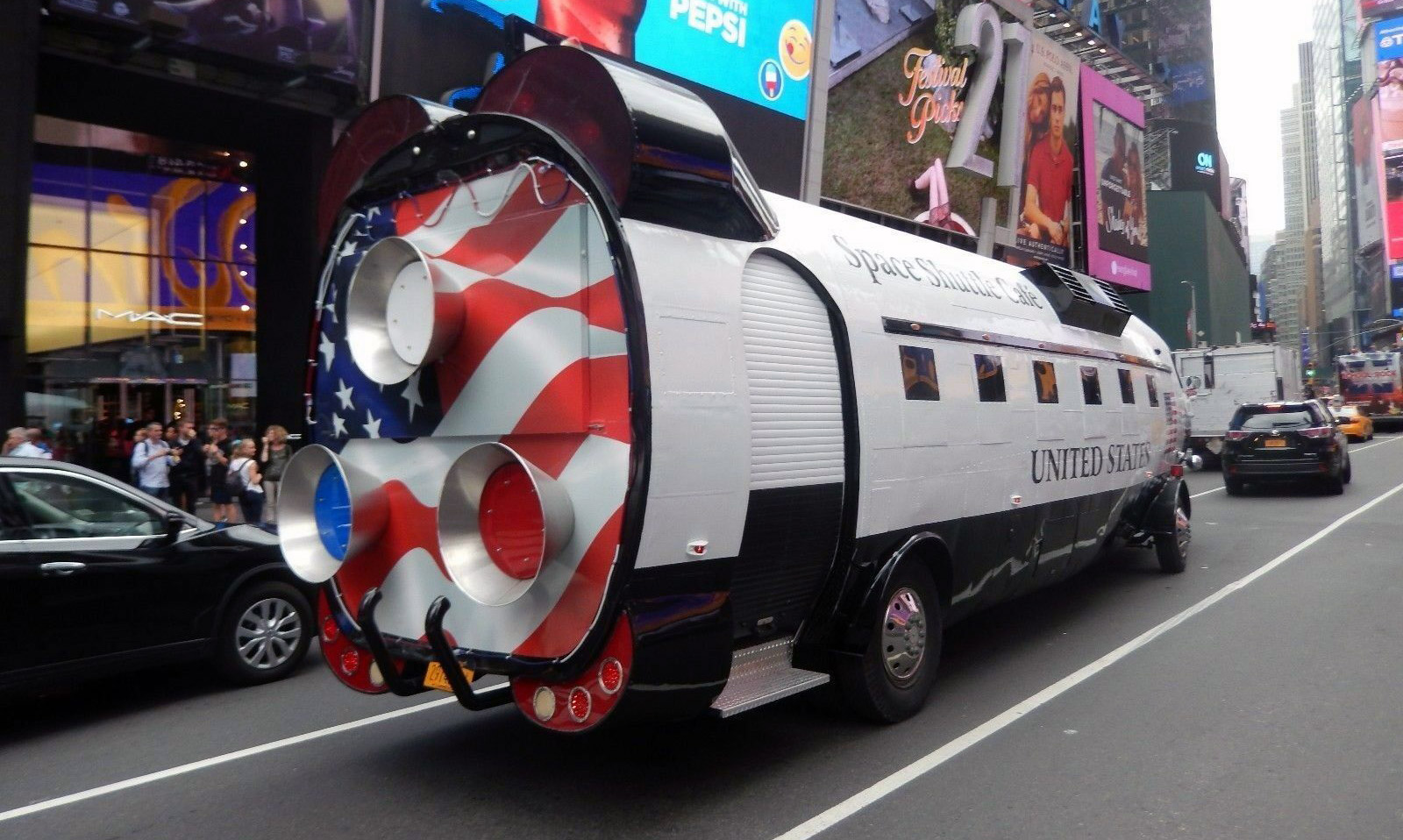 In 2001, Philip Petersen, the next owner, spotted it languishing next to the freeway in Beaumont, Calif. Petersen, a pilot, wanted to combine his love for aviation with his passion for cooking. He paid $7,000 for the vehicle.
Peterson added a new big-block Chevy engine along with a turbo 400 transmission. And he reportedly put $100,000 to turn it into a state-of-the-art rolling kitchen. Peterson and his staff served hotdogs, hamburgers, and full meals at local air shows.
Space Shuttle Cafe Takes Manhattan
It went into disuse again before being discovered in 2015 by Omar Elbroody, the owner of a Manhattan collision shop. Elbroody transported the Shuttle to New York City, where he invested $140,000 on a thorough kitchen overhaul.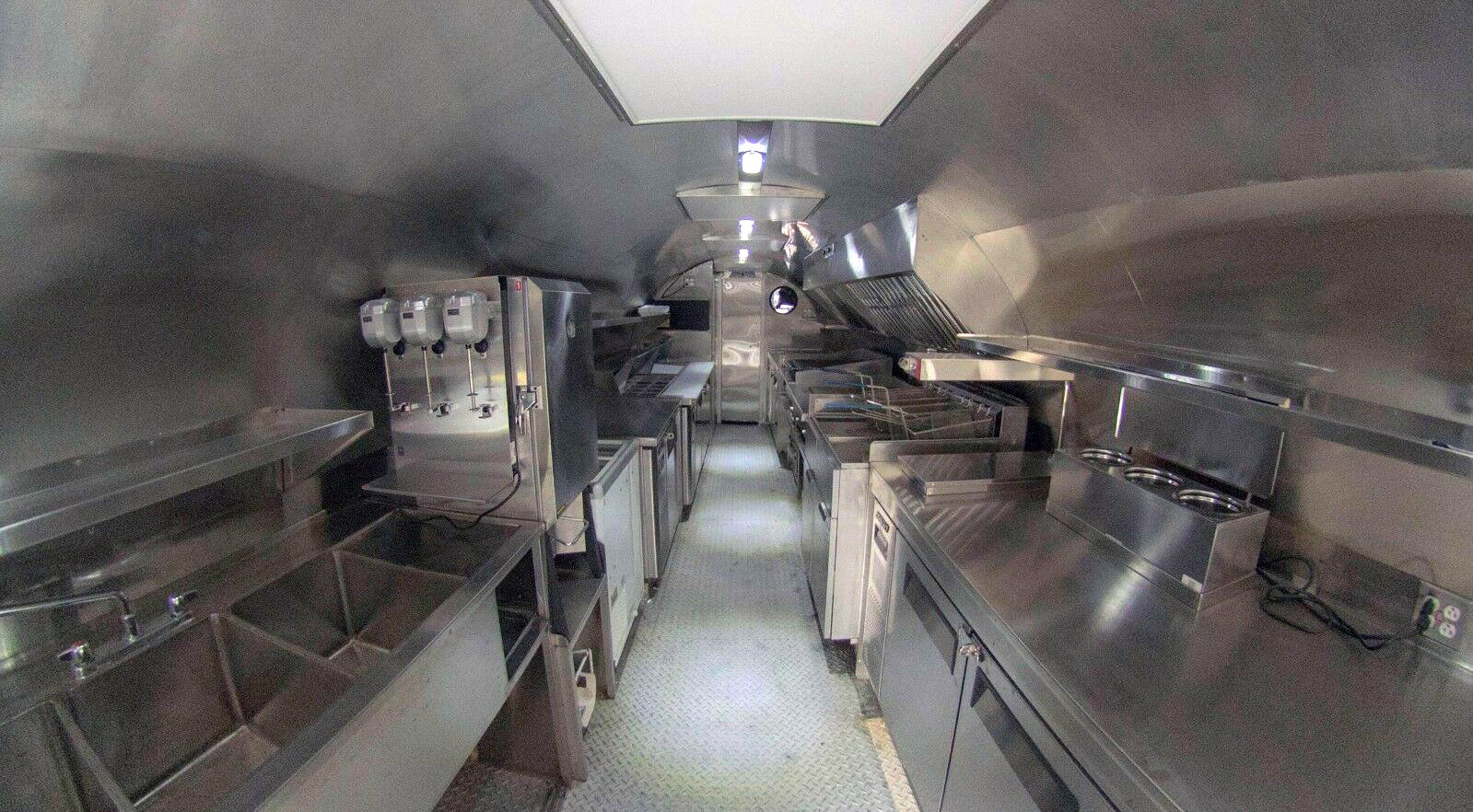 The galley is fitted with a 30-inch wide char-broiler, a 48-inch flat grill, two deep fryers, and french-fry warmers. It has all the goodies to serve ice cream, milkshakes, and coffee, with an array of refrigeration, freezer units, and water tanks. Elbroody also added a bathroom.
With his retirement looming, Elbroody decided not to launch his plans for a food-truck business. Instead, he decided to sell the Space Shuttle Cafe, according to a 2018 article in The New York Times.
It's now available on eBay, with a Buy-It-Now price reduced to $149,000. While the price is lofty compared to other food trucks available on eBay, the Space Shuttle Cafe for sale is anything but ordinary.
"We drove it from Manhattan to Astoria, Queens a few weeks ago," said Elbroody. "We had to make the trip at six o'clock in the morning to avoid the crowds."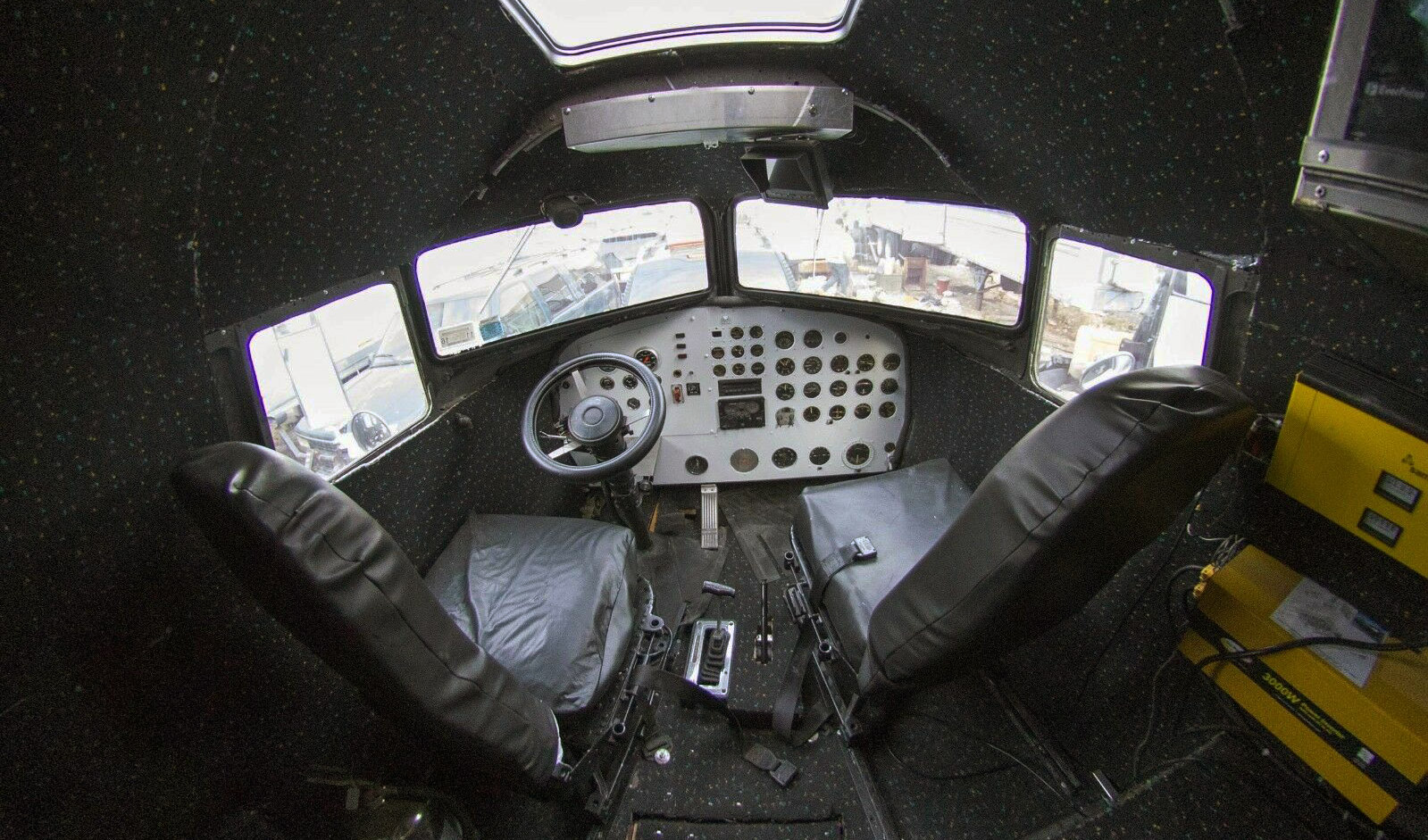 The cockpit of the Space Shuttle Cafe is impressive. But let's be clear: this is a home-brewed 39-foot truck. Although a RearView Safety RVS-062710 camera system helps with rear visibility, Elbroody recommends that the 454 cubic-inch V-8-powered beast get towed over longer distances.
With outdoor dining more popular than ever, the Space Shuttle Cafe's time is now. The storied food truck (aircraft?) is a unique opportunity to own an otherworldly, attention-grabbing turn-key mobile kitchen. When you roll into town, crank up the fryers, fire up the thrusters' Pea Soup Dragon 2.2-kW High Output Smoke Machine, and start the countdown to success.