How a 1956 Ford Truck bought online, became an award winning truck and a finalist for Goodguys Rod and Custom Late Truck of the Year, may sound familiar to many classic car and truck owners.
Dave Jones originally bought his first '56 Ford truck after scrimping and saving his money from working construction as a summer job. It got him around for a few years before they parted company. But he always fondly remembered his truck, especially its Root Beer Brown hue.
Three years ago Jones rekindled the urge to get himself a truck. He found a 1956 Ford truck off the Internet and knew it would need some work. Originally he was just going to restore it to stock, but you can probably guess how that turned out!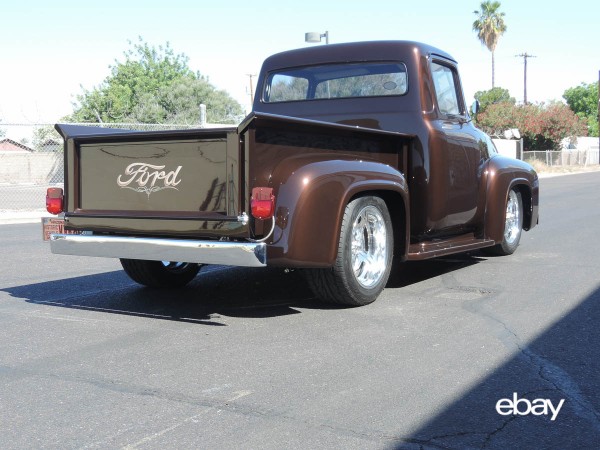 They first upgraded to a Roadster Shop chassis and then decided for a resto-mod look. But one thing for sure, Dave wanted it to be Root Beer brown. At first he had somebody else working on the Ford, but he had already decided he wanted a local Mesa, Arizona shop, Charly's Garage, to handle the paint and bodywork. But as Dave kept consulting with the shop's owner, Charles Spencer, about different options for the truck, the decision was made to have Charly's Garage just take over the whole project.
Charles Spencer stated that the owner was always involved in the project and wanted a Paxton supercharger to give some additional power to the Ford crate engine. He noted that the owner was always receptive to new ideas or suggestions. One of the more interesting twists was hand fabricating out of carbon fiber (hydro-dipped root beer brown) the oil covers and the brake calipers and rotors. The brakes can't be seen through the wheels but that just shows you their attention to detail. And the root beer tint makes the pieces blend in with the balance of the painted truck parts.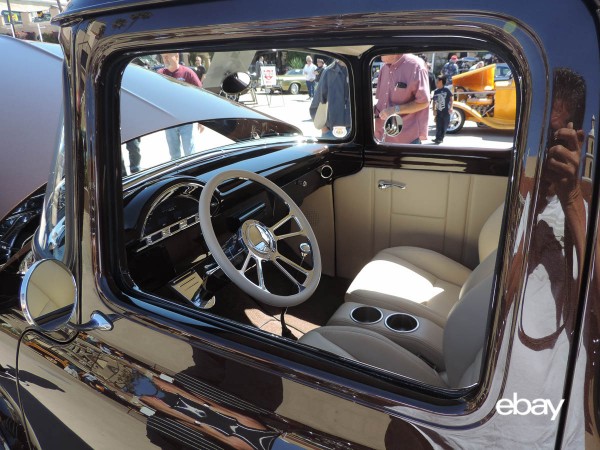 Spencer proudly noted that all eight members of his shop had a hand on this truck and all the work was done in house. It took about 18 months to complete with over 2,000 hours in the build. While they might have kept a Ford engine in the Ford, they did put 2012 Chevy Camaro seats in the cab.
Jones nicknamed the '56 Ford, "Old Man". Originally they were hoping to be done in 2013 but instead the project was finished just before the Grand National Roadster Show in Pomona, CA where the truck won in its class (Full Pickup) and also was named "Best Truck" overall.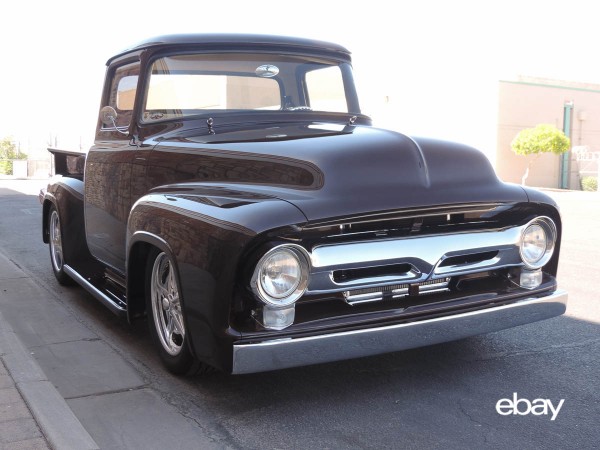 Then at the Goodguys' Rod and Custom show in Del Mar, California in April, 2014 Jones' truck was named a finalist for Late Model Truck of the Year. The winner will be announced in November at Goodguys' last show of the season, the 17th Southwest Nationals in Scottsdale, Arizona. Since Jones lives in nearby Paradise Valley, Arizona that is one show he is sure to make. He doesn't have any immediate plans to take it to other shows, but I suspect it might pop up here and there in the next few months. His next show was actually Jones' own birthday party where the Ford truck was bound to be the centerpiece of the birthday bash.
---
| | |
| --- | --- |
| | From overviews of trends in the automotive industry to penetrating looks at car shows, auctions and classic car trends we offer readers a unique perspective with a mix of irreverence and off the wall humor. Check out other articles at Route66PubCo.com. |