Canadian car-customizer Gerry Nimz is known for pushing the limits of how everyday objects can be used to create a vehicle. His V-8 hotrod made of wine barrels was listed on eBay in 2015. Now, Nimz's Model T-based hotrod that uses a Canadian Northern Electric phone booth for a passenger compartment is available on eBay Motors.
There's an actual phone, and the phone's dial is the accelerator pedal. There's even a phone book. Driving while texting is a problem, but what about dialing from a mobile phone booth?
After its construction in the 1970s, the phone-mobile appeared at the Canadian International Car Show and toured North America, promoted by showman/builder Carl Casper. Then, as with the Wine Barrel Rod, it went to Germany via Lufthansa.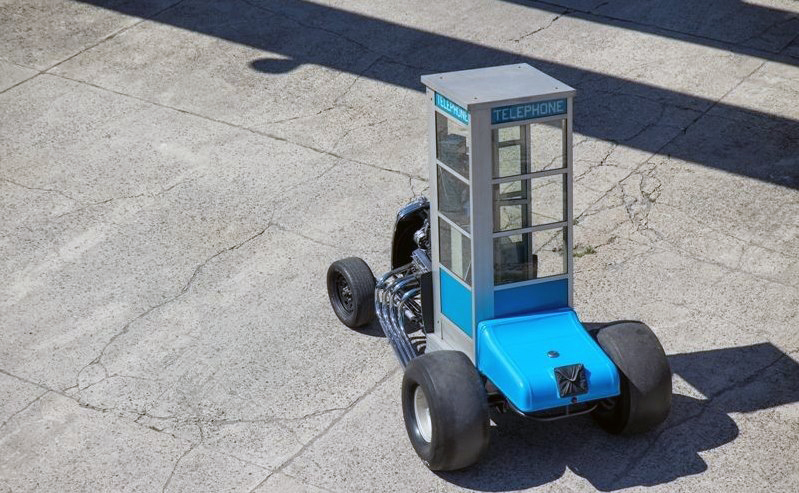 The phone booth car may look exotic, but underneath it has some tried-and-true components. The engine is a big-block GM unit, and it's complemented with hydraulic steering and even a hydraulic handbrake. eBay Motors offers a massive inventory of replacements and parts for the Chevy big-block engines.
Both Nimz cars were shown off at what is now the Essen Motor Show, and such celebrities as Mark Thatcher (Margaret's son) and race driver Emerson Fittipaldi were photographed with it there. But then the cars disappeared into the collection of a private wealthy German owner.
That buyer's estate is now selling the car, but not for the first time. Then located in Moritzburg, Germany, it sold on eBay in 2016 for $29,000. But since then, quite a bit of work has reportedly been done to it. Formerly just a static display, the Telephone Rod is apparently drivable. "The engine runs, the transmission works, and the steering works also," the seller states. It's hard to imagine how you'd steer from inside a phone booth, but it would be fun to try. (Can you imagine trying to avoid a ticket with this line? "I'm sorry, officer. I must have dialed the wrong number.")
Before We Had Mobile Phones
The original phone booth car was built by Carl Casper in the early 1960s. That one, painted red and orange, had the booth standing more erect than on Nimz's car, and it was made into a popular 1:25 kit model. Casper has a long track record, building Batmobiles, A-Team vehicles, K.I.T.T, the Pinball Wizard, the Paddy Wagon, and the General Lee. He recently retired from his Carl Casper Custom Car Show in Louisville, established in 1962 to showcase his creations.
Since Casper promoted Nimz's telephone booth car before it went to Germany, he likely was party to its creation.
Let's not forget the logical extension of these phone booths on wheels: the 1975 Volkswagen Beetle turned into a push-button landline phone-car in the 1980s by Howard Davis, a Massachusetts-based collector of unique telephones, with 4,000 phone-related items in his collection.
The lines between fantasy and reality blurred in 2015, when Apple was rumored to be getting into the auto industry by building an iCar as "the ultimate mobile device."
See eBay Motors for sale on eBay.