The classic Volkswagen van is a cherished automotive icon. The price of clean examples, which are in diminishing supply, have climbed in recent years—with the best versions offered on eBay Motors eclipsing $100,000. That's because there's an unidentifiable and persistent magic about the design. When VW updated van styling and subsequently abandoned the U.S. market, fans grew even fonder.
As time (and rust) have tightened the supply of VW vans, an exciting trend from Japan could take hold in America. This beautiful little grey and white 1992 Suzuki Carry van, currently listed on eBay Motors by Koban Imports, is a prime example.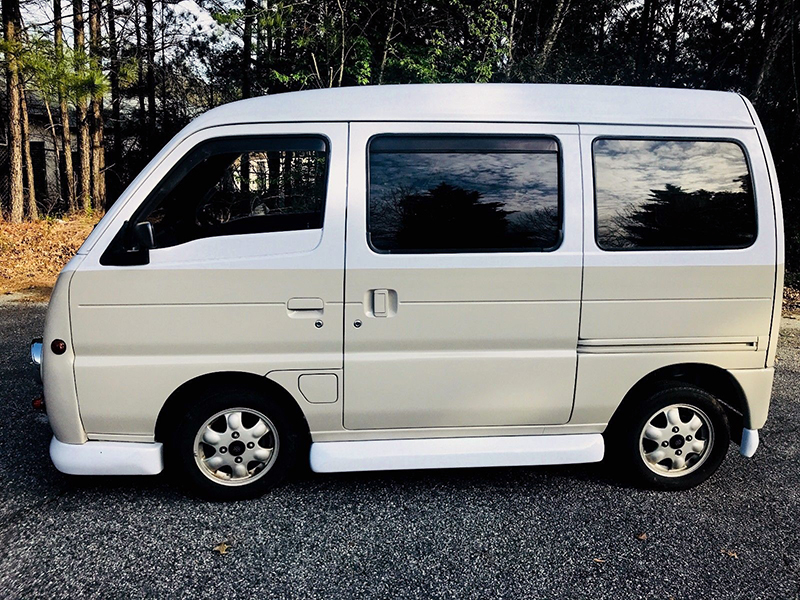 Japanese enthusiasts are modding their tiny Kei vans to look like little VeeDubs. (Volkswagen never produced a Kei van.) Right-hand-drive Kei vans and pickup trucks finally found their way to our shores, thanks to America's classic-car import rules. The U.S. Environmental Protection Agency exempts classic imports from fuel-economy rules after they're 21 years old—and safety regulations after 25 years.
The '92 Suzuki-V-Dub now on eBay Motors was modified by the previous owner in Japan with an aftermarket body kit to resemble the classic T1 Volkswagen van made between 1950 and 1967. It's equipped with an automatic transmission and air conditioning, along with power steering, locks, and windows. There are approximately 118,000 kilometers (73,300 miles) on the odometer. While it's currently registered in Georgia, the unusual import might not be street-legal in all states.
Although microvans are still a rare sight here in the United States, they're common in Asia, Latin America, and parts of Europe. The Kei van's small size makes it well-suited for commercial deliveries. These minuscule mini-monsters aren't just little, they're modestly powered by American standards. The Japanese government imposed a 660-cc engine size limit on Kei vehicles in 1990, stepping up from the previous restriction of 550cc (which was in place from 1976 through 1989).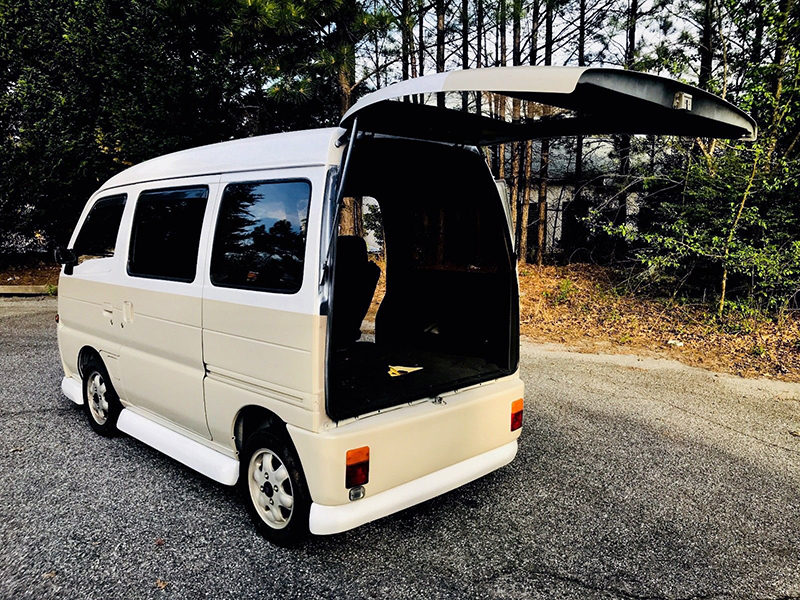 Koban Imports—based in Kennesaw, Ga., about 30 miles northwest of Atlanta—put 100 miles on the van after shipping it to America. "I had the van repainted after importing it, did an oil change, and checked all of the major systems," said Michael Coburn of Koban Imports. "The timing belt was replaced in Japan. There's a sticker that shows that the timing belt was serviced at approximately 92,000 kilometers (57,100 miles)."
This little critter isn't well-suited for highway use but would make a very cool local delivery vehicle or resort runabout. The interior in decent shape—a "seven out of 10," according to the seller, due to a tear in the driver's seat. The fold-down rear seat allows for plenty of cargo space.
Although the Suzuki is tiny on the outside—roughly five-feet wide by 10-feet long—the interior is surprisingly spacious. "I'm six-feet tall, and I have plenty of headroom," said Coburn, an encouraging sign for Americans ready to adopt the nifty microvan.
It's official. The Kei import craze has begun.