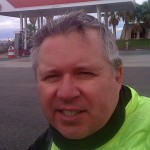 Our "eBay Thanks You" campaign is featuring stories from our friends out there in the eBay community telling tales of their own special eBay purchases. One of those friends is Simon Darby of New Zealand, who wanted a motorcycle and an adventure. Thanks to eBay Motors, he got both.
Last October Simon took the long flight from New Zealand all the way to Cleveland, Ohio to take delivery of a very special eBay purchase: a custom Yamaha Roadstar 1600 Silverado motorcycle with a scant 10,000 miles on the odometer. "My plan was to ride across nine states to Los Angeles and ship it back to New Zealand," Darby says; but he only had three days to make it to L.A. from Cleveland—the race was on.
The myth of the American open road soon revealed itself to be an obstacle course for Simon and his new Yamaha motorcycle. As Simon recalls, "I quickly intersected with the remains of Route 66, riding sun-up to sun-down, through sunshine, thunderstorms, hail, and some of the heaviest rain I have ever encountered." Pushing through the Mojave Desert, Darby encountered cross winds that "had me scraping the floor boards", but he was undeterred.
Finally arriving in Los Angeles, Simon's last test was non-stop heavy rain on a ride through L.A.'s notorious freeway system, but he claims that not even soaking rains and the traffic of one of the most contentious and congested network of roadways in the world could dampen his spirit or temper his excitement. Simon made it to the shipping company just in time in more ways than one; just as he pulled up, the Yamaha ran out of gas! Simon pushed the Roadstar into its shipping container and today it's back in New Zealand with a fresh coat of paint and "lots of new chrome accessories via eBay…I would do it all again."
"Buying a great motorcycle on eBay is one thing," Darby tells us, "Riding it home is the adventure of a lifetime." Check out more stories like Simon's throughout the "eBay Thanks You" series.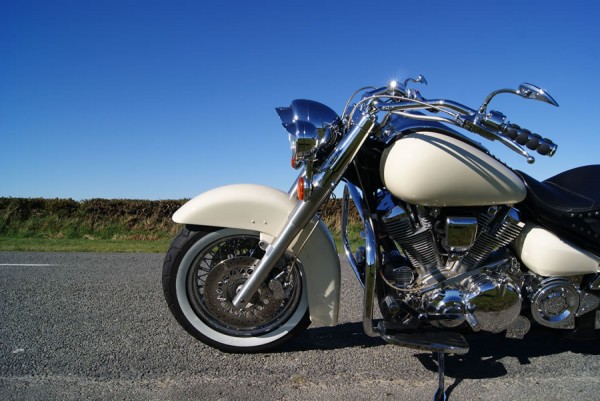 If you've got a tale to tell, visit http://ebaymotorsblog.com/motors/blog/submissions/ to share it with us. Keep an eye out on the blog as well as on our Facebook and Twitter accounts for these great stories and your chance to win great prizes. And of course, a great many thanks to all of you!