Most car customizations focus on a vehicle's curb appeal. Auto enthusiasts focus on exterior looks even though the majority of a driver's time is spent inside the vehicle. While a pair of racing seats or a thumping sound system are common interior enhancements, an often overlooked but super-fast upgrade is a car's interior lighting.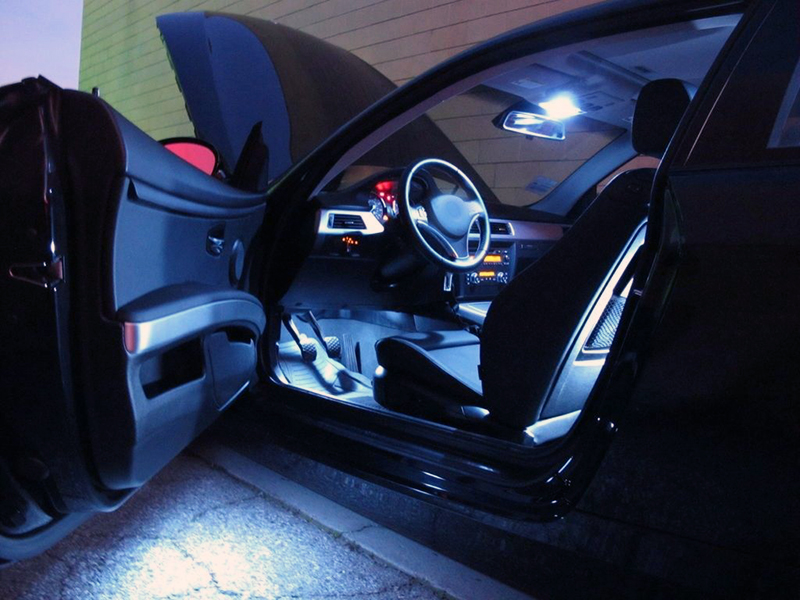 It's easy to work on the lighting inside the car—and it can go a long way toward adding personality, splashes of color, and greater utility to your ride.
The interior of most modern cars is illuminated with incandescent or halogen bulbs cast through a simple lens. Fortunately, there are many available alternatives using the existing light-bulb sockets. A simple swap of light source can make a big difference. LEDs provide a more intense light without the risk of overheating the light fixture. Many are available in colors to match your interior. eBay Motors offers a wide range of interior LED light kits containing all the bulbs you'll need for a specific make and model.
Sylvania's Zevo Interior Strip Extension Kit allows you to use a smartphone app to select one of 16 colors to emit in your interior. The lights can even pulsate in sync with the music playing in the car. The effect is especially dramatic at night—when people passing by see mood lighting in your cabin.
Another striking interior-lighting effect is to add a continuous flow of colorful light. A strip of OLED (organic light-emitting diodes) lighting can be slim enough to tuck into the seams of your dashboard padding or along the floorboards.
Most of these devices are powered by an auxiliary power port (or cigarette lighter) for a temporary effect. Or they can be hardwired using the car's electrical system. Because these devices are low power, nearly any circuit can be accessed as the energy source.
Perhaps the fastest, easiest, and least expensive way to change the nighttime atmosphere in your car is to drop in a pair of solar-powered cupholder lights.
To get started, consider all the custom interior-lighting options available from eBay Motors.