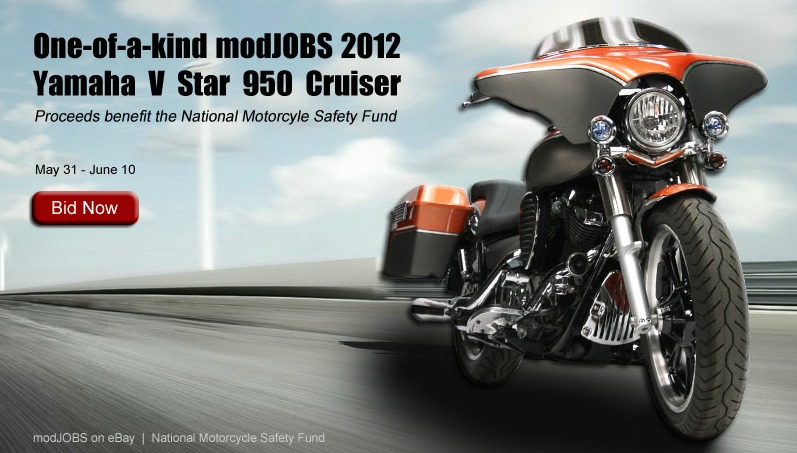 For season 2, modJOBS enlisted Jessica Prokup to put together a one-of-a-kind Yamaha V Star 950 Cruiser with the help of celebrity bike builder Jay Lossa and Last Comic Standing winner Alonzo Bodden. Jessica hand-picked and helped install each custom part with the goal of creating a "custom bagger" that would make any owner proud each time he or she throws a leg over the saddle.
Rising to the challenge, Jessica selected a worthy set of aftermarket parts for the Yamaha cruiser and unveiled the bike at the Petersen Museum in Los Angeles. Now the bike is being auctioned on eBay. 100 percent of the proceeds goes to benefit the National Motorcycle Safety Fund.
About the National Motorcycle Safety Fund
The National Motorcycle Safety Fund (NMSF) is a charitable organization created in 1980 to supplement the work of the Motorcycle Safety Foundation. By supporting the NMSF you are supporting highly developed programs designed by motorcycle professionals. These programs are part of the lifelong education of both riders and other roadway users. We target the most important areas that truly make a difference in rider safety. For more information, visit http://www.msf-usa.org/nmsf or make a donation.
Link to auction listing 2012 Yamaha V Star 950 Cruiser
Auction ends: Jun 10, 2012 19:00:00 PDT
See below for a complete list of parts added and modifications.
Cobra PowerPro Exhaust Part No. BLV2415
Cobra FI2000R PowerPro Tuner Part No. BLV92-1775AT
Baron Custom Accessories Big Air Kit Part No. BA-2013-06
Memphis Shades Batwing Fairing Part No. MEM7031
Memphis Shades No Tool Trigger Lock Mounting Kit for Batwing Fairing Part No. MEK1916
5-inch Windshield for Batwing Fairing Part Number MEM-5BATWING
Batwing Trim Night Shades Part Number MEM0935
Kuryakyn Fairing Factory Stock Replacement ABS Saddlebags Part No. KY-5397
Easy Brackets – Yamaha V-Star 950 Part No. EZ-V950-R1
Kuryakyn Constellation Driving Lights Part No. KY-5009
Kuryakyn Universal Wiring and Relay Kit Part No. KY-2328
Kuryakyn Triple Whammy Light Kit Part No. KY-4602
Kuryakyn Small ISO Pegs Part No. KY-7964
Kuryakyn Footpeg Adapters Part No. KY-8811
Kuryakyn Brake Pedal Cover Part No. KY-4045
Kuryakyn Shift Peg Cover Part No. KY-8851
Kuryakyn Shift Peg Cover Part No. KY-4034
Kuryakyn Transformer Grips Part No. KY-6231
Kuryakyn Smooth Rings Part No. KY-6364
Kuryakyn Clutch Perch Cover Part No. KY-9108Kuryakyn Brake Master Cylinder Cover Part No. 1744
Kuryakyn Wide Style Levers Part No. KY-7419
Show Chrome Accessories Chrome ABS Belt Cover Part No. BBP-63-202
Show Chrome Accessories Celestar Rear Brake Reservoir Cover Part No. BBP-63-213
Show Chrome Accessories Regulator Cover Part No. BBP-63-212
BikeMaster Tapered Oval Mirrors (Set)