Ron Berry from St. George, Utah admits that he's "obsessed, this is my addiction" and his handicraft produced a one of a kind VW styled bus that is definitely unique.  Plus the engine that powers this cartoonish vehicle has a deep connection with Berry's early drag racing roots.
Even as a youth Berry enjoyed drawing cars but they always had a cartoonish feel to them.  He has built all sorts of cars and kid's toys, including bathtub go-karts, doggie carts and even bi-plane styled toys. A few years back he decided if he ever was going to build cars specifically based on his own drawings, he better start now.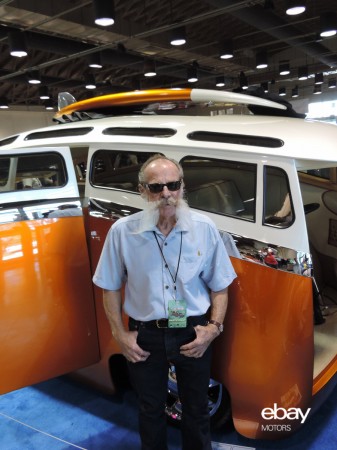 Berry built in 2009 a similar styled 1939 Ford Woody and this is the second "cartoon style" car that he has crafted.  He debuted it this January at the Grand National Roadster Show in Pomona, CA. Berry always incorporates some surf elements into his designs, as he loved surfing as a youth and still surfs whenever he reaches a coastline. Berry always seeks out iconic cars with unique design and features, sketches out his ideas and starts to work.  For the VW bus, he felt the 23-window style is eye catching (his actually has 24) and the drip rail and the belt line are focal points for the VW design.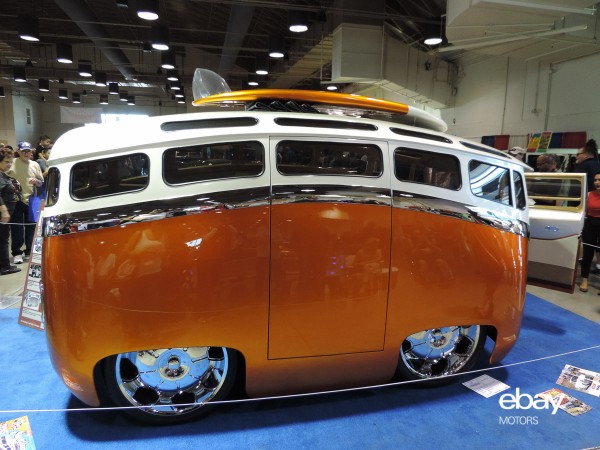 Berry started working on this bus in 2010 and spent a total of 17 months working on the bus.  He did all the body work himself, except for the paint which was done by Rick Sheley of SKJ Customs in nearby Washington, UT. The paint is PPG's Orange Glow and White Pearl Prismic.
Some of the mechanicals end up being changed as his work evolves.  The front hinges open like a BMW Isetta, but Berry stated that he only went to that design when he saw that a regular front side door just would not fit or look right with the wheels and the 72-inch wheel base. He spent hours setting up the rear skid wheels that retract from the rear end and are like skateboards. The wavy belt line trim was built by Berry in fiberglass and then chromed.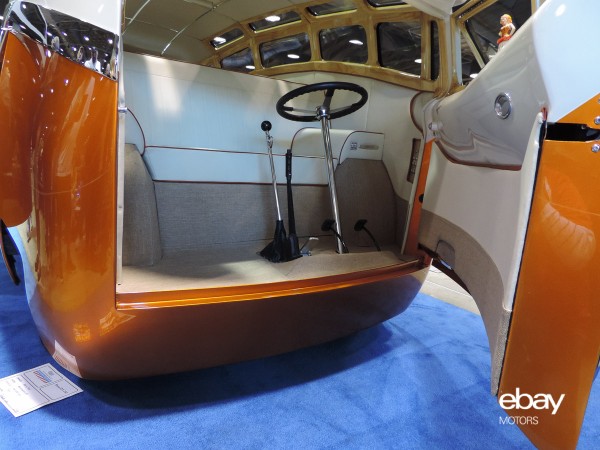 As he was working on the bus he hadn't decided on a power plant.  Turbo's had been done before and didn't appeal to him.  He happened upon a YouTube video of a VW that was using a blower and eventually traced it to Las Vegas.  He went there and bought the power plant for his VW bus.  As he researched it, he found out that the engine was crafted by long time Pro Stock drag racer "Dandy" Dick Landy and utilized a B&M blower.  The Dick Landy Industries (DLI) markings are still visible on the engine. The 2275cc engine uses a mild 7 to 1 compression and a 12-pound blower to produce 209 horses on the dyno.
Turns out that after Landy left drag racing, he was working on racing VW's and joined with B&M to create the engine set up.  Berry isn't sure how many engines still exist, but understands they are quite rare. It turns out that Berry often drag raced against Landy at the historic Lions Drag Strip for several years. Berry raced from 1955 to 1972, primarily quarter midgets.  Now Landy's engine powers Berry's creation, which he labeled the Surf Seeker.
But Berry also uses simple off the shelf solutions in the bus.  Those 24-inch wheels are simple Panther wheels that he bought for $150.  And the wood in the interior of the bus?  Came straight from Home Depot's kiln dried pine woodwork.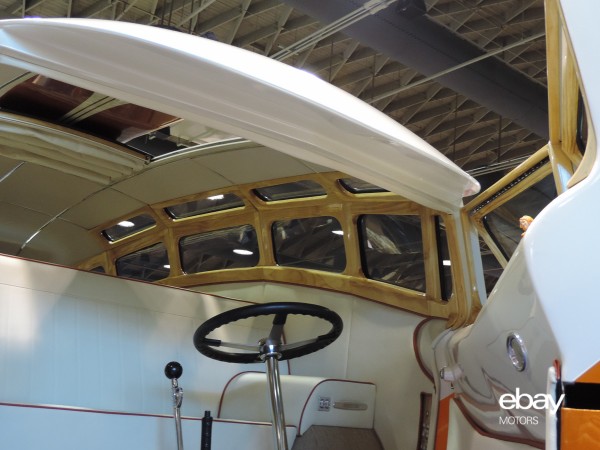 This year at the Grand National Roadster Show, he took first place in his class.  Berry now has several plans spinning in his head and we might soon see a '57 T-Bird or a '49 Anglia.  Just know it won't be stock!
[fsg_gallery id="12″]
---
| | |
| --- | --- |
| | From overviews of trends in the automotive industry to penetrating looks at car shows, auctions and classic car trends we offer readers a unique perspective with a mix of irreverence and off the wall humor. Check out other articles at Route66PubCo.com. |